Flex Flow
Horizontal Pumping System (HPS)
Discover the Power of Horizontal Pumping with Flex Flow
Flex Flow, a DNOW Company, presents an advanced horizontal pumping system (HPS) integrating multistage centrifugal pumping technology. This system streamlines completion, production and water management processes, effectively reducing operational risks while elevating efficiency.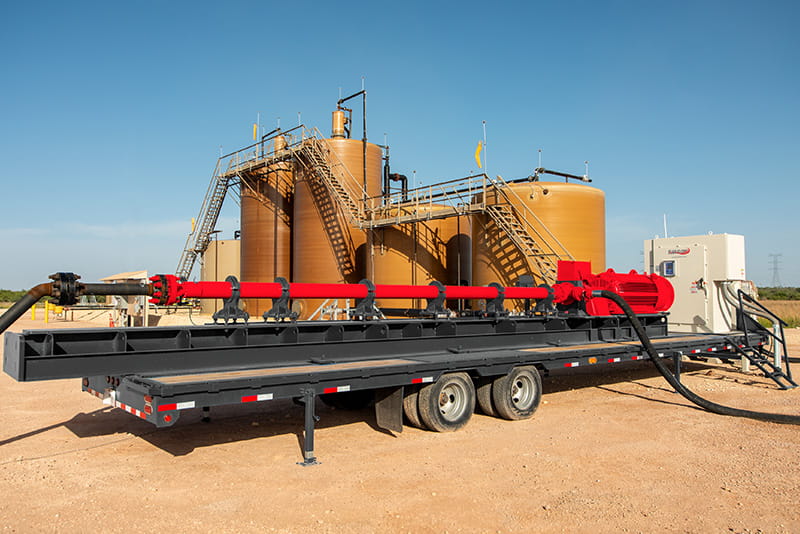 The HPS, a cutting-edge surface pumping system, is expertly designed for many applications, including optimizing water supply, injection, artificial lift, salt water disposal (SWD) and distribution. Built for agility, the mobile, trailer-mounted horizontal pumps incorporate variable speed drives, surface controls and automated reporting capabilities.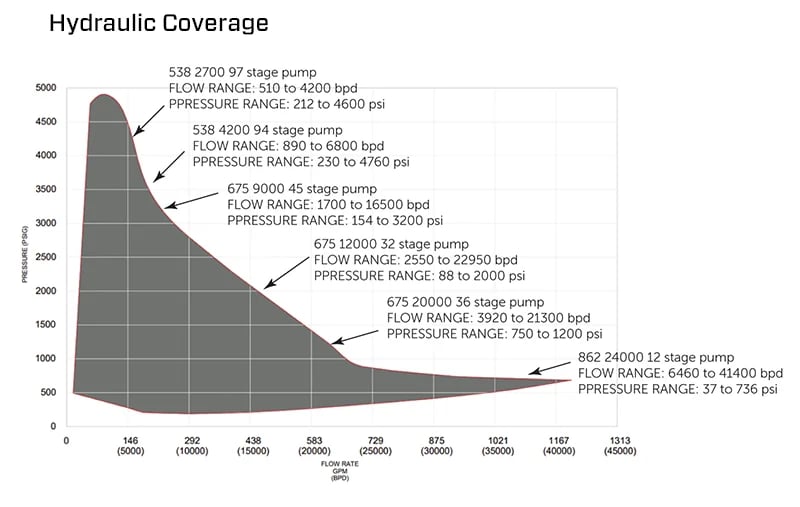 Essential Features of the Flex Flow HPS:
Quick Deployment: The mobile HPS enables swift on-ground action, ensuring no capital expenditure, making it perfect for project commissioning, capacity augmentation or equipment replacement.

Tailored Operations: The HPS units, powered by horizontal centrifugal pumps, are tailored to meet specific flow rate and pressure demands. They can effortlessly integrate with existing control systems and uphold real-time remote monitoring to guarantee safety in line with regulatory standards.

Efficient Design: Each unit boasts electric motors with variable speed drives, harnessing the power of field-proven multistage centrifugal pumping systems for high-pressure operations. These horizontal pumps can either run on facility electrical power or independent gen-sets, marking an era of operational flexibility and efficiency.
Flex Flow HPS Capabilities:
The versatility of a single Flex Flow HPS is remarkable. The systems can operate in parallel or series, fitting standard skids seamlessly. Their VFD and PLC controls further enhance flow and pressure adaptability.
Core Components of the HPS

Flexible Design: The trailer-mounted HPS is designed for adaptability, allowing for component interchanges in the field, suitable for multiple jet pumps or an SWD test pump.

Comprehensive Component List:
The variable speed drive (VSD) is used to vary the motor speed and can be controlled remotely.
The VSD also houses a programmable logic controller (PLC), a data process and controller used to produce automated reports; the PLC also contains 16 IO modules and can tie in tank batteries and various transducers for automated controls.
Customers have web access to cloud-based data collection stored with a third-party company.
The 40-ft trailer with stabilizers or a variety of permanent installation options allows the HPS to operate as either a permanent or temporary system.
An electric motor powers the multi-stage centrifugal pump; the motor is a 480-V, 3,500-rpm motor, with three horsepower options—300, 500 and 600 hp depending on the application.
The thrust chamber carries the thrust load developed by the multistage pump; it connects to the motor shaft on one end and the pump shaft on the other.
The multistage centrifugal pump consists of stages, each with one impeller and one diffuser.
Our filtration skid prevents impurities from entering the pump or wellbore.
Charge pump with 10-, 15- and 25-hp options, providing NPSHr of 20 to 60 psi.
From its trailer-mounted design ensuring rapid response to its field-proven reliability backed with 24/7 support, the horizontal pumping system emerges as a revolution in fluid transfer operations. It promises optimized flow rates, zero CAPEX options and automated monitoring.
Upstream

Salt water disposal (SWD)
Water transfer
Frac protection
Waterflooding
Artificial lift

Midstream

Water transfer
NGL and amine plants
Pipeline integrity
Crude transfer

Downstream Refining/Storage

Salt cavern leaching Storage operations
Crude transfer Petrochemical plants
Ports and terminals

Mining

Solution mining
De-watering
Making the Right Choice with Flex Flow
The superiority of the Flex Flow horizontal centrifugal pumps over traditional triplex positive displacement pumps is evident. They stand out with fewer maintenance requirements, reduced intervention times and consistently high operational efficiency.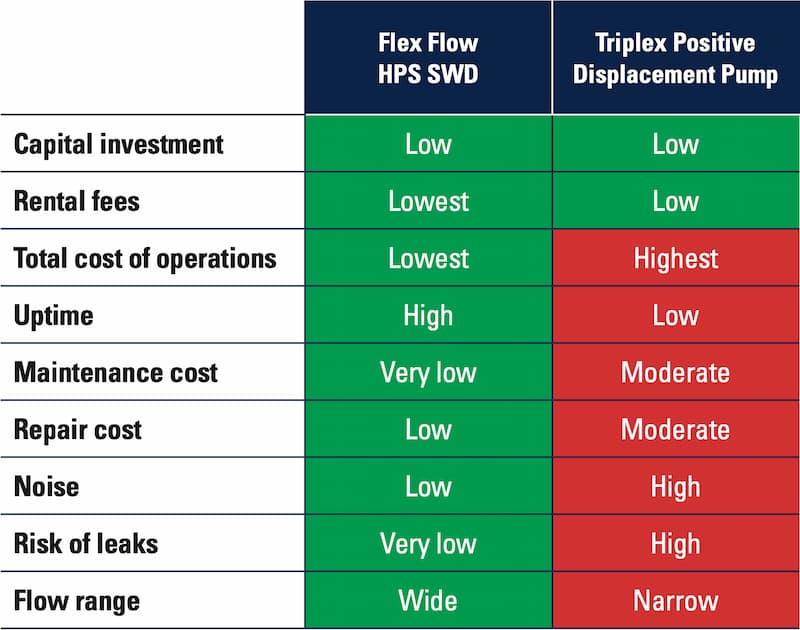 Get Acquainted with Flex Flow
With their leading H-pump technology, Flex Flow, a DNOW Company, offers impeccable solutions for surface applications across the energy realm. Dive deep into the world of horizontal pumping and witness efficiency like never before with Flex Flow.