DistributionNOW Safety Services
Industrial Shutdown and Turnaround Support
DistributionNOW Safety Services is the perfect partner for your next shutdown and turnaround project. We provide a comprehensive safety solution that is tailored to your specific needs, ensuring a safe and efficient work environment. Our experienced team of safety professionals will work with you to develop and implement a customized safety plan that meets all applicable regulations. We also offer a wide range of safety training programs to meet your workforce's needs. With DNOW Safety Services, you can be confident that your next turnaround or shutdown project will be safe and productive.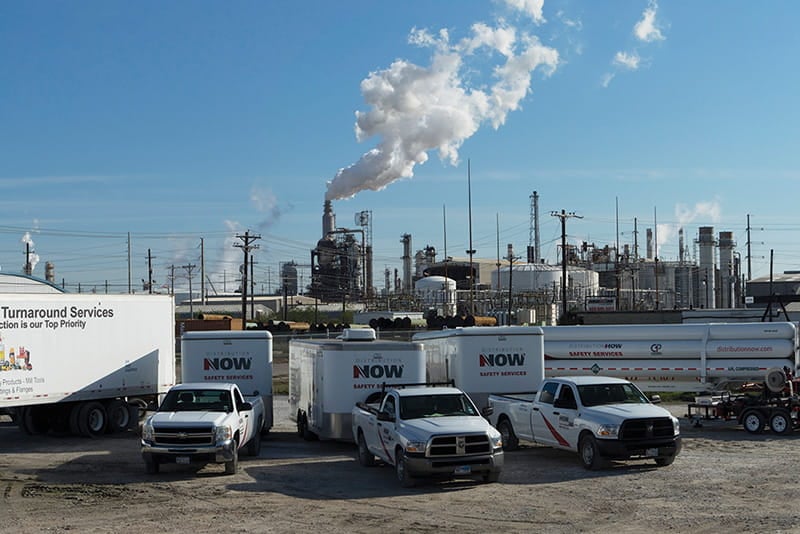 Safety Services and Solutions
DistributionNOW Safety Services operates on-site mobile and stationary facilities to support your rental equipment, personnel, and safety product needs. We're committed to providing turnaround solutions that are accident-free, on or below budget, and with no work stoppages due to equipment being unavailable. Our equipment is always up to safety standards and we follow manufacturing guidelines to avoid any equipment failures.
Our scalable resources and safety centers across the Gulf Coast allow us to quickly staff and equip any plant during an unscheduled outage or emergency. We operate turnarounds across the country, and we have man safety service locations inside customer facilities throughout the United States.
By utilizing the DNOW turnaround tracking software, all safety product issues and equipment rentals can be tracked by the company, contractor, employee and supervisor. This helps customers by making sure everything is accounted for and minimizing lost equipment.
We operate on-site mobile and stationary facilities to support your peak requirements for rental equipment, labor, and products. Our extensive inventory and material management services make us the ideal partner for an industrial plant turnaround. We can tailor our services to meet your specific needs, no matter what industry you're in.
Safety equipment rental
Equipment issues and service trailers
Breathing air bottles and air racks
Tube trailers and compressors
Safety technicians and safety personnel
Permit writers
Safety products
Compressor and bottle watch
Fit testing and equipment training
Equipment tracking and reporting
Expenditure tracking and reporting