Supply Chain Material Management: The Key to Business Efficiency
Streamlining Your Business with DNOW
At DistributionNOW, we're not just about offering services; we're about delivering solutions. We specialize in creating seamless workflows, effective inventory management and planning operations that ooze efficiency. Our reach, both in terms of expertise and a global network, empowers us to provide unmatched supply chain solutions. It's our mission to supercharge your productivity, driving tangible growth for your business.
How DNOW Can Benefit You
84% of supply chain officers say the lack of visibility across the supply chain is one of the biggest challenges they face. What if you had a one-stop-shop for demand generation and comprehensive inventory visibility?
At DNOW, we offer just that. We work with our customers to develop proprietary materials management and integrated supply chain solutions. Our solution means that you can have complete visibility into your inventory and demand forecasting to make better decisions about your supply chain operations.
We tailor our proprietary materials management and integrated solutions to meet the specific needs of upstream, midstream, downstream, and industrial companies. Using DNOW's solutions, customers have reduced their annual costs by millions of dollars.
80%
Noncore Capital Investment Reduction
With one client, we reduced noncore capital investments by 80% in key expense areas.
99.99%
Inventory Integrity from 85% inventory
With another client, we took $54 million of inventory from 85% to 99.99% inventory integrity.
$3.36M
Redeployment of Surplus Inventory over time
With a third client, we were able to redeploy a $3.36 million in surplus inventory over a 3-month period.
Efficiency Simplified with DNOW's Supply Chain Services
When it comes to oil and gas well production, DNOW Supply Chain Services forges partnerships ensuring you have the equipment when you need it. From demand planning based on your forecasts to coordinating with product manufacturers and managing regional warehouses, we keep the process efficient and fluid. In essence, we manage the complexities so you can operate seamlessly.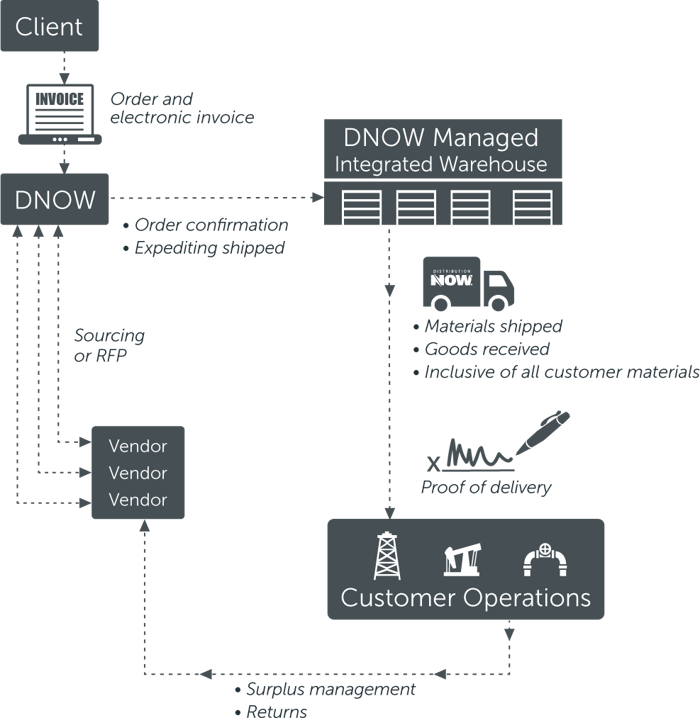 Optimizing Oil and Gas Production with DNOW Supply Chain Services
Watch our video on how DNOW's Supply Chain Services enhances oil and gas production. Learn how strategic partnerships, inventory management and a streamlined approach help producers save capital and focus on what they do best. Ready to revolutionize your oil and gas production? Partner with DNOW Supply Chain Services today and propel your operations to the next level!
Methodology: Our Approach to Supply Chain Excellence
Our approach pivots around you. We meticulously assess your unique needs, sculpting solutions that don't just meet but often exceed your objectives. We employ a proven methodology, aiming for perfection every step of the way.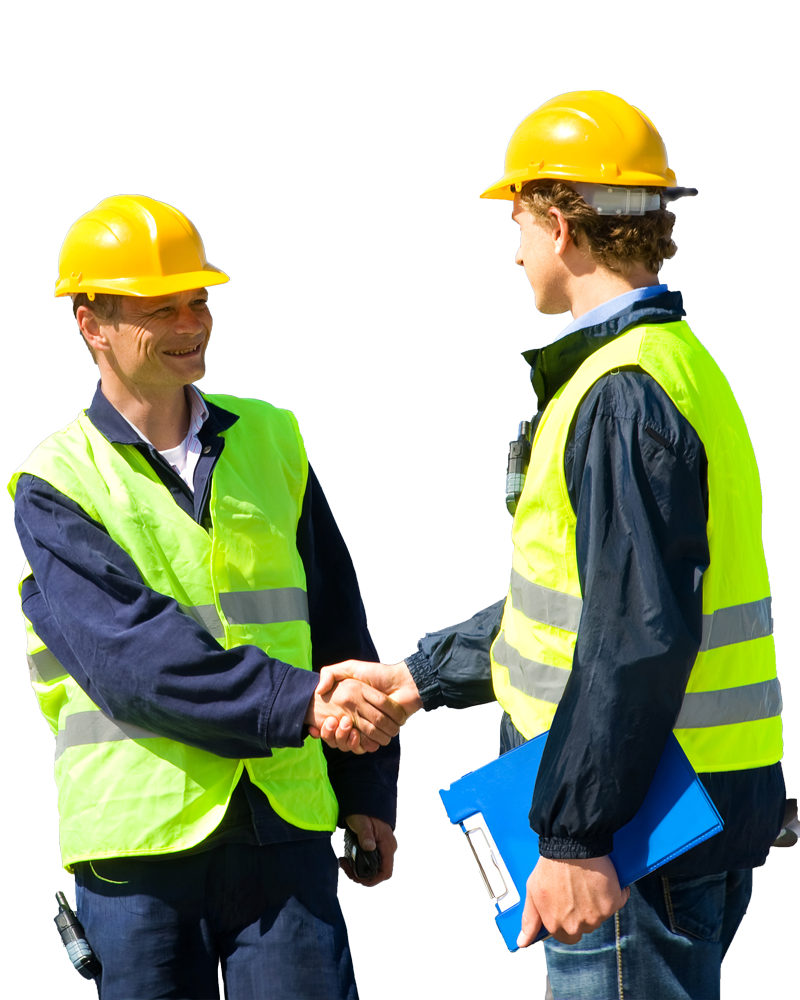 1
Customer Goals
We work with you to identify the specific challenges and objectives you hope to achieve, and we help you define what success looks like in terms of measurable outcomes. Our supply-chain operations and finance teams are engaged upfront so that we can jointly develop an accurate roadmap and budget for achieving your objectives.
2
Site Assessment
We take a holistic approach to assessing your sites. We consider all aspects of materials management, procurement process, logistics, and how they interact with each other.
3
Recommendations
We develop and deliver a proposal that outlines a collaborative strategy that meets, and often exceeds, your objectives.
4
Quantify and Document
We study and then document the current baseline for your operations, giving us a benchmark to measure the solution later.
5
Implementation
We put together an implementation plan and schedule, which includes any initiatives needed for change management.
6
Measurement and Feedback
We work closely with you to develop key performance indicators (KPIs) to measure the effectiveness of your supply-chain solution. We continuously analyze and adjust our solutions based on these KPIs to optimize results.
What We Do for Our Clients
At DNOW, our mission revolves around elevating your business operations. By offering state-of-the-art supply chain solutions, we drive optimal workflows ensuring you meet and exceed your business objectives. Harnessing our deep materials management know-how, an expansive global network and a diverse product selection, we bring to the table unmatched logistics and procurement insights. Our end-to-end solutions not only streamline your warehouse operations and inventory management but also prioritize reducing downtime and amplifying efficiency. With a resolute commitment to client success, DNOW steps in to manage intricate supply chain tasks, allowing you to remain focused on your core operations. Our partnership ensures you save on extraneous investments, harness the best skill sets, curtail operational costs and operate at peak efficiency.
As a producer, there's a million different things that are going on every day. If you're able to actually get some of those items off of our table, such as inventory management, and allow somebody else, such as DNOW SCS to take care of that for you. Then we can do what we do best, and that's produce oil and gas.
When we implemented the DNOW supply chain services process, we don't have the cash outlay upfront. We get the consistent deliveries. I don't have to worry about what I'm going to do with stuff that's leftover, goes back into inventory, we get credit and we'll see it on the next job site. It's really just a very efficient process.
It's challenging from other companies to get the right information at the beginning with DNOW rather than having to contact three to five people at every company to determine how much product they'll need. We have one source we know they have the right numbers so we know what to make and ship.
Enhancing Supply Chain Efficiency
At DNOW, we integrate cutting-edge solutions with extensive industry experience to address the multifaceted challenges of the supply chain. From automated inventory controls to the strategic management of material assets and progressive sourcing approaches, our services are meticulously designed to optimize operations, reduce costs and ensure consistent supply chain performance. Dive deeper into our offerings below.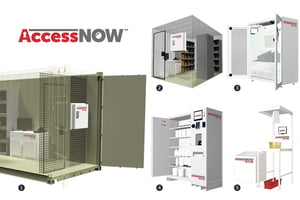 Automated Inventory Control Solutions
Revolutionize your inventory management with our innovative solutions, designed to reduce inefficiencies, increase visibility and curb unnecessary costs.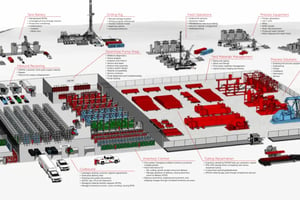 Material Assets and Inventory Management
Partner with DNOW for expert-led supply chain services that align your inventory with your operational needs, ensuring seamless management of non-core assets.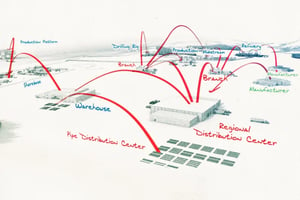 Leveraged Sourcing and Procurement
Rely on our global presence and industry expertise to deliver unparalleled sourcing and procurement solutions, ensuring your supply chain remains robust and responsive to market demands.
Ready to Get Started?
In the vast supply chain management landscape, having a partner like DNOW Supply Chain Services can be the differentiator between business as usual and unparalleled growth. Dive deeper into how we can catalyze your next success story. Contact us, and let's embark on this journey together.