How to Optimize Your Supply Chain for a More Efficient Business
Running a business is hard work. There are many things to think about and manage, from sales and marketing to accounting and human resources. But one of the most important - and often most challenging - aspects of running a business is managing the supply chain. A well-optimized supply chain can make all the difference for a business, helping to ensure that products are delivered on time and in the right quantities, that inventory is kept low and that costs are minimized. But how can you optimize your supply chain for your business?
DistributionNOW has the expertise and resources to help. We can optimize your workflow, manage your inventory, and plan efficient operations. Our global network and a vast range of products give us the flexibility to meet your needs. Our procurement acumen ensures you get the best value for your money. Let us show you how to help streamline your supply chain and keep your business running smoothly.
How DNOW can benefit you
84% of supply chain officers say the lack of visibility across the supply chain is one of the biggest challenges they face. What if you had a one-stop-shop for demand generation and comprehensive inventory visibility?
At DNOW, we offer just that. We work with our customers to develop proprietary materials management and integrated supply chain solutions. Our solution means that you can have complete visibility into your inventory and demand forecasting to make better decisions about your supply chain operations.
We tailor our proprietary materials management and integrated solutions to meet the specific needs of upstream, midstream, downstream, and industrial companies. Using DNOW's solutions, customers have reduced their annual costs by millions of dollars.
80%
Noncore Capital Investment Reduction
With one client, we reduced noncore capital investments by 80% in key expense areas.
99.99%
Inventory Integrity from 85% inventory
With another client, we took $54 million of inventory from 85% to 99.99% inventory integrity.
$3.36M
Redeployment of Surplus Inventory over time
With a third client, we were able to redeploy a $3.36 million in surplus inventory over a 3-month period.
We offer simplified supply chain management services to energize your business
We understand that a streamlined and efficient materials management model is critical to the success of your business. We design our services to help you manage your resources more effectively and lower operating costs. Our goal is to energize your productivity and help your business grow.
What We Do for our Clients
We provide supply chain solutions that optimize workflow and help businesses achieve their goals. Our materials management expertise, global network and vast product range allow us to provide seamless logistics and procurement insight unmatched in the industry.
Our comprehensive solutions cover everything from reorganizing your warehouse to inventory management and planning to minimize downtime and maximize efficiency. We are committed to helping our clients succeed. We are confident that we can provide your business with the perfect supply chain services.
We handle these tasks to concentrate on running your operation and keeping your people productive. Working with DNOW saves you from investing in your supply chain organization and hiring skillsets outside your core business. You're able to reduce operating costs and run more efficiently.
As a producer, there's a million different things that are going on every day. If you're able to actually get some of those items off of our table, such as inventory management, and allow somebody else, such as DNOW SCS to take care of that for you. Then we can do what we do best, and that's produce oil and gas.
When we implemented the DNOW supply chain services process, we don't have the cash outlay upfront. We get the consistent deliveries. I don't have to worry about what I'm going to do with stuff that's leftover, goes back into inventory, we get credit and we'll see it on the next job site. It's really just a very efficient process.
It's challenging from other companies to get the right information at the beginning with DNOW rather than having to contact three to five people at every company to determine how much product they'll need. We have one source we know they have the right numbers so we know what to make and ship.
Proven methodology for supply chain management success
We strive to provide tailored supply chain solutions to meet the specific needs of our customers. Our experienced team uses a proven methodology to design and execute each solution flawlessly. Regardless of the challenges your operation faces, DNOW has the experience and expertise to provide you with a supply-chain solution that exceeds your expectations.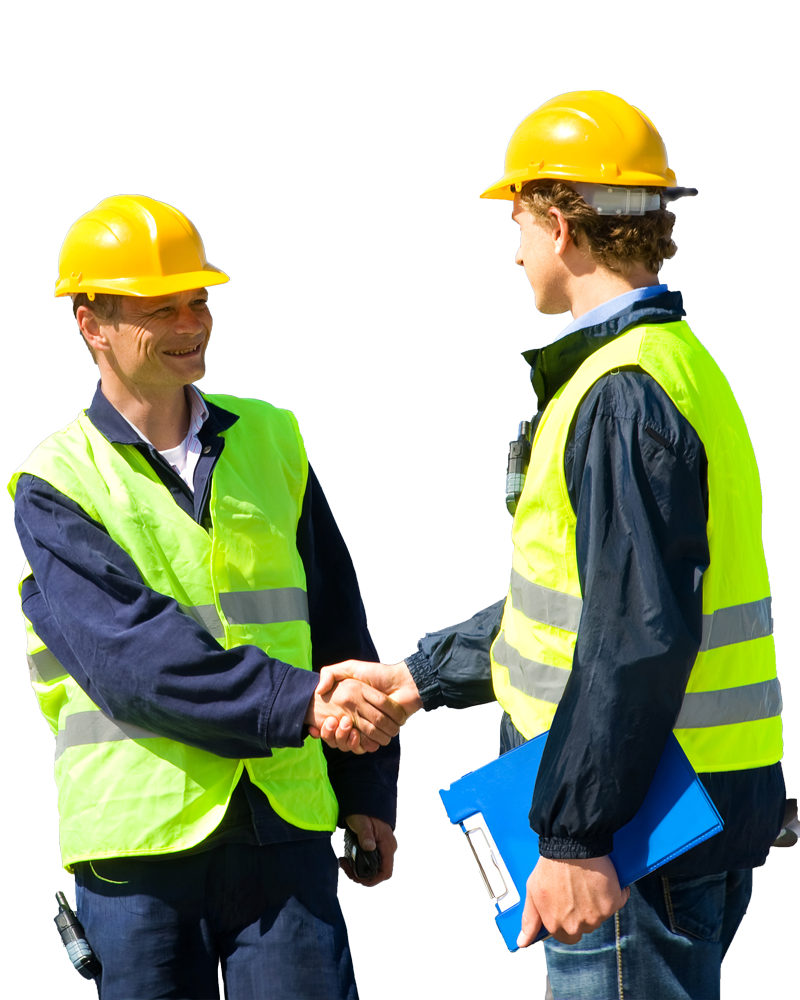 1
Customer Goals
We work with you to identify the specific challenges and objectives you hope to achieve, and we help you define what success looks like in terms of measurable outcomes. Our supply-chain operations and finance teams are engaged upfront so that we can jointly develop an accurate roadmap and budget for achieving your objectives.
2
Site Assessment
We take a holistic approach to assessing your sites. We consider all aspects of materials management, procurement process, logistics, and how they interact with each other.
3
Recommendations
We develop and deliver a proposal that outlines a collaborative strategy that meets, and often exceeds, your objectives.
4
Quantify and Document
We study and then document the current baseline for your operations, giving us a benchmark to measure the solution later.
5
Implementation
We put together an implementation plan and schedule, which includes any initiatives needed for change management.
6
Measurement and Feedback
We work closely with you to develop key performance indicators (KPIs) to measure the effectiveness of your supply-chain solution. We continuously analyze and adjust our solutions based on these KPIs to optimize results.
The simple guide to supply chain management services that you need to be successful
When drilling and producing oil and gas wells, it's vital to have the products you need available to get the job done. DistributionNOW Supply Chain Services creates strategic partnerships with producers to do just that.
Here's how supply chain management works when you partner with us:
We meet with you to understand your production forecast in a given area.

Based on that forecast, we create a demand plan for the oil and gas production equipment you will need when you turn your wells on in that area.

Once the demand plan is in place, we coordinate with product manufacturers to discuss shipping lead times and order products to ensure we'll have what you need and when you will need it.

We also set up a dedicated warehouse strategically located near your regional production sites. We stock the warehouse and provide ongoing inventory management to ensure you are never experiencing downtime because you are waiting on a product.

When you need an item, call us, and we will deliver it.
It's a very efficient process overall. Contact us today to learn more.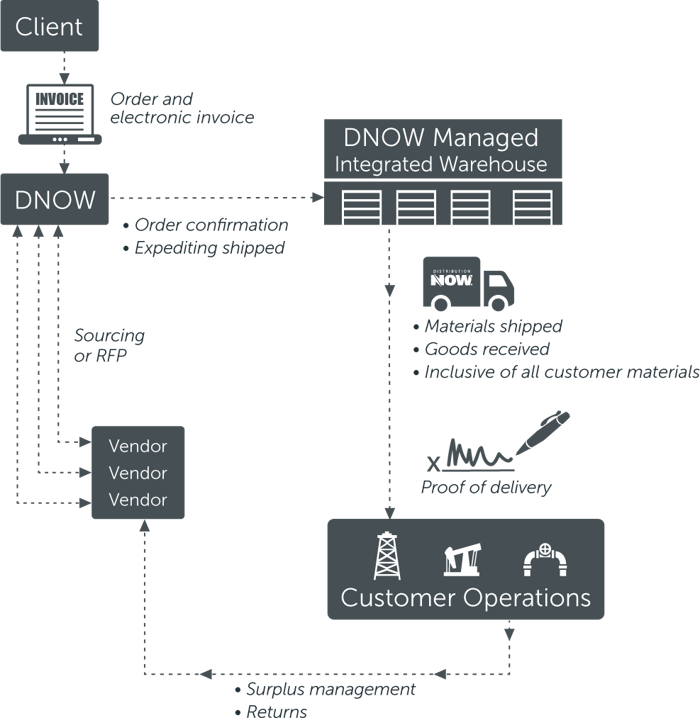 Ready to Get Started?
Supply chain management is a vast and complex field that incorporates the movement and storage of goods from the supplier to the customer. It requires planning, organizing, coordinating and controlling the activities and resources of the supply chain to meet customers' requirements. A well-managed supply chain can increase profits, improve customer service, and reduce costs. DNOW Supply Chain Services manages your inventory so you can focus on what you do best. Explore how we can help your operation today.