eSpec™ Product Configurator
The Ultimate Solution for Complex Equipment Ordering
Welcome to eSpec, powered by DigitalNOW®: the quick and easy way to order complex engineered equipment packages. Choose design options and material specifications for your project, and then watch as the system creates a 3D drawing and a priced, complete technical proposal that you can submit to DNOW in one click.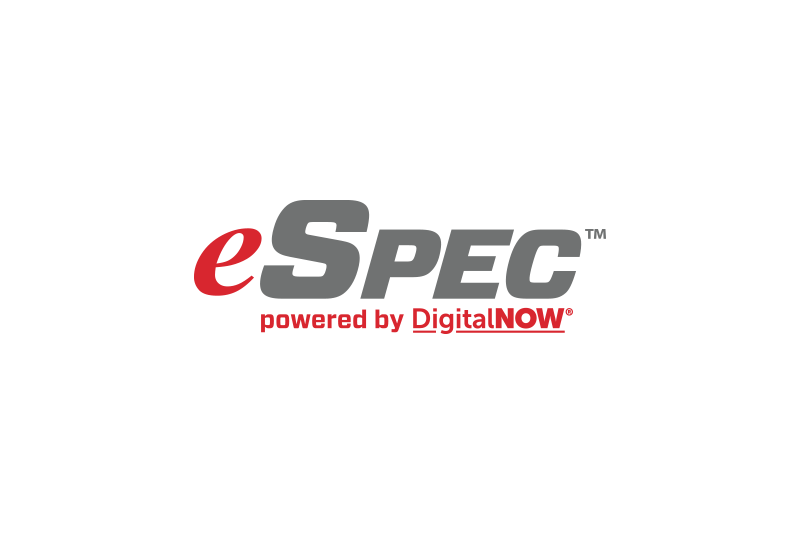 The Benefits of Using an Online Product Configurator for Your Business
eSpec™ is the perfect solution for businesses looking to simplify their product customization process. With our online product configurator, you can easily create unique products tailored to your needs using a few clicks. The intuitive interface ensures a hassle-free process so you can get started immediately. eSpec™'s wide range of features, from material choices to size options, guarantees that your project will end up with a product that meets your unique specifications.
Build Anytime, Anywhere
Configure multiple engineered packages for your project and submit the entire RFQ to DNOW engineers in just one click.
Get Real-Time Estimates
After you finish configuring your equipment, eSpec generates a complete technical quote with estimated budgetary pricing.
Build for the Future
Save your designs for easy reordering and pre-building equipment packages for your unique future applications.
4 Easy Steps to Start Building with eSpec
With eSpec™, ordering complex equipment packages has never been easier. Following the simple four-step process, you can design the perfect solution for your unique needs and get and receive a quote quickly. eSpec™ is revolutionizing the way to order complex engineering equipment packages by streamlining the entire process and providing a user-friendly platform to customize your order. Say goodbye to the days of spending hours on the phone with a sales rep trying to explain what you need. With eSpec™, you are in control and can build your perfect solution with ease.
2. Choose a Product
eSpec helps you quickly build a variety of engineered products for your specific needs:
LACT units
Separators (2-phase, 3-phase)
Salt water disposal (SWD) units
Water transfer skids
Gas meter tubes
Gas measurement skids & stations
Slug catchers
Heater treaters
Instrument air units (compressors, dryers)
Pig launchers & receivers
We're continually expanding our capabilities with new equipment options!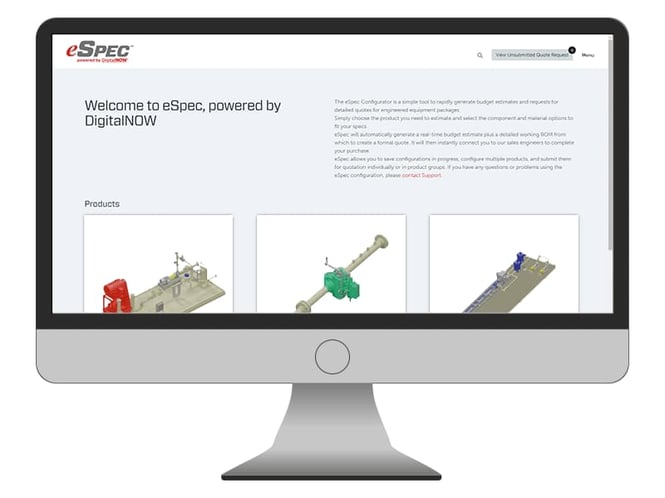 3. Design Your Solution
The configurator function of eSpec helps you specify the package components and build an engineered product that fits your specific requirements.
Save time by choosing components that are always compatible
Build multiple products and submit a single RFQ
Save build templates for later use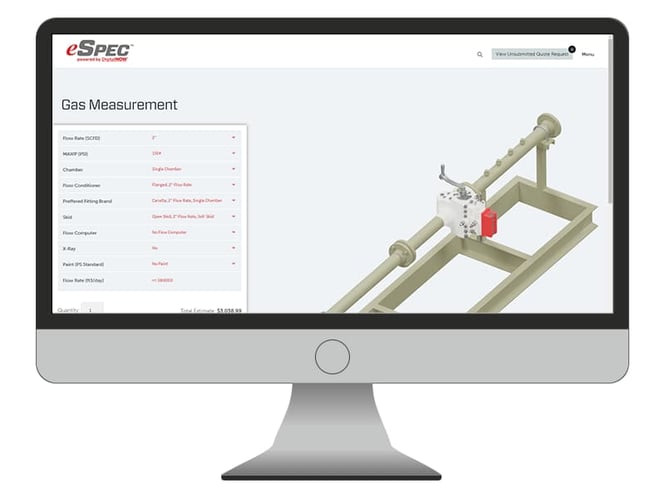 4. Get Your Quote
Just click "Submit" and your request will immediately be sent to our engineering and design experts. A DNOW team member will reach out to finalize any last-minute details so that we can start building a custom package to fit your unique requirements!
eSpec will also generate a budgetary quote, complete with a model image and drawings and estimated pricing for all the equipment you built, which will be emailed directly to you.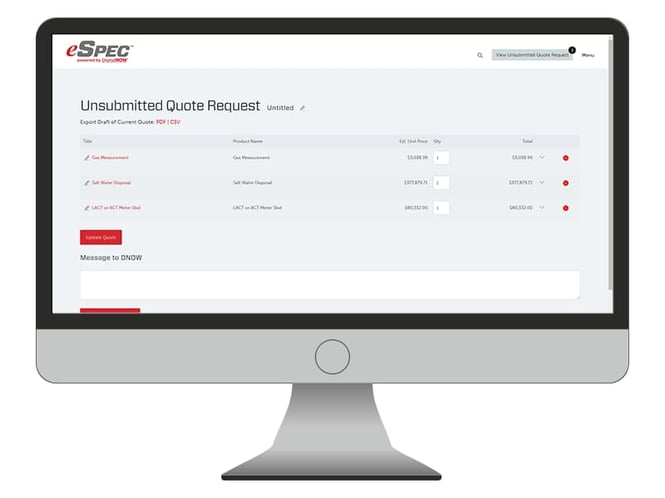 Start Building From Your Mobile Device
Configure multiple engineered packages for your project and submit the entire RFQ to DNOW engineers with our easy-to-use mobile app.
Features
Build multiple equipment packages for your project
Get real-time estimates from DNOW
Save your designs for easy re-ordering
---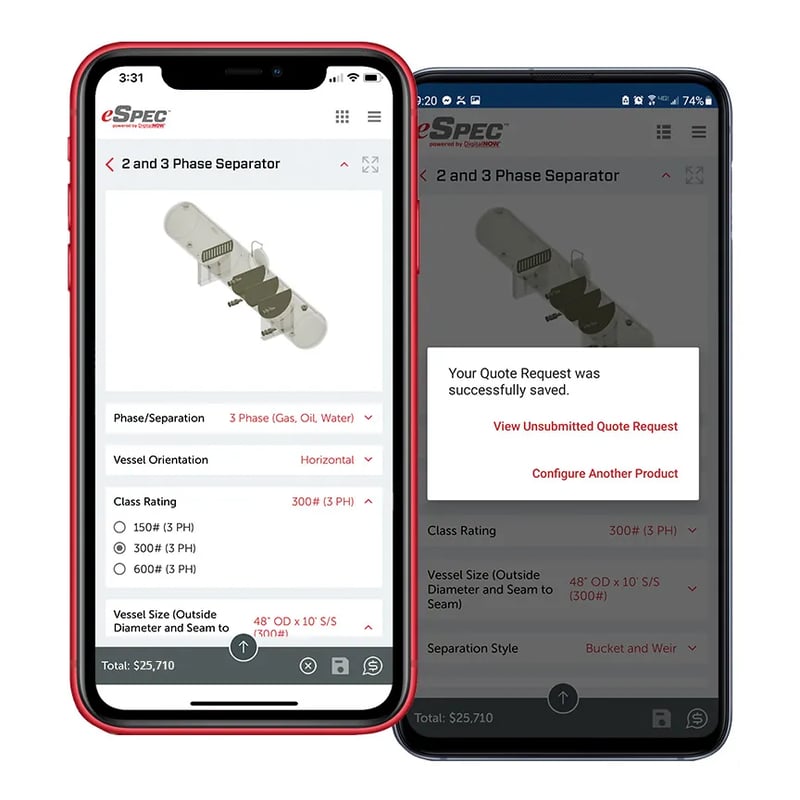 Revolutionize Your Ordering Process
With its easy-to-use interface and innovative features, eSpec, powered by DigitalNOW, is changing the game by making the ordering experience efficient and hassle-free. You can now customize your packages in real-time, eliminating the tedious task of manual labor. Say goodbye to the days of long and complicated ordering processes because, with eSpec, you're on your way to a faster and more efficient way of ordering. So why wait? Try eSpec™ today and see how it can transform your business operations.