Utilities & Gas Distribution
DistributionNOW's focus is to provide quality products that meet the gas utility industry's specifications, with technical support and a service model that meets customer daily requirements. Using our proprietary materials management and integrated supply chain and material management solutions, DNOW has helped many oil and gas operators generate FCF from their balance sheet.
One-Stop Shop
DistributionNOW's extensive product offerings, coupled with proprietary materials management and integrated supply chain solutions, allow us to be a true one-stop-shop. Our global purchasing and distribution network can provide you with high-value products and supply chain services to bring from the pipeline to the house with ease.
We also offer the following support for our utility and gas distribution customers:
Gas utility-specific products stocked locally
Storm emergency response
Technical valve and actuation expertise for pipeline and gas distribution
Technical Expertise
DNOW product experts offer engineered product solutions, working with engineers, operators, and supply chain managers to determine the best solution that fits the requirements of the operation. We improve efficiencies in our customers' supply chain and reduce operational downtime.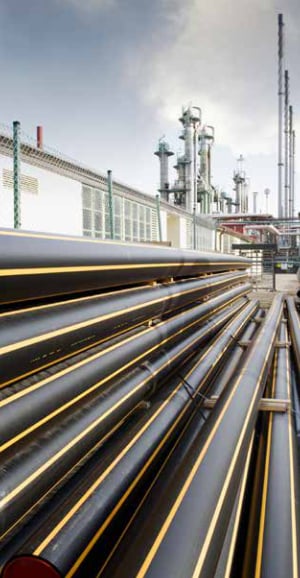 Our Gas Distribution Product Offerings
We offer a wide range of products to our utility and gas distribution customers:
Fabricated Products
ASME pressure vessels
Pipeline pig launchers & receivers
Vapor recovery units (VRU)
Skid packages
Meter runs
Pipe and
Coatings
Carbon steel pipe (low-temp, welded, seamless, black or galvanized)
Stainless steel pipe & tubing
Polyethylene pipe (MDPE, HDPE)
Fusion bonded epoxy (FBE) coating
Abrasion resistant overcoating (ARO)
Powercrete®
PRITEC®
Concrete coating
Cement lining
Three-coat system
Valves and Actuation
Ball, plug & butterfly valves
Gate, globe & check valves
Meter valves
Polyethylene valves
Instrumentation
Actuation
Fittings and Flanges
Carbon steel (low-temp, ASTM Grade B, high yield)
Malleable iron
Polyethylene & electrofusion
Mechanical fittings
Repair clamps
Transition fittings
Hot tapping & plugging
Industrial and Facilities Supplies
Adhesives, Sealants & Tape
Batteries & Battery Chargers
Facility Maintenance Supplies
Food Service
Industrial MRO supplies
Office Supplies
Janitorial & paper supplies
Safety Products and PPE
Head-to-toe PPE
Protective clothing
Fall protection
Respiratory protection
Gas detection & instrumentation
Environmental protection & spill control
Fire & rescue supplies
Tools
Hand tools, power tools & accessories
Abrasives & cutting tools
Measuring tools
Welding supplies
Paint and Coatings
High-Performance Coatings
Paints & Stains
Painting Equipment & Supplies
Specialty Products
Anodes
Fusion tools
Paint & coatings
Pipeline markers
Pipeline pigs
Tanks
Test stations
Tracer wire
Valve & curb boxes
Meter sets
Services & Support
We provide the following support at our branch locations and in the field:
Gas utility-specific products stocked locally
Storm emergency response
Technical valve and automation services
"Cradle-to-grave" project management
Engineering and design capabilities
Documentation control
Online ordering
Industrial vending technology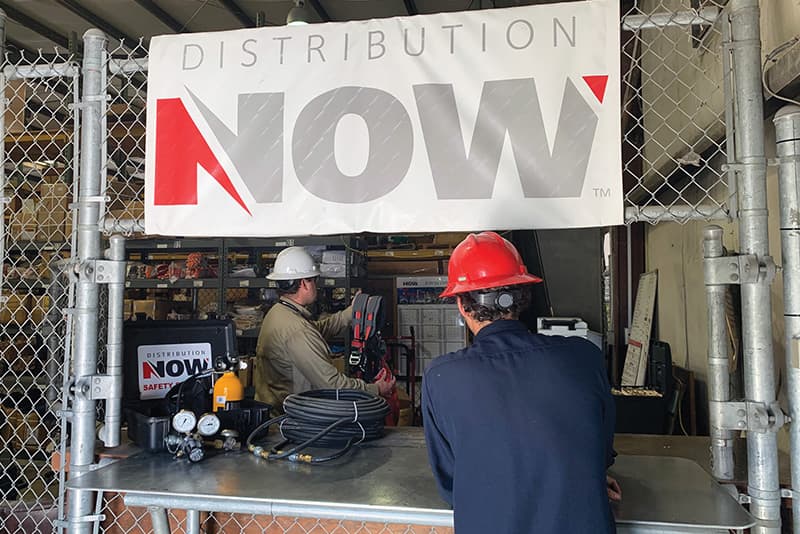 DNOW eCommerce Procurement Solution
We leverages a broad and diverse product portfolio, digital tools, and customizable service models to offer significant savings to customers. A partnership with us means a tailored approach based on your needs, whether it's the lowest cost, the highest quality products, a service-centric program, or any combination.