Downstream Pipeline and Gas Distribution Utilities
DistributionNOW's focus is to provide quality products that meet the gas utility industry's specifications, with technical support and a service model that meets customer daily requirements. Using our proprietary materials management and integrated supply chain and material management solutions, DNOW has helped many oil and gas operators generate FCF from their balance sheet.
One-Stop Shop
Our commitment to being a one-stop shop for all downstream product and service needs means that we can provide solutions for a wide range of challenges faced by our customers. In addition to supplying high-quality valves and pipe fittings, we offer an extensive range of lubricants that are specifically designed to keep machinery running smoothly in various industrial settings. Our sizing and selection tools provide fast and efficient delivery of the materials that our customers require, reducing downtime and costs. At our core, we are dedicated to maintaining the integrity of operations and ensuring that our customers' needs are met.Whether you are looking for valves, pipe fittings, lubricants, or instrumentation and measurement devices, we are here to help.
We also offer the following support for our utility and gas distribution customers:
Gas utility-specific products stocked locally
Storm emergency response
Technical valve and actuation expertise for pipeline and gas distribution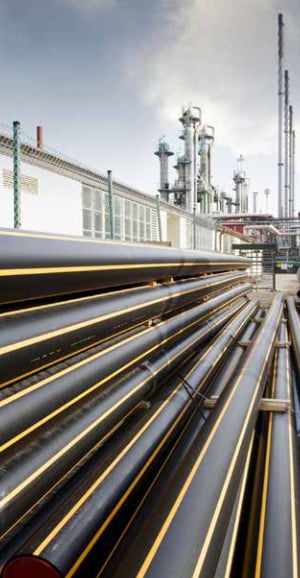 Technical Expertise to Achieve Optimal Performance
DNOW product experts offer engineered product solutions, working with engineers, operators, and supply chain managers to determine the best solution that fits the requirements of the operation. We improve efficiencies in our customers' supply chain and reduce operational downtime.
Our Utilities and Gas Distribution Product Offerings
If you're in the business of downstream industrial operations, then you know how important it is to have access to a wide range of high-quality products. That's where DNOW comes in - our gas distribution product offerings are truly expansive. Whether you're in need of wear parts, safety products, process equipment, or facility supplies, they've got you covered. Plus, all of our products are made with durability and reliability in mind, so you can trust that they'll perform well for years to come. So if you want to ensure that your downstream industrial operation is equipped with the best possible products, look no further than DNOW.
Fabricated Products
ASME pressure vessels
Pipeline pig launchers & receivers
Vapor recovery units (VRU)
Skid packages
Meter runs
Pipe and
Coatings
Carbon steel pipe (low-temp, welded, seamless, black or galvanized)
Stainless steel pipe & tubing
Polyethylene pipe (MDPE, HDPE)
Fusion bonded epoxy (FBE) coating
Abrasion resistant overcoating (ARO)
Powercrete®
PRITEC®
Concrete coating
Cement lining
Three-coat system
Valves and Actuation
Ball, plug & butterfly valves
Gate, globe & check valves
Meter valves
Polyethylene valves
Instrumentation
Actuation
Fittings and Flanges
Carbon steel (low-temp, ASTM Grade B, high yield)
Malleable iron
Polyethylene & electrofusion
Mechanical fittings
Repair clamps
Transition fittings
Hot tapping & plugging
Industrial and Facilities Supplies
Adhesives, Sealants & Tape
Batteries & Battery Chargers
Facility Maintenance Supplies
Food Service
Industrial MRO supplies
Office Supplies
Janitorial & paper supplies
Safety Products and PPE
Head-to-toe PPE
Protective clothing
Fall protection
Respiratory protection
Gas detection & instrumentation
Environmental protection & spill control
Fire & rescue supplies
Tools
Hand tools, power tools & accessories
Abrasives & cutting tools
Measuring tools
Welding supplies
Paint and Coatings
High-Performance Coatings
Paints & Stains
Painting Equipment & Supplies
Specialty Products
Anodes
Fusion tools
Paint & coatings
Pipeline markers
Pipeline pigs
Tanks
Test stations
Tracer wire
Valve & curb boxes
Meter sets
Benefits for Energy Industry Customers
When it comes to DNOW, you can rest assured that you are getting the best of the best. With a focus on quality and safety, our gas distribution product offerings are designed to exceed regulatory standards and provide long-lasting reliability. This means that you can rely on these products for years to come, without having to worry about product failure or safety issues. This commitment to excellence is what sets DNOW apart and makes us the go-to choice for customers who demand the best.
Superior Safety Services from Our On-Site and Locations
Our safety services group provides unparalleled safety services to our valued clients. Our on-site and branch service centers, rental fleets, and mobile and turnaround service trucks are second to none, providing comprehensive safety services such as testing respiratory equipment, fire extinguishers, fall protection, showers and eye protection. Our team of experts is well-trained in hose and level A suit testing, respirator fit testing, and much more.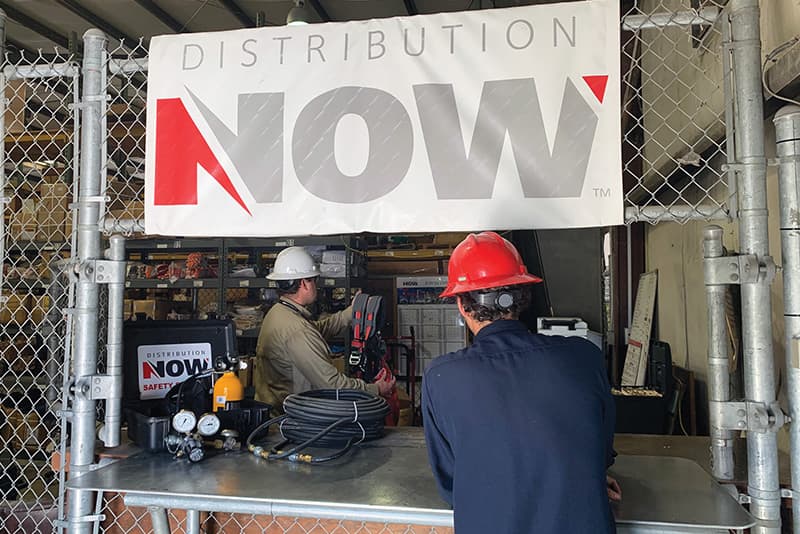 We pride ourselves on delivering top-notch safety services to ensure that our clients are always in compliance with health and safety regulations, our safety service branch locations and field technicians can offer:
Gas utility-specific products stocked locally
Storm emergency response
Technical valve and automation services
"Cradle-to-grave" project management
Engineering and design capabilities
Documentation control
Online ordering
Industrial vending technology
Streamline Your Industrial Supply Chain Processes
In the downstream industrial industry, having effective inventory and supply chain solutions is crucial. It allows you to efficiently and easily access data, monitor inventory and gain insights into your supply chain. We understand the importance of having an efficient supply chain. That's why we offer a wide range of supply chain solutions to help you optimize your operations and increase overall efficiency. Our team works closely with you to understand your unique needs and develop tailored solutions that meet your requirements. With our supply chain solutions, you can rest assured that you will receive the necessary materials to complete your projects faster and more effectively.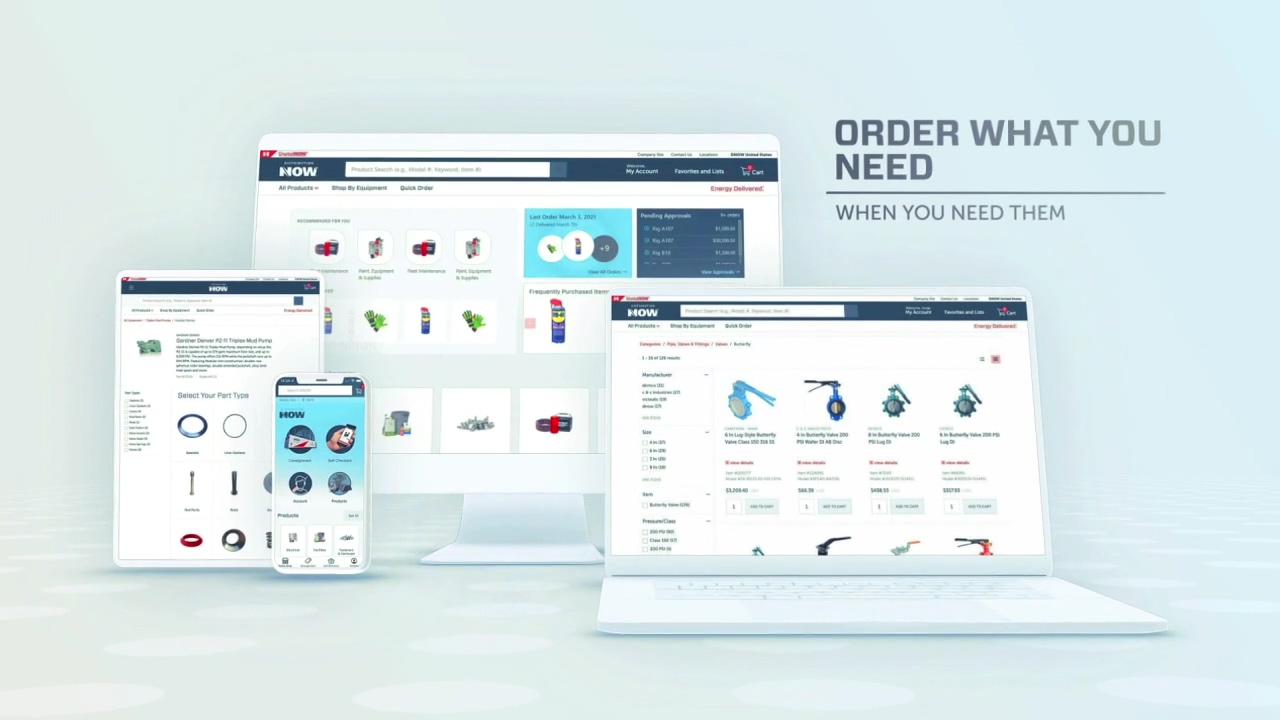 Gaining Access to Our Online Downstream Products Portfolio
We leverages a broad and diverse product portfolio, digital tools, and customizable service models to offer significant savings to customers. A partnership with us means a tailored approach based on your needs, whether it's the lowest cost, the highest quality products, a service-centric program, or any combination.
Improved Efficiency for Your Utility and Gas Distribution Needs
We are your go-to supplier for a wide range of products and integrated supply chain solutions. Our extensive product offerings and expertise in the industry make us a trusted partner for businesses of all sizes. From refinery and petrochemical plants to industrial supplies and tools, we have everything you need to keep your operations running smoothly. Our integrated supply chain solutions can help simplify your procurement process, freeing up time and resources to focus on what matters most -- growing your business. Reach out to us with any questions or inquiries - we're always here to help!