Energy Transition
Explore DNOW's Broad Range of Products and Services for Carbon Capture, Hydrogen and Renewable Fuels.
As you continue to invest in projects that drive the transition to low carbon energy sources, DNOW is well equipped and ready to support your operations with a broad range of products and supply chain services for carbon capture, hydrogen or renewable fuels applications.
Give us the opportunity to demonstrate how our products and expertise can fuel your next project and improve your sustainability for the future.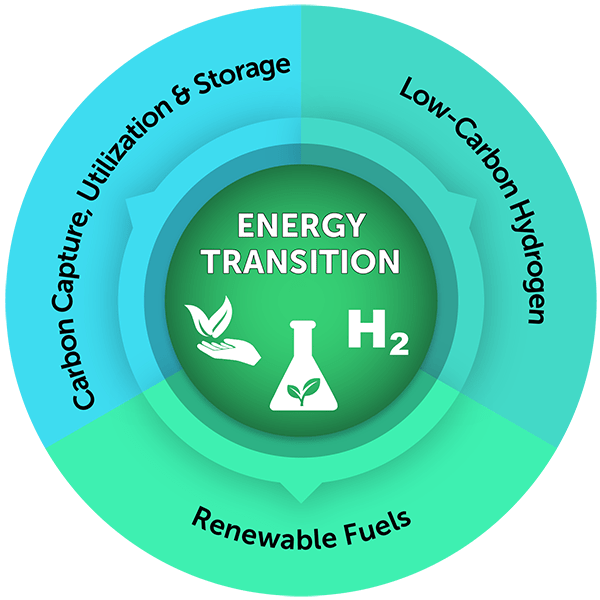 Carbon Capture, Utilization and Storage (CCUS)
Comprehensive Solutions for Carbon Management
DNOW is engaged with the growing CCUS market, supporting customers as they complete projects to control carbon dioxide emissions, including carbon capture, separation, compression and liquefaction, transportation, storage and utilization.
We are committed to offering products and services that provide value in this market:
High-grade steel pipe certified to ASME B31.2 standard for fuel gas piping
Low-emissions ball valves, gate valves, globe valves and check valves
Fittings, flanges, gaskets and fasteners
Dehydration units and other fabricated process equipment
Air compressor packages
Efficient API 610 pumps and other centrifugal pumps
Wellhead injection equipment
Instrumentation and electrical supplies
DNOW in Action: Carbon Capture, Utilization and Storage
Large Independent Oil and Gas Producer and Operator
DNOW is providing pipe, valves, fittings, pumps and compressors for CO2 utilization and CO2 pipeline transmission applications for a variety of ongoing projects. The stored/sequestered carbon dioxide is utilized for enhanced oil recovery (EOR) operations to optimize oil production.
Low-Carbon Hydrogen
Hydrogen Production, Compression and Transportation
DNOW supports the growing hydrogen market, including more environmentally friendly sources of hydrogen, like Blue H2 (from natural gas, biomass or biogas) and Green H2 (from water and renewable electricity or nuclear electricity). DNOW products are used in H2 production, storage, transmission pipelines and distribution:
High-grade steel pipe certified to ASME B31.12 standard for hydrogen piping & pipelines
Low-emissions ball valves, gate valves, globe valves and check valves
Low-emissions gaskets
Centrifugal pumps and diaphragm pumps
Custom fabricated pressure vessels
Air compressor packages
DNOW in Action: Hydrogen
Independent Hydrogen Producer
DNOW is providing multistage centrifugal pumps as key components in a new electrolyzer project. The completed plant will use proton exchange membrane (PEM) electrolysis technology to generate clean hydrogen from water for nearby customer operations.
Renewable Fuels
Biodiesel, Bioethanol, Biogas and Renewable Gasoline
DNOW supports the production of lower-carbon alternatives to existing fossil fuels, including a range of renewable fuels derived from waste plant material, animal oils and fats, greases and vegetable oils. We are capitalizing on our long history of supporting downstream refining customers to bring you high quality, proven products and services:
Welded and seamless carbon steel and stainless steel line pipe and facility piping
Standard and fire-safe ball valves, butterfly valves, plug valves, control valves and emergency shutdown (ESD) valves
Fittings, flanges, gaskets and fasteners
Process pumps
Personal protective equipment (PPE) and safety equipment
Turnaround and shutdown support
DNOW in Action: Biofuels
Independent Biorefiner
DNOW is providing pipe, valves and fittings for the construction of a new biofuels plant. Once completed, this facility will annually convert approximately 166,000 dry tons of waste woody biomass into 16.1 million gallons of low carbon, renewable jet and diesel fuels.