Value Added Solutions
Customized Product Offerings and Expertise for Global Markets
Explore cutting-edge energy solutions and technological advancements. Committed to excellence, we offer standout products, unparalleled customer service and prompt response times. Our integrated strategy bridges the gap between diverse manufacturers and industry stalwarts, paving the way for your leadership in the sector.
Our Distribution Channels
We offer a diverse range of products across the energy and industrial markets in the U.S., Canada and internationally. There are thousands of manufacturers of the products used in the markets in which we operate and customers demand a high level of service, responsiveness and availability across a broad set of products and vendors. These market dynamics make the distributor an essential element in the value chain for our customers. Our product offering is aligned to meet the needs of our customer base.
Energy Branches: Your Local Supply Store
Our Energy branches are brick-and-mortar supply store operations that serve multiple upstream, midstream and downstream customers from a single location. Catering to repeat account holders and walk-in retail customers, our approach is tailored to meet diverse needs.
Inventory and Delivery:
Products are systematically inventoried in our branch warehouses based on local market demands. We ensure timely deliveries and also offer pick-up options as required. These branches strategically cover a geographical radius, guaranteeing seamless product and solution deliveries.

Enhanced Supply Chain Services:
Besides the primary services, several of our locations go a step further. They offer an extended set of supply chain services that complement our product sales, amplifying the value we bring to our clients.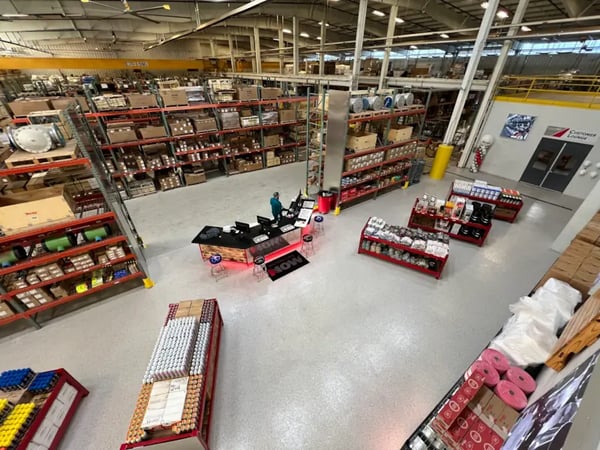 Interior view of Odessa's Premier Oilfield and Industrial Supplies Store, DNOW's Supercenter, showcasing a vast selection of pipes, valves, fittings, and other essential supplies
Distribution Channel Excellence
Our distribution channel stands robust, backed by a team of sales and operations professionals. Each member is meticulously trained in product knowledge, applications and premium customer service.
Industry-Specific Support:
We support our customers at every stage — from drilling, exploring, producing and transporting to refining oil, gas and other products.

Our Product Spectrum:
Our diverse offerings encompass line pipe, valves, fabrication, valve actuation, fittings, flanges, pumps, OEM equipment, electrical products, mill supplies, tools, safety gear, PPE and specialized products like artificial lift systems, coatings and other expendable items.

Beyond Product Sales:
Integrating product sales with supply chain services, we specialize in inventory planning, management and warehouse operations. Tailored to client needs, our supply chain services are strategically designed. They aim to cut down material and supply chain costs, elevate maintenance productivity, optimize inventory capital, speed up revenue timelines and ensure material availability, enhancing business continuity.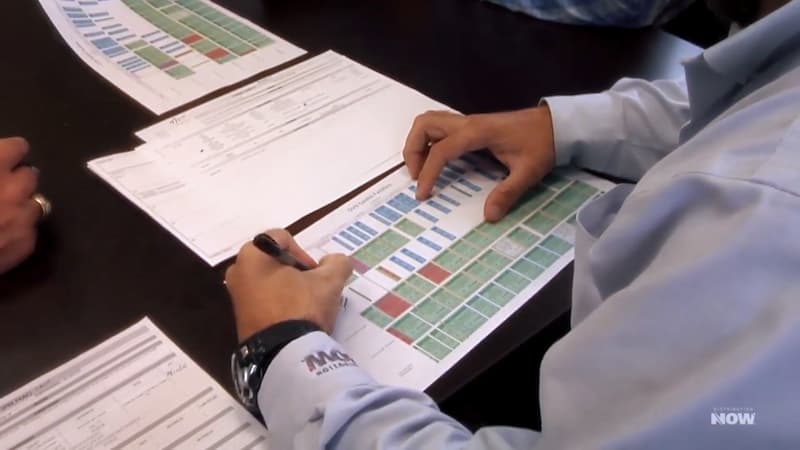 DNOW's Supply Chain Services: Elevating Oil and Gas Production Through Strategic Partnerships and Efficient Inventory Management.
Process Solutions: Expertise and Innovation
Our dedicated team at Process Solutions brings together distribution experts, technical professionals and licensed engineers. This union provides unparalleled expertise in various domains:
Fluid Dynamics and Equipment:
Explore our expertise in pumps, compressors and fluid movement packages. Take advantage of our fabricated liquid and gas measurement systems and advanced process and production equipment.

OEM Equipment Distribution:
We are a proud OEM equipment distributor, including pumps, generator sets, air and gas compressors, dryers, blowers, mixers and valves.

Specialized Production Equipment:
Our range extends to producing customer lease automatic custody transfer (LACT) units, vapor recovery units, gas meter runs, ASME code vessels like separators, heater treaters, gas conditioning systems, towers, reactors, condensate stabilizers, slug catchers, pressurized bullet tanks, pig launchers, receivers and water transfer and disposal units.

After-Market Services:
Benefit from our after-market services that span rental, machining and repair. Our team of field mechanics strategically located throughout the central U.S., ensures timely and effective service.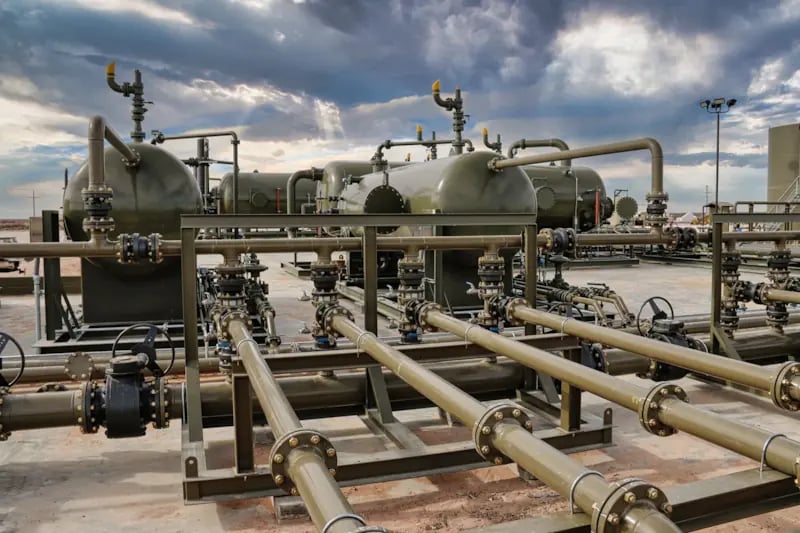 Horizontal Multi Pak 3-Phase Modular Production Skids Provided by Power Service, a Distributionnow Company
Markets We Serve
Process Solutions caters to a spectrum of industries:
Oil and Gas:
We serve the upstream, midstream and downstream segments, ensuring comprehensive coverage.

Diverse Industries:
Our expertise extends to the municipal industrial, mining, power generation and general industries.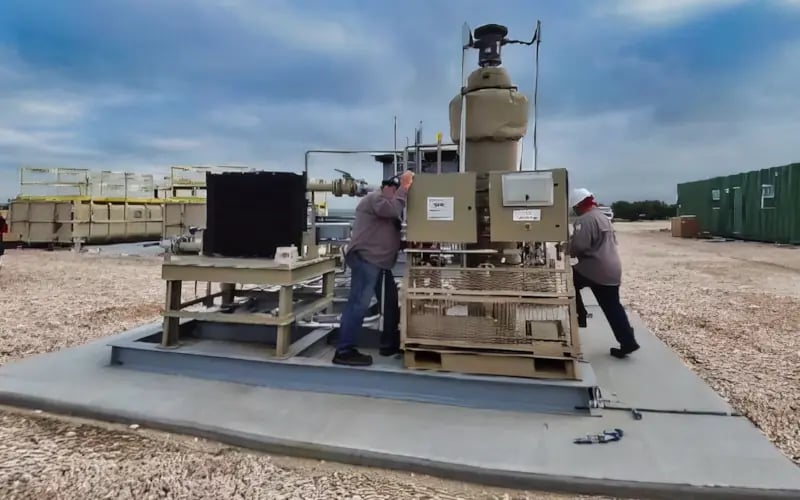 Skilled Ecovapor Technicians Are Installing the ZERO2 E300 Deoxo System at a Newly Established Swine Biogas Plant in Northwestern Oklahoma
Modular Tank Battery Solutions
Our modular oil and gas tank battery solutions are designed with our operator customers in mind:
Flexibility and Scalability:
Our design focuses on the present and future, offering modularity that guarantees adaptability for current and forthcoming production needs.

Efficiency and Safety:
Expedite your revenue generation by reducing the time to complete a tank battery and ensuring quicker oil and gas pipeline integration. Benefit from time and cost savings related to well hookup and tank battery commissioning. Additionally, our solution minimizes field incident exposures with a reduced labor requirement for battery construction.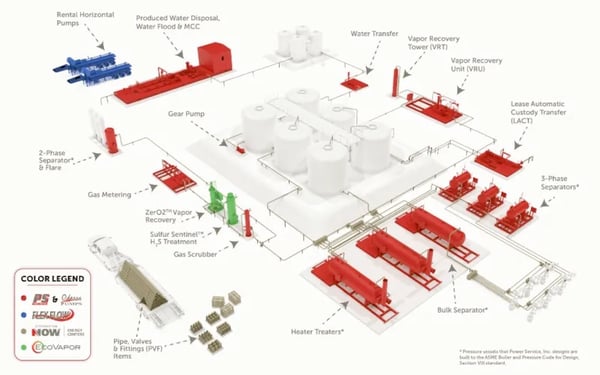 Example Tank Battery Installation
Why Choose DNOW: Commitment, Quality and Service Excellence
At DistributionNOW, we pride ourselves on delivering tangible results across diverse industries. Our detailed case studies demonstrate the breadth of our expertise, while our stringent quality programs underline our dedication to excellence. Yet, at the heart of DNOW lies an unwavering commitment to serving our clients. Discover how our holistic approach, encompassing success stories, top-tier quality assurance and an exceptional service commitment, positions DNOW as your premier partner in energy and industrial distribution solutions.