Digital Solutions Powered by DigitalNOW
Streamline Your Operations With Our Digital Tools
DistributionNOW is committed to providing world-class technology for eCommerce, data, and supply chain efficiency, all powered by DigitalNOW, our expanding digital solutions platform. We can help you streamline your operations and improve your bottom line with our cutting-edge technology.
Get the products and information you need, when you need it, from the comfort and convenience of your PC or mobile device. Contact us today to learn more about our digital tools and how we can help you take your business to the next level.
Make Your Business More Efficient With DigitalNOW®
Supply chain management, sourcing and procurement are difficult. You need countless products from sources you trust and supply chain services that meet your operational budget and time frame to keep your business moving. You shouldn't have to worry about anything but producing. DistributionNOW's digitalization initiative – powered by DigitalNOW – has you covered.
DigitalNOW is disrupting the way business is done in the energy industry. We are innovating and applying a suite of digital tools and applications under our DigitalNOW platform that addresses many common as well as some of the most challenging problems our customers face in today's challenging environment. As supply chain and procurement experts with decades of experience, our portfolio of digital tools utilizes AI and machine learning algorithms, eCommerce, digital apps for mobile devices, IoT and much more.
Let's start a conversation, and see what DigitalNOW can do you for you. Let us supply so you can produce.
eCommerce Solution Tailored to Your Procurement Needs
Are you looking for a trusted online supplier of energy and industrial equipment? DNOW has everything you need: pipe, valves, fittings and flanges (PVF), pumps, consumables, tools, safety supplies, PPE, etc. Our inventory is always in stock and ready to ship, so you can quickly get the supplies you need. Please register for a free account today and explore our extensive catalog of products from the most trusted manufacturers in the industry.
Standard and custom eCatalogs let you order using your contract pricing
ERP integration connects your company ERP system to DNOW via cXML or OCI
Powerful analytics allow you to visualize your data and analyze your spend
Custom approval workflows help you manage your buyers and enforce spending limits
eSpec Product Configurator: Design It. Price It. Submit It.
eSpec™ is a quick and easy way to order complex equipment packages. You can choose design options and material specifications. Then watch the system create a 3D drawing and a priced, complete technical proposal that you can submit to DNOW with one click.
Build anytime, anywhere - even multiple packages for a single project submission
Get real-time estimates - a complete technical quote is generated with estimated pricing
Build for the future - save your designs for upcoming projects and easy reordering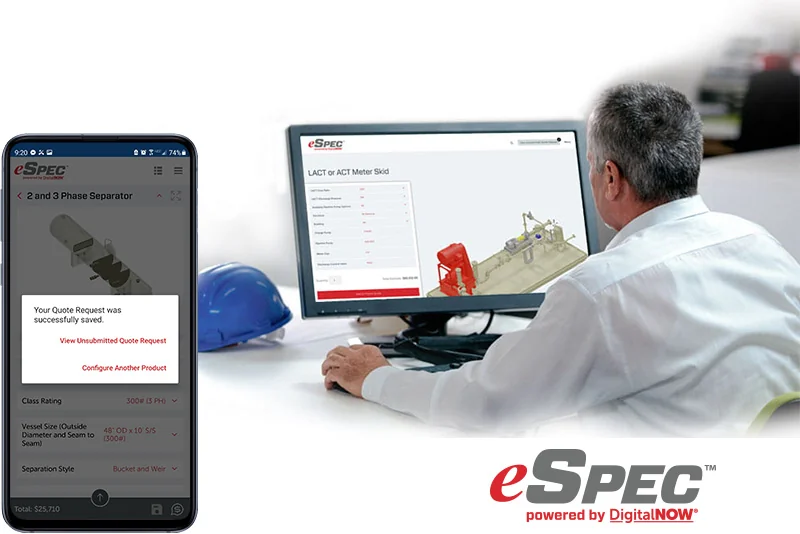 Simplify Your Asset Management With eTrack
DNOW's eTrack™, powered by DigitalNOW, is a tool that lets you track, schedule maintenance, and order replacement parts for field equipment. You can use it online or on your mobile device.
eTrack is designed to help you improve your resource optimization and reduce your bottom line. Simplify your asset management process with:
Search or filter a list of all your available assets, then pinpoint an asset's location on an interactive map
View sub-components, specifications, design drawings, wiring diagrams, fabrication certifications and more, all in one place
View complete logs of maintenance performed, parts replaced, service photos and other asset notes over its entire lifecycle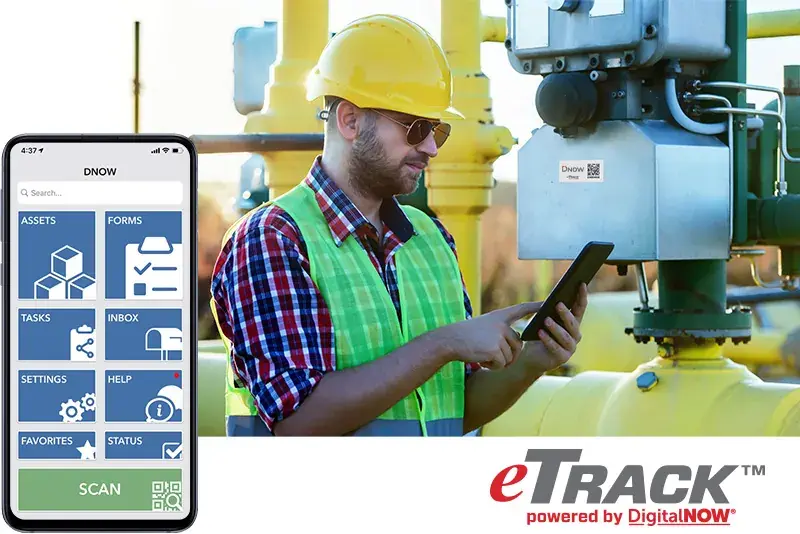 AccessNOW™ Automated Inventory Control Solutions
AccessNOW is our flagship inventory control solution, designed to help you better manage inventory integrity and optimize forecasting. With cameras, sensors, smart locks and automatic data collection, AccessNOW helps you streamline your inventory management and reduce costs through automation.
24/7 controlled access to materials via badge reader, keypad or facial recognition
Easy item check-in and check-out via barcode reader or RFID
Tamper-proof design with embedded alarm and motion-sensing cameras to monitor all activity
Real-time monitoring of inventory usage and cloud-based full transaction data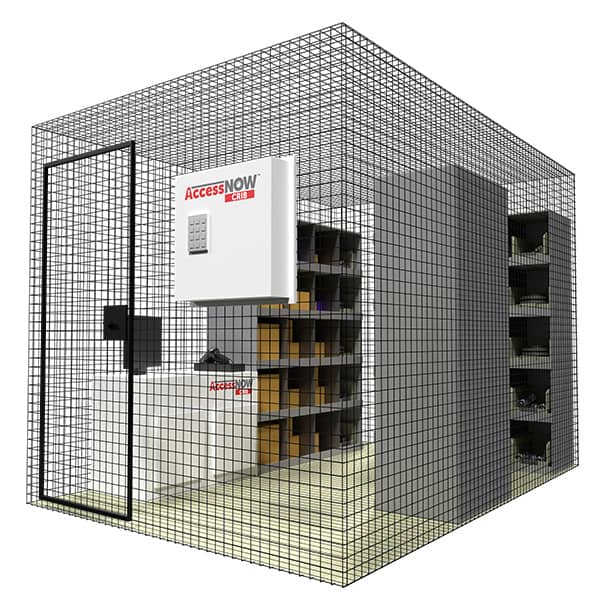 Smarter Valve Lifecycle Management With Mercury™
What if you could identify, automate and manage valve inventory using AI and other managed processes? DNOW's Mercury database software enables better collaboration between procurement and field technicians through a powerful, engagement-friendly digital interface.
Manages the complete valve repair lifecycle, from purchase to repairs to retirement
Collects, verifies and compares valve data, with photo records and full traceability
Displays overall facility health and recommended service actions
Searches the entire dataset using multiple filters
Provides workflow visibility and alerts regarding job assignments and status
DNOW App Library
We offer an ever-expanding suite of mobile applications as part of our DigitalNOW platform, covering everything from eCommerce to industry references.
Features
Shop online with your B2B eCommerce account
Reference PVF terminology, conversion formulas and data tables
Find DNOW locations and connect to our experts
---
Browse Our Apps