What sets DNOW apart?
Experience uninterrupted product access, exceptional supply chain management, and an unbeatable commitment to your success.
As the industry's preferred supply-chain partner, we go the extra mile to ensure your success. Collaborating closely with key manufacturers, we make significant commitments to provide you with the best products, prices, and availability. Our exceptional supply chain management, backed by our status as the largest supplier in the industry, ensures uninterrupted product access even during supply chain disruptions. Partner with DNOW and unlock the full potential of your business.
Why Choose Us?
Our customer-centric approach ensures we understand your unique requirements and provide tailored solutions that deliver results. We strive to exceed your expectations by offering competitive prices, timely delivery, and exceptional after-sales support. Choose DNOW, and experience the difference in our commitment to your success. With high-quality products and a team of experienced professionals, we are dedicated to providing the best solutions for your needs. Whether you are looking for reliable equipment, efficient distribution services or innovative solutions to enhance your operations, we have you covered.
Customer Priority One (CP1)
Our commitment to our customers and quality of service is at the forefront of who we are. We recognize that our customers have a choice of whom they rely on for their energy and industrial product needs. Providing excellent customer service is our promise and a commitment to our customers.
Our Customer Priority One (CP1) program was designed and implemented to help us deliver on that promise by providing us with quality feedback from our customers and our suppliers. CP1 is a global initiative whose purpose is to strengthen and support our culture of superior customer service. DNOW is committed to the following tenets:
Understanding our customers' needs and exceeding their expectations
Creating a business where our customers choose us because of our service
Being rewarded for our services through lasting customer relationships
To deliver within DNOW a global culture and service environment where the
Customer
is
Priority One
and we are rewarded by being the industry's preferred supply chain partner fueling sustainable and continuous growth for all stakeholders.
Knowledgeable People
Our product line managers and specialists provide our customers with in-depth knowledge gained from many years of experience in a range of product applications and processes. Their focus areas include pipe and coatings, valve actuation and automation, electrical products, MRO supplies, tools, and safety products. DNOW supply chain experts and consultants help customers become more efficient, removing waste from the supply chain and focusing on inventory investment, facilities management, and logistics.
Continuing education is provided to current employees through DNOW University (DNOW U), our internal learning management system. DNOW U is designed to provide easy access to training and learning content for all employees, including instructor-led courses, online courses, and a library of reference materials. It is also vitally important to develop our next generation of experts.
Our Supply Chain Management Development Program attracts impressive, high-potential, recent college graduates and effectively hires, trains, and exposes them to the energy and industrial industries. The program outlines and explains DNOW's business processes through relevant, applicable work projects. Graduates of this year-long program are awarded permanent roles within the organization.
This emphasis on education translates into significant benefits for our customers. They get an insight that is only possible through product and supply chain experts who are genuinely in touch with global trends and the industry's overall health.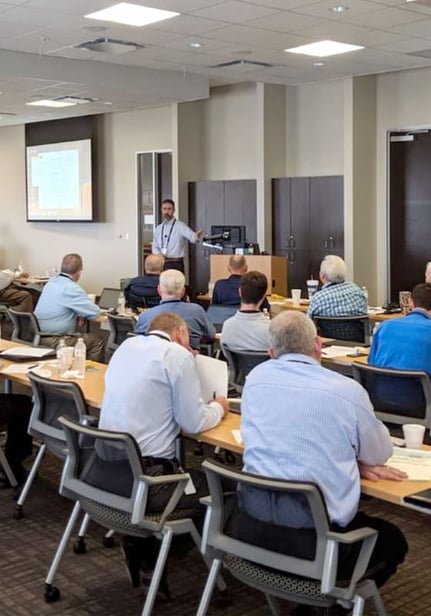 Global Infrastructure and Inventory
With a strong presence in over 170 locations worldwide, including approximately 60 outside of the United States, our expansive global infrastructure allows us to effortlessly cater to the diverse needs of our customers on a truly global scale. As a leader in our industry, we possess the unparalleled capability to deliver high-quality products and solutions, even in the face of complex supply chain challenges. This enables our valued customers to streamline and optimize their businesses effectively, ensuring seamless operations and enhanced productivity. Our extensive network empowers us to anticipate and meet the demands of our clients, regardless of their geographical location, providing them with the peace of mind that their needs will be completed efficiently and expeditiously.
Leveraged Sourcing and Procurement
We are a leader in supply chain management because of its extensive knowledge, hands-on industry experience, and global presence in sourcing and procurement services. Our size, our scope, the breadth of the markets we are in, and the diversity of the customers we serve give us an edge, but we continuously seek new suppliers that meet our quality standards. This commitment ensures that our customers always have great options from which to choose. DNOW is not just about products. We also offer a wide range of supply chain services that reduce customer costs and increase efficiency.

Global Sourcing
We are constantly searching the globe for products that expand our offering or that provide a better economic option for our customers. Once those manufacturers are identified, we begin the process of bringing them on-board through our stringent qualification process and supplier management program. After they have completed our qualification process, they are added to our approved manufacturers list.
Approved Manufacturers List (AML)
Our AML provides a solid foundation to our business. To ensure that only quality products are offered to DNOW customers, we have spent years refining our quality process to generate a list of approved manufactures that we represent. Our AML allows us to mitigate risk in the supply chain for our customers and the industry by offering suppliers and manufacturers in market-share-leading positions in all of our product categories.
Category Management
Our Category Management group is composed of product specialists, directors, and buyers who are responsible for developing and maintaining the invaluable relationships we have with our manufacturers and suppliers, both domestic and global. They are also responsible, with the assistance of our Quality department, for monitoring the quality of the products we sell, including the resolution of any issues with suppliers.
Material Master
DNOW's Catalog group is responsible for setting up and maintaining the material master and customer-managed catalogs, which contain essential data on products we sell, such as identification numbers, product descriptions, images, and more. The integration of all our material information into a single database eliminates redundant data, and the data stored is used for inventory management, purchasing, planning and forecasting, e-commerce, and many other business processes.
Advanced Planning and Forecasting
We establish replenishment and planning models that optimize inventory and provide tools, information, and analysis to all levels of our organization. Our team analyzes the usage data we collect and sets item reorder points and min/max levels that allow for automated center replenishment from our suppliers and distribution centers. Providing seamless supply chain efficiency on re-order, redistribution, and replenishment of inventory is the key to providing DNOW customers with high material availability, high fill rates, and high on-time delivery rates.
Industry-Leading Quality Program
We are recognized by customers and suppliers alike as having the industry's most advanced quality assurance program. Our regional distribution centers and key locations are ISO 9001 certified. Our commitment to meeting and exceeding the needs and expectations of our customers is reflected in our IMPACT quality goals:
I

ncrease employee capabilities

M

aintain accurate inventory

P

rovide quality product and services

A

lways deliver on-time

C

ontinually improve

T

otal customer satisfaction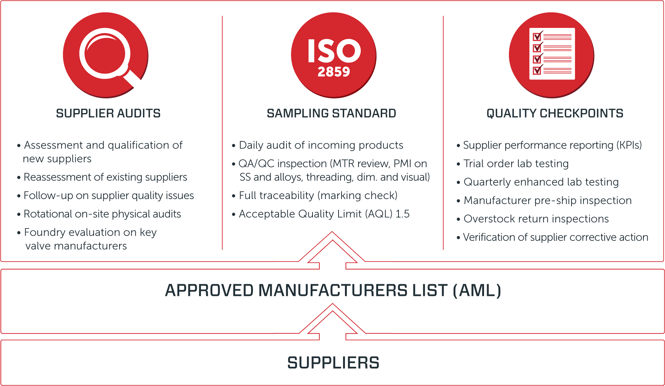 Approved Manufacturers List (AML)
DNOW's AML is one of the most powerful benefits to its customers, some of whom have decided to adopt it as their own standard. This list represents suppliers and manufacturers in market-share-leading positions that meet our ISO 9001 standards for quality and have withstood our continuous evaluation process.
Constant Supplier Evaluation
Supplier evaluation is handled through DNOW's Triple Impact Supplier Management Program, which ensures product quality through three main activities: audits for new and existing suppliers, daily ISO 2859-based quality inspections, and a quality checkpoint program that monitors a supplier's performance through KPIs and random quarterly checks.
World-Class Supply Chain Technology
Our solutions include outsourcing portions or entire functions of our customers' procurement, inventory and warehouse management, logistics, point of issue technology, project management, business process and performance metrics reporting. Additionally, through our growing DigitalNOW® platform, customers can leverage world-class technology across eCommerce, data management and supply chain optimization applications to solve a wide array of complex operational and product sourcing challenges to assist in maximizing their return on assets.
Enterprise Resource Planning (ERP)
DNOW utilizes a single instance of SAP® for global visibility on sales and distribution, pricing, sourcing and procurement, and resource planning. Each inventory location is replenished – often automatically – by a regional distribution center, or from one of our approved suppliers.
The level of integration provided by the ERP system allows for data sharing across DNOW's entire global network. Our business processes and best practices are standardized, maximizing our efficiency in every aspect of the supply chain:
Demand management
Warehouse management
Sales and operations
Inventory and catalog management
Planning and forecasting
Warehouse Technology
Our warehouse management system (WMS) interfaces directly with the ERP system to automate background processes and streamline our operations. The WMS and its linked hardware form the foundation of our supply chain, making us quicker and more efficient.
Warehouse Management System (WMS)

– the backbone of our distribution centers, our WMS takes in purchase orders and allocates products to specific areas, directing our staff to place materials in the best location. Each material's location is logged, directing future actions, such as high-speed order picking, by routing pickers working in a warehouse zone to specific items.

Wireless Handheld Scanners

– our wireless handheld scanners receive order information from the WMS, directing product pickers to move in parallel and fill orders by scanning barcodes. New barcode labels are created to denote an entire order, and the WMS tells the picker where to drop it for shipping.

Voice-picking System

– this hands-free version of the handheld scanner responds to voice commands, and guides product pickers with verbal instructions about product type, quantity, and the location to drop the completed order.

Carousel System

– our warehouse carousels speed up the order picking and kitting process by bringing the parts straight to the picker. The picker is able to assemble the order faster with the added accuracy of system-controlled product selection.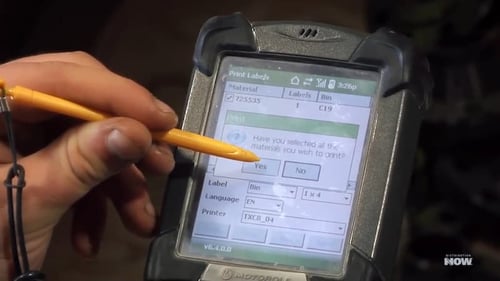 Analytics, Reporting, and Savings Analysis
Our reporting capabilities are at the heart of driving customer value, identifying savings opportunities and areas of improvement for collaborative discussions to meet customer sourcing and procurement goals.
Based on the needs of a specific customer, we can provide customized reporting with line item detail. DNOW account managers can walk customers through not only raw data, but also meaningful information presented in dynamic reports. Our account executives work with our customers to develop and monitor key performance indicators (KPIs), and they provide metrics by customer location or business unit, spending trends and analysis, and opportunities for cost savings. We can drill down and measure just about anything our customers request. Most of our competitors simply cannot provide this level of detail.
Our cost savings analysis looks for both hard and soft savings opportunities within many different aspects of the relationship, including inventory management processes, product standardization, e-commerce functions, project management, training, and implementation. We are able to then estimate the savings possible in terms of price, capital, time management, transaction cost and number, or manpower utilized.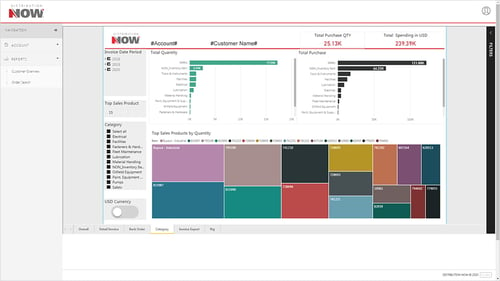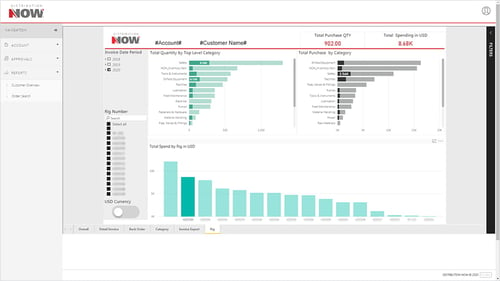 E-Business
Our e-business capabilities (including e-commerce) consist of the following:
E-Commerce

: online catalog and punch-out/roundtrip

Business-to-Customer (B2C)

– customers can shop online, no contract required. They simply visit our website, login, and purchase what they need. An order confirmation is then sent, and the order is shipped.

Business-to-Business (B2B)

– contract customers can login to view their unique contract items and pricing. Our B2B solution also integrates with a customer's direct or 3rd party procurement software, such as Ariba, Oildex, and others, and provides a punch-out/roundtrip experience.

E-Business Back-Office

: electronic processes and transactions

EDI and XML

– our back-office, automated processes use both EDI and XML to keep transactions and processes running smoothly. Contact us today for any customized solution requirements.
Our e-business platform allows us to offer service customized to our customers' needs. We can introduce and manage new catalogs, whether by industry or by product, and we also create and manage customer catalogs with pricing specific to that customer. Another benefit is a paperless procure-to-pay process, to meet any customer requirements for paperless invoicing.
Inventory Control Solutions
Our suite of un-manned inventory control and inventory management solutions are designed and built for industrial applications. With cameras, sensors, smart locks and automatic data collection, our AccessNOW solutions is a powerful and cost-effective solution to some of your biggest inventory control problems:
Stock-outs
Excessive usage
Lack of accountability and control
Lack of inventory management
Shrinkage
Little or no data collection
Transactional costs for placing redundant orders for often-used items
Product expiration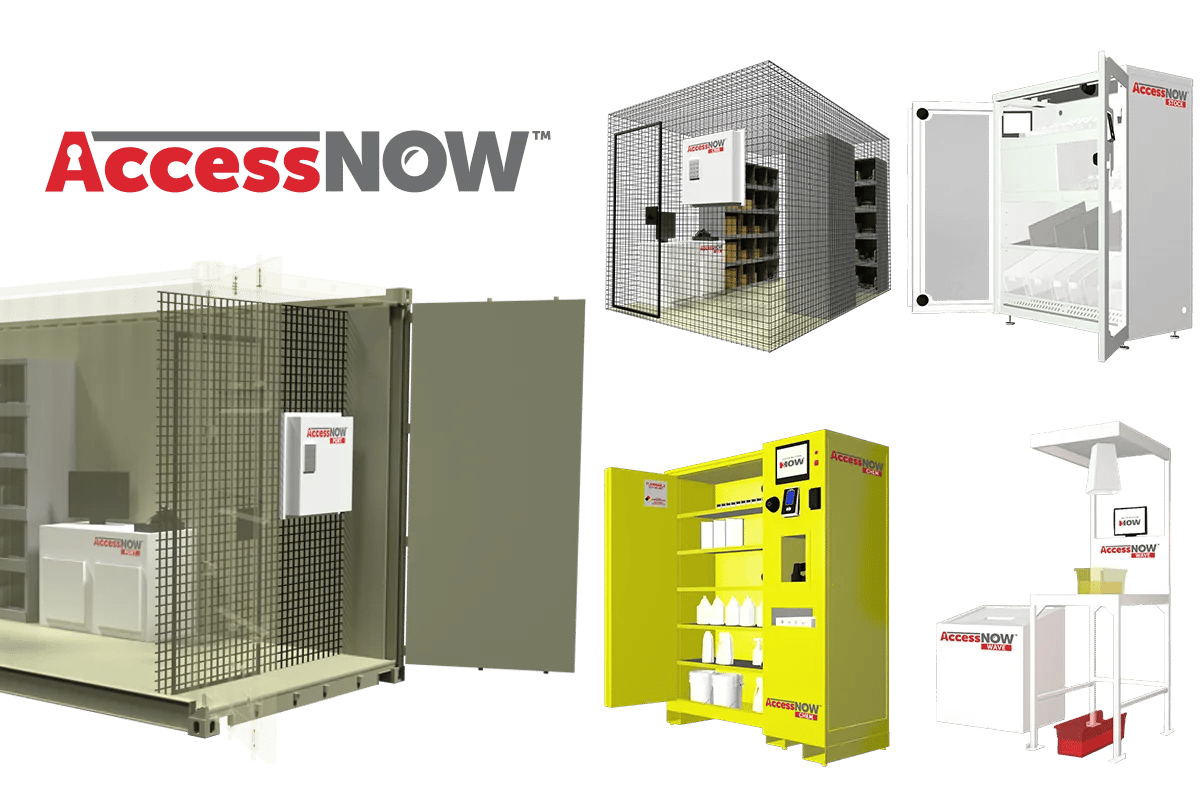 The DNOW Difference
Our employees are dedicated to improving not only distribution, but also the way we deliver. We approach every task with energy and passion to make sure the job is done right, and we strive to be the best in the industry. Every year, every day, every moment, we find new ways to meet and exceed our customers' needs