eTrack™ Asset Management
DistributionNOW's eTrack, powered by DigitalNOW®, is an asset lifecycle and management tool giving you the power to track, schedule maintenance and order replacement parts for field equipment, all in one easy-to-use interface online or on your mobile device.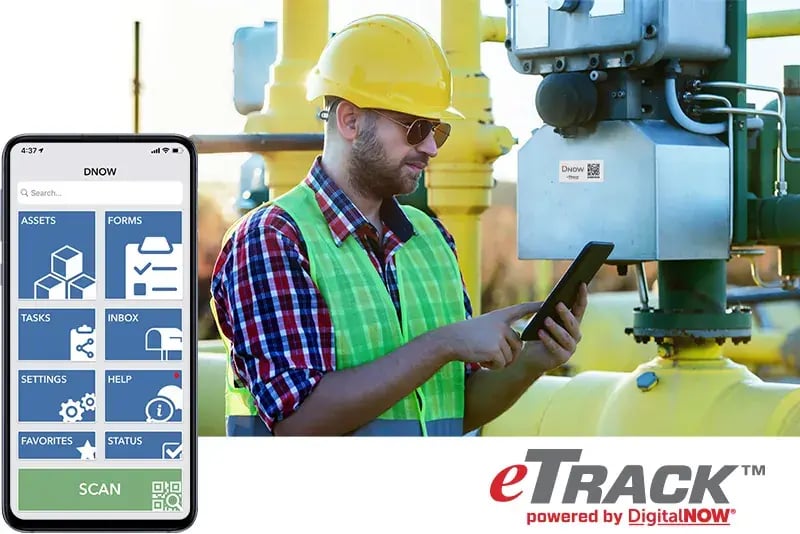 eTrack is the answer to your asset management questions
DNOW's asset tracking tool focuses on optimizing your resource and reducing your bottom line. Simplifying your asset management process with eTrack can help you answer 3 big questions.
Where is my asset right now?
---
Search by keywords or location, filter a list of all your available assets and then pinpoint an asset's location on an interactive map.
What do I know about this asset?
---
View sub-components, specifications, design drawings, wiring diagrams, fabrication certifications and more, all in one place.
What is this asset's service history?
---
View complete logs of maintenance performed, parts replaced, service photos and other asset notes over its entire lifecycle.
eTrack has powerful features to simplify your asset management process
Quickly view asset information by scanning a QR code
Search assets by keywords or location
View the asset location on a map (latitude/longitude)
Attach documents, pictures, notes and other files to each asset
View audit logs of any changes made to assets
Assign QR codes to each asset
Group sub-components under parent assets (e.g.- LACT unit with a pump, mechanical seal, meter, etc.)
Submit service requests for a specific asset
Submit material transfer requests (move an asset yard-to-field, field-to-yard or field-to-field)
Submit parts requests for a specific asset
Track maintenance/repairs on assets
Schedule time-based repairs (regularly scheduled or single time)
Features Coming Soon
We're working hard to enhance eTrack with even more features. Soon, you'll have even more control over your assets:
Track asset value over its lifecycle
Predictive maintenance recommendations based on collected data
What can eTrack do for me?
Through the eTrack mobile app, you can easily monitor an asset's entire lifecycle. Find available assets, mobilize them to where they're needed and schedule maintenance, all from your mobile device.
Asset management and maintenance scenario
This example scenario shows how you can change the way you manage assets using eTrack.
1. You order a new LACT unit from Power Service
Your new equipment is already tagged and ready to use with eTrack. The centrifugal pump and Coriolis flow meter each have their separate tags, which are registered as sub-components to the LACT unit in eTrack.
2. The LACT unit is delivered to the field and installed
After the LACT is delivered and put into service, a technician scans the tag and selects "Update Location" to update the asset's location in eTrack using their phone's GPS.
3. After a regular field audit, a pump on the LACT unit requires repair
The operator scans the pump's tag and submits a service request form through the eTrack mobile app. The operator can also request a replacement part kit if they prefer to make their own repairs.
4. The pump and LACT unit are restored to service
After the repair is complete, the service is logged to the asset in eTrack with a photo of the work done. Any future technician can scan the tag and see a complete service history for this asset.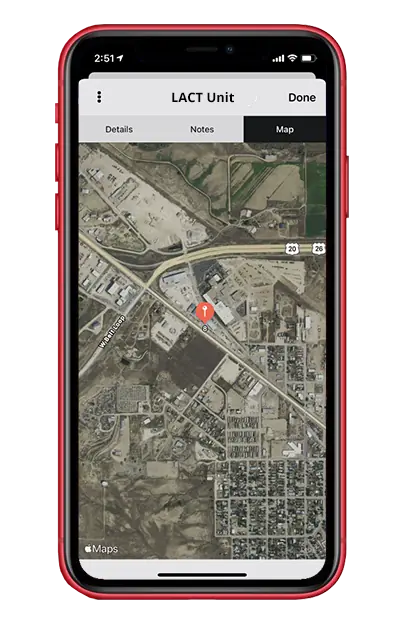 FAQs
DistributionNOW's eTrack™ is an asset lifecycle and management tool that provides a platform for tracking assets, scheduling maintenance and ordering replacement parts for equipment, all in one interface. The tool can be accessed through a mobile app or the web, with all asset data accessible through both.
eTrack gives powerful insight on where your assets are and where they've been, as well as visibility into their maintenance history or repairs completed. The tools tracks all forms, repair documents, maintenance requests and part orders to capture everything you need to know about your equipment. Easy access to this information equips you to make more informed decisions on the products you buy and simplifies the materials management process.
All product types are eligible for the eTrack program. You can load modular fabricated equipment skids (LACT units, SWD skids, separators, etc.) as well as important sub-components like pumps, compressors, dryers, mixers, meters, mechanical seals, valves, actuators and more.
Yes! eTrack can manage active or inactive assets, giving you visibility to your equipment's location, documentation and repair history, wherever it is deployed. You can also bulk upload assets into eTrack if necessary. CONTACT US if you need help cataloging your assets.
Yes! If you order new equipment package skids from DistributionNOW, Power Service or Odessa Pumps, your products are already tagged and ready to be entered into eTrack. CONTACT US to find out more about this process.

You can also build and order new production equipment skids today using our eSpec product configurator tool – CLICK HERE to learn more about eSpec!
REGISTER NOW to get started, or contact us for more information.