Quality Assurance
Unwavering Dedication to Excellence: The DNOW Assurance
At DNOW, our commitment to quality transcends mere words. It's interwoven into our rigorous policies, processes and unwavering partnerships. With initiatives like the Triple-Impact Supplier Management Program and our Approved Manufacturers List, we ensure that every product embodies our core values, setting benchmarks in quality and innovation. Delve deeper into our proactive approach that makes a difference in product integrity.
Our Quality Commitment
Every DNOW product is a testament to our dedication to excellence. Our Triple-Impact Supplier Management Program stands as evidence of this commitment. With a promise that "Quality is my responsibility," every DNOW employee plays a part in achieving unparalleled product integrity.
Triple-Impact Supplier Management Program: Setting the Gold Standard
DNOW's Triple-Impact Supplier Management Program is our backbone for ensuring product excellence. It's a three-tiered approach:
Unique Onboarding - Involves a rotational physical audit of essential manufacturer's sites, ensuring we only partner with the best.
In-depth QA/QC Process - Anchored on ISO 2859 standards, it encompasses comprehensive checks, from thread gauging, markings, material test reports and much more.
Continuous Quality Monitoring - Tracked manufacturer KPIs and executed random quarterly physical and chemical inspections.
Approved Manufacturers List (AML)
Our AML isn't just a list; it's a testament to quality. Every name here reflects our stringent ISO 9001 quality benchmarks and thorough assessment, giving our customers the best.
Triple Impact Supplier Management Program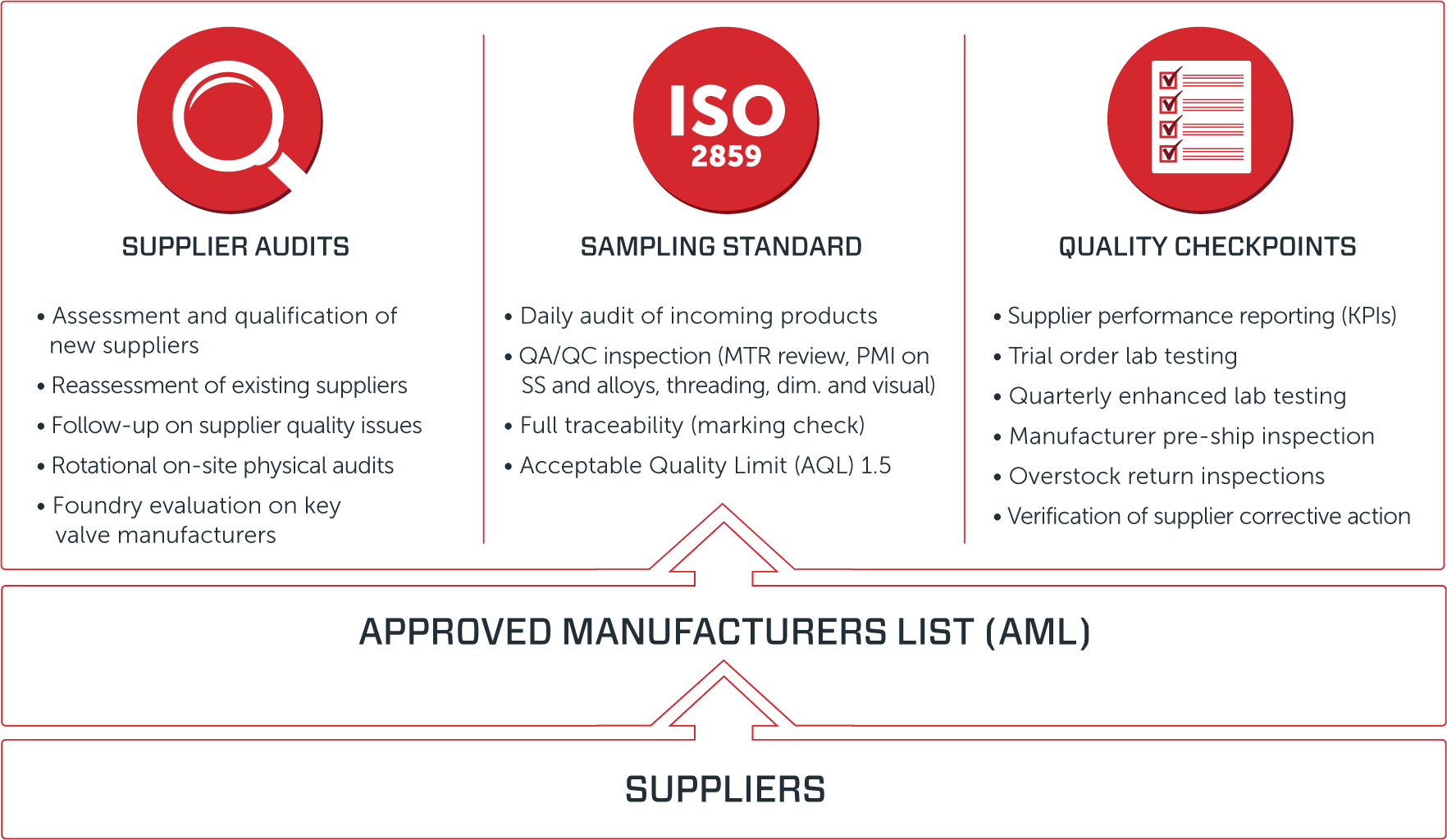 Quality Goals: IMPACT
DNOW's quality goals are succinctly captured in the acronym IMPACT:
Increase employee capabilities
Maintain accurate inventory
Provide top-notch products and services
Always ensure timely delivery
Constant pursuit of improvement
Total customer satisfaction
Key Insights: MTR Database and ISO 9001 Certification
Our MTR database streamlines Material Test Report access, ensuring pinpoint accuracy. Simultaneously, our ISO 9001 certification amplifies our dedication to superior quality, showcasing our alignment with global excellence standards. These two pillars reinforce our stance on innovation and unmatched quality in all operations.
Explore MetalTrace: Your Ultimate MTR Database Solution
Navigate the digital landscape of Material Test Reports with MetalTrace - a comprehensive online database tailored to streamline, organize and access your MTRs with ease.
ISO 9001 Certification
DNOW's Quality Management System boasts the prestigious ISO 9001 certification. This accolade stands true for our facilities spanning North America, Asia Pacific, the North Sea, Middle East, and North Africa, showcasing our global commitment to quality.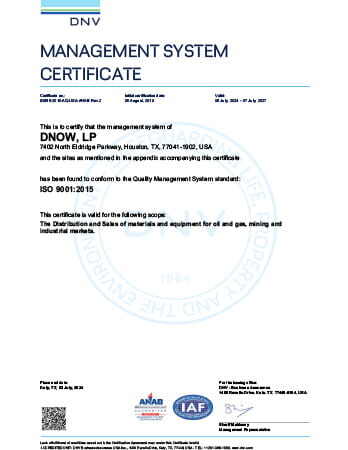 Discover the DNOW Difference: Our Promise, Expertise and Commitment
At DNOW, our diverse offerings are a testament to our industry leadership. We've consistently risen to the challenge from practical case studies that highlight our adaptability to tailor-made solutions for the energy and industrial sectors. Dive deeper to understand the breadth of our commitment, not just through quality products and solutions but through a service pledge that sets new industry standards.