How DistributionNOW ensures the quality of its products
DNOW takes quality seriously. Our quality promise goes deeper than words; formal policies and processes back it. We partner with the best in the industry to ensure our products meet the highest standards. We also have a team of experts who perform rigorous inspections of every product before it ships to our customers.
Supplier Management Program
DNOW has a stringent supplier management program to ensure its products' quality. Our Triple-Impact Supplier Management Program consists of three parts:
A unique onboarding procedure that includes a rotational physical audit of key manufacturer's sites
A comprehensive Quality Assurance and Quality Control (QA/QC) program based on ISO 2859 that includes regular inspections of dimensions, thread gauging, markings, material test reports (MTRs), and more
A rigorous quality checkpoint process that monitors manufacturer KPIs and conducts random physical and chemical quarterly checks on products from inventory
Our rigorous quality assurance/quality control process is how we build our approved manufacturer list (AML). This allows us to ensure that our products are of the highest standard.
Triple Impact Supplier Management Program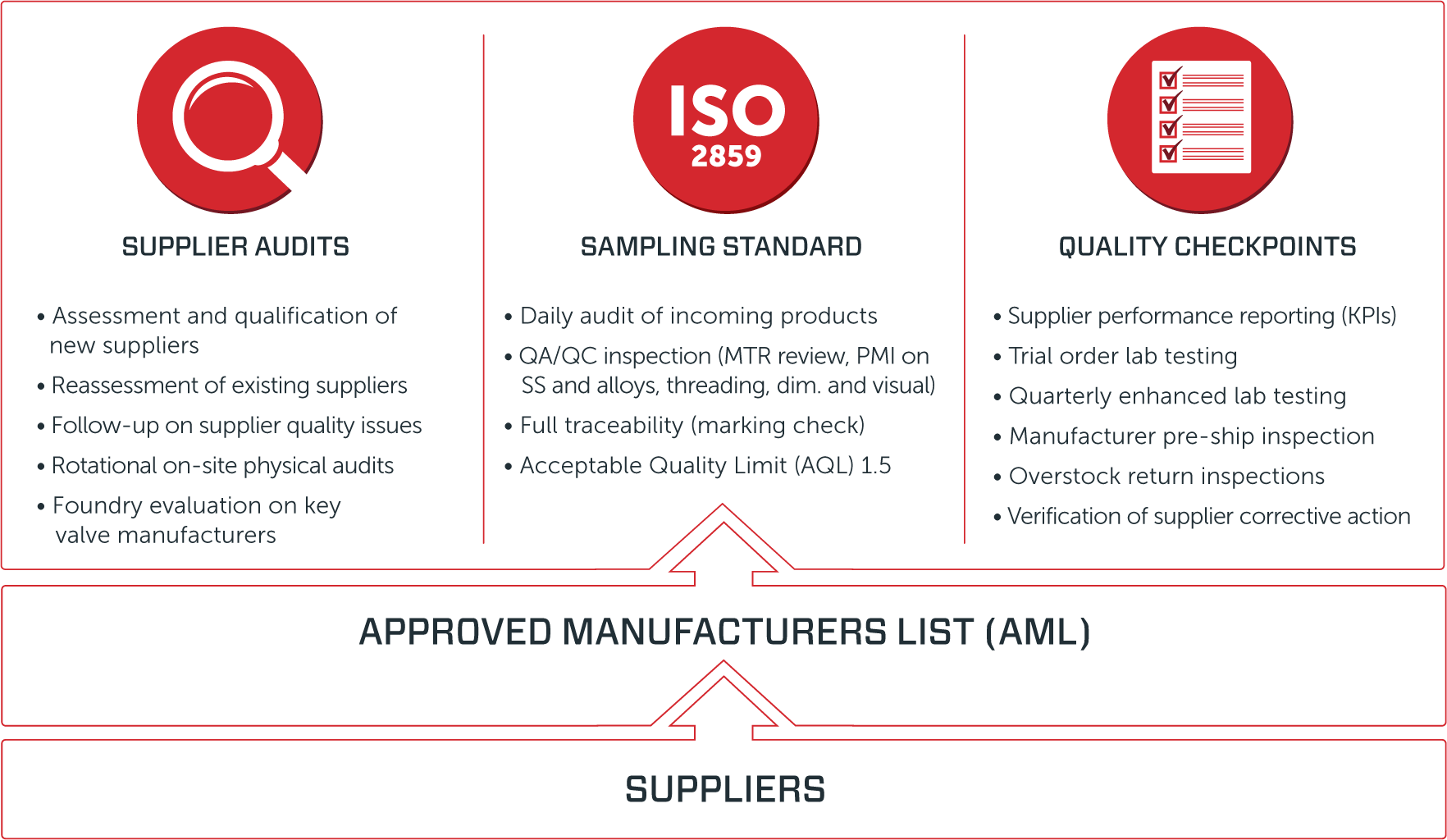 Approved Manufacturers List (AML)
DNOW's AML provides significant value to its customers, many of whom have decided to make it their standard. The AML list represents suppliers and manufacturers that meet DNOW's ISO 9001 quality standards and have passed its rigorous evaluation process.
Our Quality Commitment
We take quality seriously, and our Triple-Impact Supplier Management Program is the proof. We are committed to meeting or exceeding the needs and expectations of our customers. We support our quality goals and objectives by repeatedly seeking to improve the effectiveness of our Quality Management System. Each employee understands and subscribes to the principle: "Quality is my responsibility."
Quality Goals - IMPACT
I

ncrease employee capabilities


M

aintain accurate inventory


P

rovide quality products and services


A

lways deliver on-time


C

ontinually improve


T

otal customer satisfaction
Seeking Customer Feedback
At DNOW, we strive to provide our customers with the best possible products and services. To ensure that we meet our high standards, we employ customer satisfaction surveys and a quality performance management system. This allows us to quickly uncover any quality issues, take corrective action, and continually improve our quality processes.
DistributionNOW ISO 9001 Certification
Our Quality Management System is accredited and certified to the International Standard ISO 9001. This certification applies to DNOW facilities across North America, Asia Pacific, the North Sea, Middle East and North Africa.