Quality Program
Our quality promise goes much deeper than words. It's backed by formal policies and processes that include rigorous supplier onboarding, daily QA/QC checks and ongoing monitoring through random quarterly inspections.
Supplier Management Program
Every product delivered by DistributionNOW is of the highest quality, made by the best manufacturers. We make sure of it through our Triple Impact Supplier Management Program, a three-part qualifying process.
First is a unique onboarding procedure, which includes a rotational physical audit of key manufacturer's sites. Second is a daily QA/QC PVF inspection program, based on ISO 2859, which includes inspection of dimensions, thread gauging, markings, MTR reviews, PMI and more. Third is a quality checkpoint process that monitors manufacturer KPIs and conducts random quarterly checks, physical and chemical, on products from inventory to ensure they are on spec.
This rigorous program is how we build our approved manufacturer list (AML), and how you can be sure you're getting the best.
Triple Impact Supplier Management Program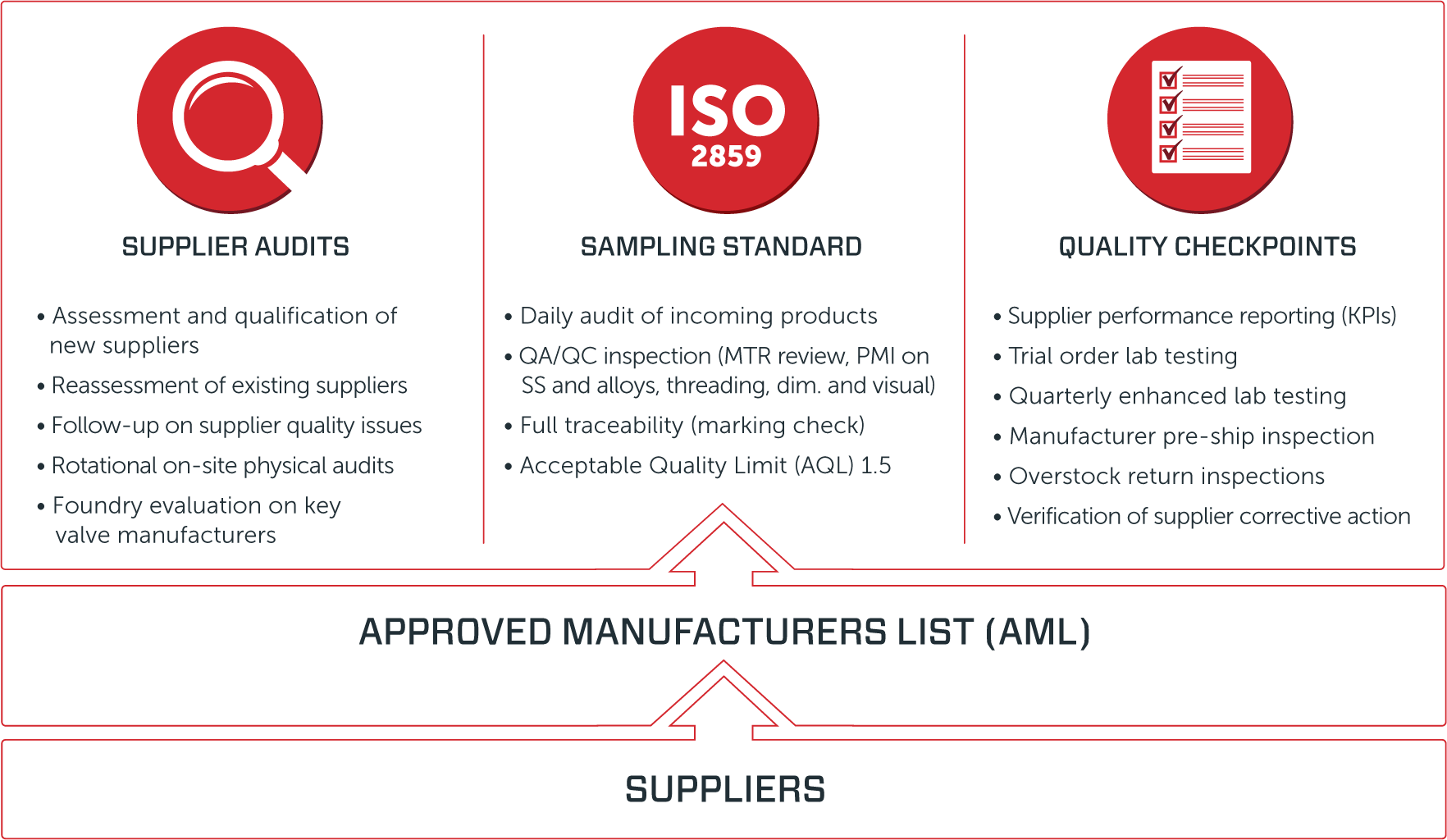 Our Quality Commitment
DistributionNOW is committed to meeting or exceeding the needs and expectations of our customers, supporting our quality goals and objectives, and continually seeking to improve the effectiveness of our Quality Management System. Each employee understands and subscribes to the principle: "Quality is my responsibility."
Quality Goals - IMPACT
Increase employee capabilities
Maintain accurate inventory
Provide quality products and services
Always deliver on-time
Continually improve
Total customer satisfaction
Seeking Customer Feedback
DNOW employs customer satisfaction surveys and a quality performance management system to uncover quality issues, utilize lessons learned, and continually improve our quality processes.
DistributionNOW ISO 9001 Certification
Our Quality Management System is accredited and certified to the International Standard ISO 9001. This certification applies to DNOW facilities across North America, Asia Pacific, the North Sea, Middle East and North Africa.
Explore Our Resource Center