ASME Pressure Vessels
DistributionNOW Process Solutions designs, engineers and fabricates custom ASME pressure vessels for customers in the oil & gas, energy, water treatment and power generation industries. Our experienced team is known for meeting demanding schedules and quality requirements, and we are able to produce heavy-wall vessels up to 8 inches thick.
Certifications
Every ASME pressure vessel we design conforms to ASME Boiler and Pressure Code for Design, Section VIII. All materials used conform to ASME Boiler and Pressure Vessel Code for Materials, Section II.
ASME Pressure Vessels, Section VIII, Division 1 - "U" Stamp – operating at pressures exceeding 15 psig, internal or external, ASME has different requirements for numerous classes of materials as well as for fabrication methods, including welding and brazing
National Board Certificate of Authorization - "R" Symbol Stamp – repair and/or alteration of boilers, pressure vessels and other pressure-retaining items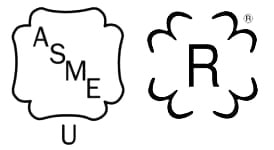 Testing and Inspection
Our engineers work closely with our expert drafters to ensure that every ASME pressure vessel that DNOW produces meets industry codes and complies with regulations. If no custom testing has been requested by the customer, a third-party certified inspector verifies the product's overall integrity with non-destructive testing (NDT), applies a national board (NB) label, and registers the vessel with the National Board of Boiler and Steel Pressure Vessel Inspectors prior to shipping.
Browse Products & Services
Visit Our Resource Center
Access a wealth of assets, from instructional videos to catalogs to white papers, where you'll find product insight and advice on process and production equipment, as well as many other products, services, solutions and supply-chain topics.
Browse Our Resource Center