Gas Conditioning Systems
Transform Your Gas Processing with Power Service's Innovative Solutions
Our affiliated brand, Power Service, is a leader in gas conditioning systems, setting the benchmark in gas processing. Utilizing advanced technology, our solutions are the gold standard in innovation, efficiency and reliability. From essential glycol dehydration systems to robust cold-weather enclosures, each product meets the rigorous demands of the modern gas processing sector. Explore our cost-effective gas conditioning solutions, each meticulously designed for diverse applications.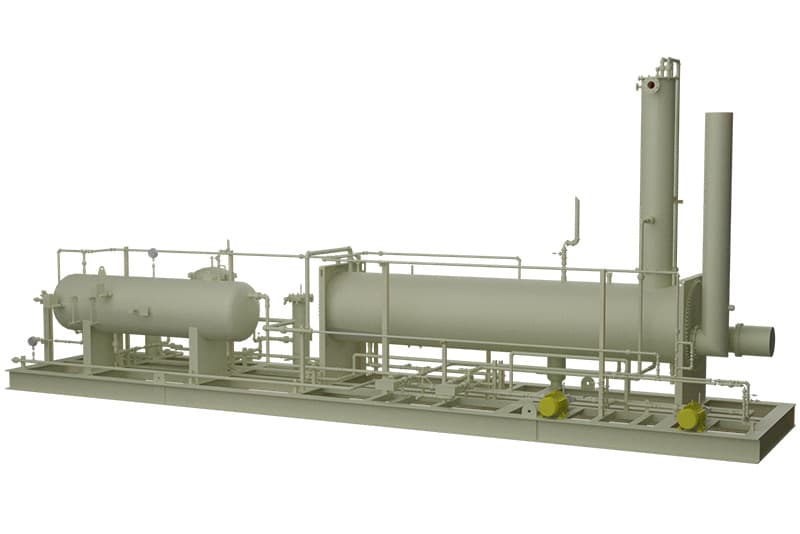 As a critical part of our DNOW U.S. Process Solutions operating unit, Power Service delivers modular and cost-effective gas conditioning systems tailored to meet specific requirements. With our dedicated teams utilizing advanced simulation software and 3D modeling, we design premium skid-mounted systems that promise superior quality. Our systems produce clean, dry and superheated gas, safeguarding and extending the life of your downstream equipment. Furthermore, our solutions are designed to boost pipeline performance, regulate gas BTU effectively and capture valuable LNG for both immediate use and future storage.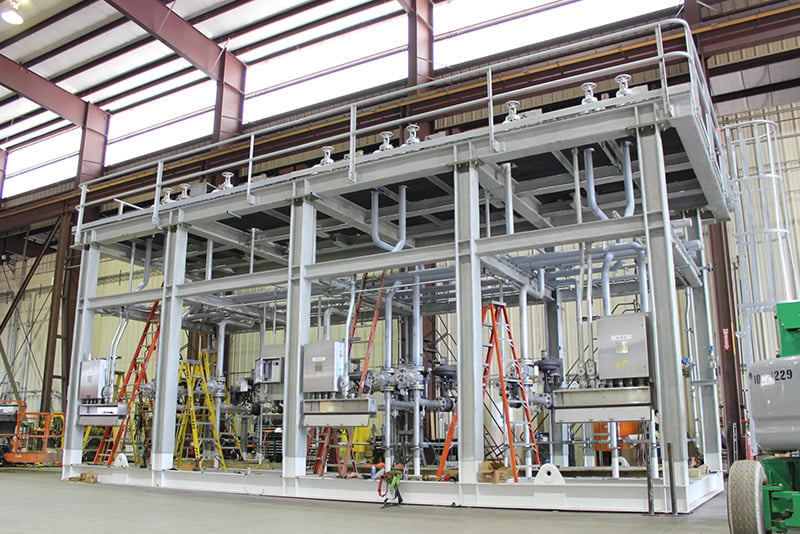 Power Service Gas Conditioning Unit: Modular Skid Packaging Designed and Fabricated at DNOW U.S. Process Solutions Facility.
Elevate your operational efficiency and profitability by integrating Power Service's Gas Conditioning Systems. Below are some of our product offerings:
Glycol Dehydration Systems: Efficient water extraction from natural gas.
Gas Production Units (GPU): Custom units designed for premium gas processing.
Fine Filtration Systems: Refine gas quality by sieving microparticles.
Coalescing Filtration Systems: Elevate gas purity through advanced filtration.
Process Heating Systems: Regulate gas temperatures for optimal processing.
Pressure Regulating Systems: Automated tech for ideal gas pressure maintenance.
J-T Gas Conditioning: Cutting-edge systems for precise joule-thomson cooling and expansion.
Cooling Systems: Precisely moderate gas temperatures.
Cold-weather Enclosures: Robust protection for system components in extreme cold.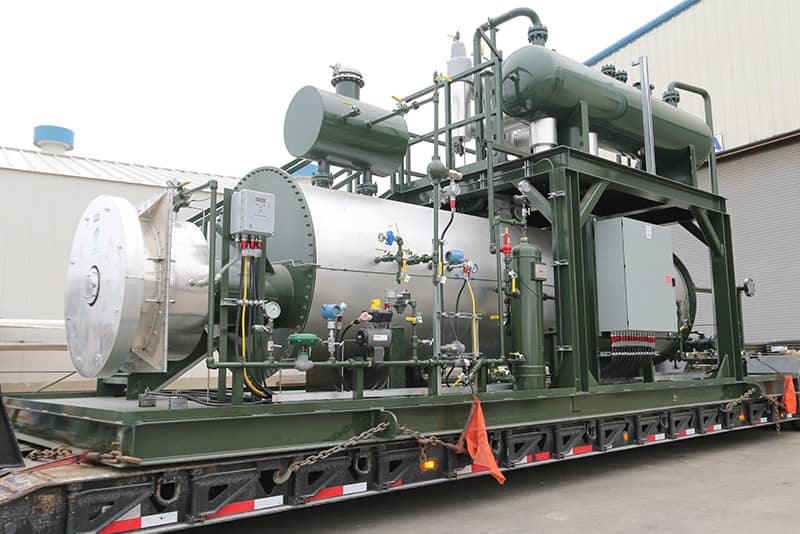 Power Service's Advanced Gas Processing Unit (GPU): Expertly Designed, Engineered and Fabricated at DNOW U.S. Process Solutions.
Unparalleled Purity: Efficiently reduce BTU of gas by filtering out solids, liquid and gaseous contaminants.
Expert Dewpoint Control: Deliver unmatched water and hydrocarbon dewpoint management.
LNG Recovery: Harness and optimize the recovery of precious LNG, ready for reuse or strategic storage.
Pipeline Excellence: Amplify pipeline performance and capacity.
Sustained Production: Boost continuous oil and gas production, ensuring a steady revenue stream.
Pipeline Integration: Treat gas to meet most pipeline standards.
Durability & Efficiency: Enhance the longevity, performance and efficiency of downstream machinery.
Maintenance Economy: Minimize upkeep costs, offering better operational ROI.
Operational Continuity: Drastically cut unscheduled downtimes and potential plant halts.
Flexible Design: Offer modular structures with tie-in points, streamlining scalability and installation.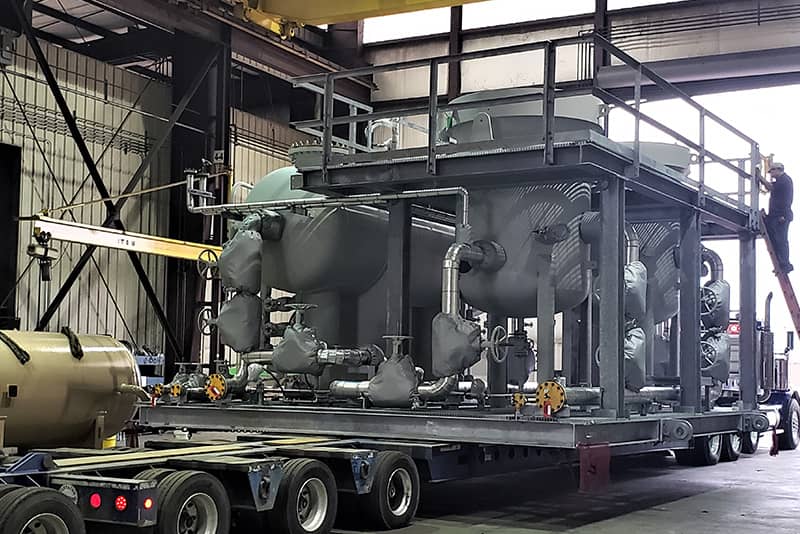 Expertly Designed Gas Coalescing Filter Skid Package by Power Service: Excellence from DNOW U.S. Process Solutions Facility.
Specifications
| | |
| --- | --- |
| Materials of Construction | Carbon steel, stainless & alloy steel |
| Dimensions | Vessels up to 12 ft. diameter, 100 ft. length, 8 in. wall thickness |
| Lifting Capabilities | Up to 100 tons |
| Non-Destructive Testing | Ultrasonic, hydrostatic, radiographic, dye penetrant inspection, positive material identification (PMI), hardness and others |
| Finishing | Surface prep, blasting, internal and external coating, painting |
| Engineering Support | Design, process simulation, finite element analysis (FEA) |
Leading Industrial Solutions for Superior Performance
Power Service is your destination for state-of-the-art rotating and processing equipment, raising the bar for industry standards. Our eSpec product configurator offers a user-friendly interface that simplifies the process for those seeking an efficient approach to equipment design. Whether you're in the market for equipment engineering enhancements, intricate design capabilities or seamless ordering experiences, Power Service delivers excellence.

Power Service: Elevating Rotating and Process Equipment Solutions
Learn more about our affiliated brand, Power Service, your partner for comprehensive rotating and process equipment solutions. Our commitment spans from in-depth engineering and precision design to expert installation, fabrication and after-sales service. Are you seeking a reliable partner for your tank battery and production facility needs? Power Service is your answer.
Discover eSpec: Engineered Equipment Made Simple
Navigate the nuances of complex equipment orders with ease using our digital solution, eSpec, powered by DigitalNOW. Our intuitive platform enables you to craft material specifications tailored to the demands of your project. In just a few clicks, receive a detailed 3D visual representation, competitively priced, along with a comprehensive technical proposal, all set for DNOW's consideration.