An excerpt from the showcase highlighting our artificial lift solutions is below:
---
Pump tracking analytics focused on pump performance, not pump failure
The data from today's horizontal wells tell a different story when compared historically to the vertical wells in the same formations. Extended rod pump runlife is achieved when experienced subject matter experts utilize rod pump inspection data to collaborate with producers looking to maximize production at the lowest lifting costs possible. While all pull causes are logged, the data should most importantly provide performance trends related to the primary identified, unplanned, pull causes: tubing failure, rod failure or production decline (pump failure).
Historical and predictive data analytics validates pump performance (or lack thereof) related to specific pump style, type, specific components and/or metallurgy. Due to rod or tubing failure, more costly workovers may also be avoided by implementing operational changes identified by trends in recorded pump component details. Utilizing DistributionNOW's Global Pump Tracking & Service (GPTS), the company's rod pump experts use pump tracking data trends, practical experience and specific well information to advise its customers on maximizing pump performance while mitigating unplanned workovers.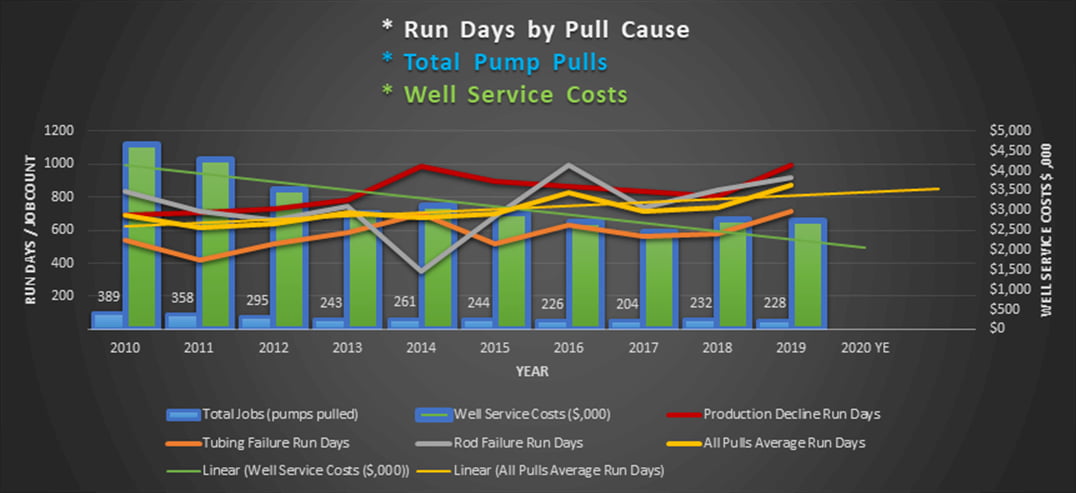 Increasing pump run time reduces pump pulls, resulting in lower well servicing costs. Further analytics (historical and predictive) can relate to pump bore or style regarding well data such as trajectory, pump inclination and DLS. (Source: DistributionNOW)
---
Read the full Hart Energy 2020 Artificial Lift Technology Showcase feature: https://www.hartenergy.com/exclusives/2020-artificial-lift-technology-showcase-188476