Reliable Solutions for Your Process Needs
DNOW U.S. Process Solutions is a leading provider of process and production equipment solutions to the oil and gas industries, encompassing upstream, midstream and downstream markets, as well as municipal, industrial, mining, power generation and general industries. Moreover, Process Solutions offers modular oil and gas tank battery solutions, providing operators with several benefits. These solutions facilitate flexibility and scalability for current and future production and enable operators to reduce the time to complete a tank battery and quickly get oil and gas into the pipeline, thus expediting revenue generation. In essence, this solution offers customers a cost-effective and timely solution, which is beneficial from an economic and operational standpoint.
Facility Capabilities
Are you curious about the latest advancements in process solutions fabrication? Look no further than the DNOW Process Solutions Fabrication Facility in Tomball, TX. This state-of-the-art facility is a sight to behold, boasting cutting-edge machinery and highly skilled technicians that work together to produce top-of-the-line solutions for your industrial needs. But what sets this facility apart from others in the industry?
All of our projects are built in-house, allowing for especially close integration of multi-discipline engineering, drafting and technical staff with our fabrication and field service personnel for superior layout, quality and operability.
Our facility can fabricate and distribute all your tank battery products, including wellhead production equipment, vessel fabrication and process equipment business units.
Maximum Efficiency
Our world-class Tomball facility, located 30 miles northwest of Houston, was designed for maximum efficiency:
140,000 square foot shop
13,900 square foot office
38 acre tract
7 acres stabilized
We are known for tackling the toughest fluid handling projects, and we utilize our deep technical knowledge and broad design and fabrication expertise to provide innovative solutions to our customers worldwide.
DistributionNOW (DNOW) Process Solutions
24310 Tomball Pkwy,
Tomball, TX 77375
281-351-5999
Value
We offer optimum value with every engagement. We can build from a concept only, from detailed fabrication drawing packages, or from customer-provided process flow, pipe and instrumentation diagrams.
Sourcing: We can perform all sourcing or collaborate with our customers to ensure the highest procurement value. We also welcome free issue goods. We work closely with customer staff and agents to optimize formal communication and reporting.
Document control: Our advanced document control mechanisms offer the highest flexibility in document receipt and transmission protocols while providing total reliability in activity logging, chain-of-custody verification and revision control throughout the project.
Aftermarket support: We provide comprehensive cataloging and vigilant review of expected spare parts required beyond the initial purchase, assuring customers a ready supply of critical components with minimum confusion or delay.
Fabrication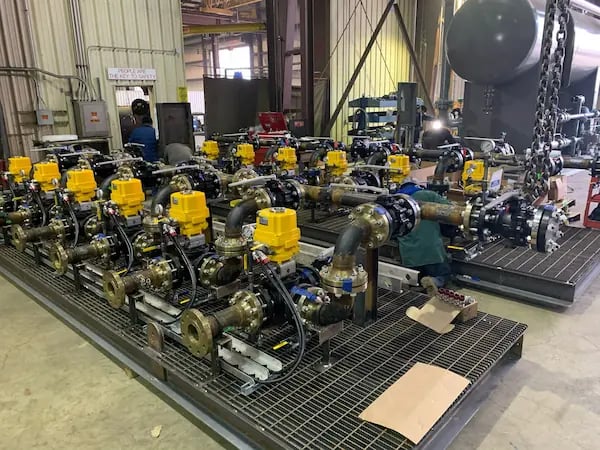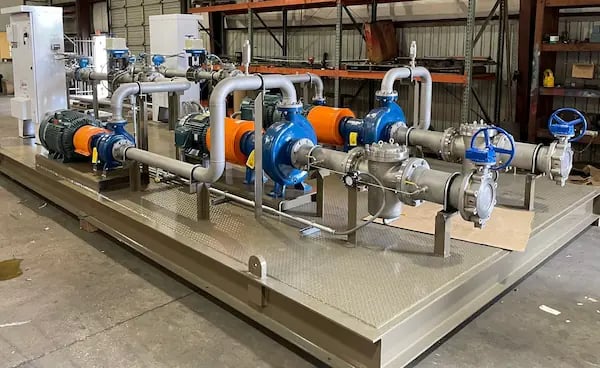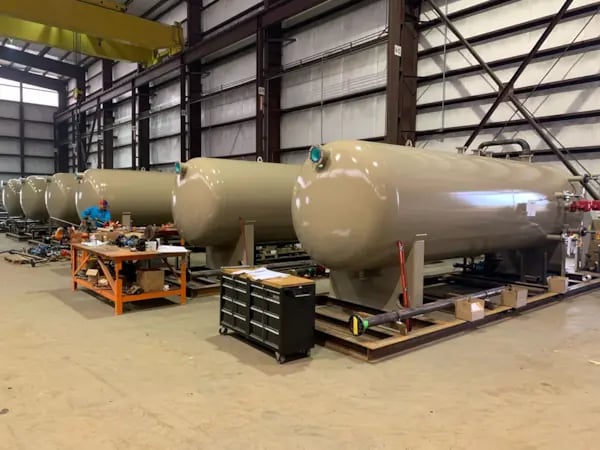 DNOW Process Solutions can provide you with a full-function "wet" factory acceptance test (FAT). Our test facility allows your LACT unit to be thoroughly performance tested and the automation customized before arriving at your location. Just another way we are raising the bar in LACT manufacturing and design. Whether it's dual meter runs, cold weather packaging, integrated pipeline pumps or custom automation, we offer complete engineered solutions for your custody transfer and measurement needs.
LAYOUT
Our Fabrication Facility in Tomball is equipped with the latest technologies and state-of-the-art fabrication equipment, allowing us to produce high-quality products that meet our client's specifications and requirements. At DNOW U.S. Process Solutions, our modern shop is designed to provide a seamless and efficient workflow, enabling us to complete projects within tight deadlines. The facility includes multiple workflow-optimized fabrication bays, a climate-controlled electrical shop, an isolated hydro-testing bay and a simple machining area. Our $1 million state-of-the-art blast and paint facility is connected by rail to the main assembly area to ensure accessible, safe transit of components. We also have an ample, controlled warehouse space, extensive concrete and stabilized outdoor lay-down areas.
CERTIFICATIONS
We take pride in offering our clients superior-quality products, making us one of the most trusted names in the industry. Whether it's a small or large project, we have the expertise to deliver quality solutions that exceed our client's expectations. Our advanced document control mechanisms offer the highest flexibility in document receipt and transmission protocols while providing total reliability in activity logging, chain-of-custody verification and revision control throughout the project.
We understand the importance of timely delivery and precision in every project, and our team works tirelessly to deliver exceptional results that meet and exceed our customers' expectations. At DNOW, we take pride in our ability to offer comprehensive and reliable services that cater to all your fabrication needs. Trust us to get the job done right the first time around!
Certifications and Build Standards
ASME U Certificate (48,863)
National Board R Certificate (R-9082) and NB mark
UL Listed Panel Shop
CE marking
ANSI CSA
Canadian Welding Bureau (CWB)
Engineering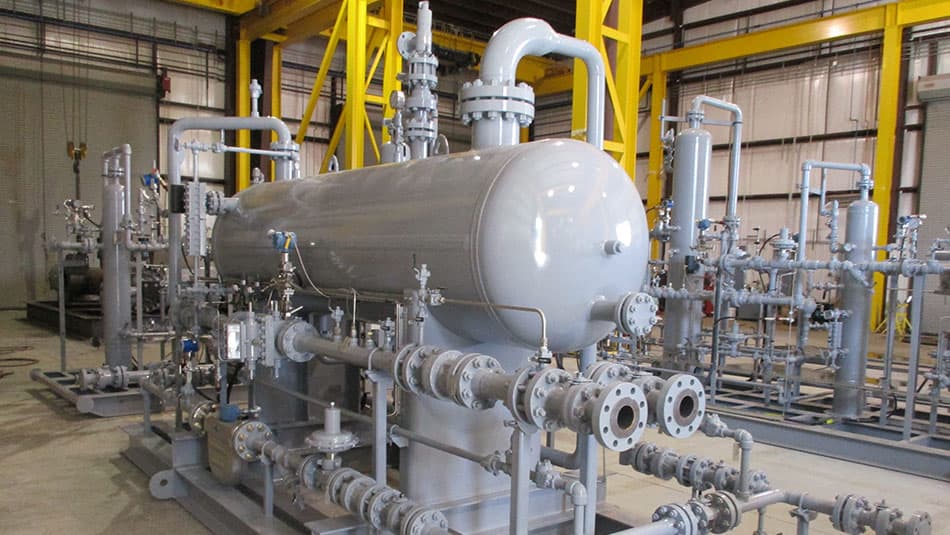 Our skilled engineering staff works diligently to produce high-quality components with precision and accuracy, using state-of-the-art technology and advanced machinery. We take pride in our ability to turn any client's vision into reality, no matter how complex the project may be. Our team works closely with each client to understand their unique requirements and design solutions that meet their specific needs. With years of experience in the industry, we have perfected our processes to ensure the timely delivery of projects without compromising on quality.
Our engineering staff includes a team of distribution experts, technical professionals and licensed engineers who provide expertise in pumps, compressors and fluid movement packages, fabricated liquid and gas measurement systems and process and production equipment. Our world-class team distributes OEM equipment, including pumps, generator sets, air and gas compressors, dryers, blowers, mixers and valves. Within our process and production equipment category, we produce customer lease automatic custody transfer ("LACT") units, vapor recovery units, gas meter runs, ASME code vessels in the form of separators, heater treaters, gas conditioning systems, towers, reactors, condensate stabilizers, slug catchers and pressurized bullet tanks, pig launchers and receivers and water transfer and disposal units. After-market services include rental, machining and repair services from a team of field mechanics located throughout the central United States.
Engineering and Design Software Used
Codeware COMPRESS® (pressure vessel design reports)
AutoDesk

AutoCAD® Mechanical
AutoCAD® Electrical
Inventor™

ProMax® (process simulation)
Rockwell Automation

Studio 5000® (PLC design environment)
FactoryTalk® View Studio (HMI design)

ProSoft® Configuration Builder (Modbus® card configuration)
Modbus® Poll (module simulation during FAT)
Watlow EZ-ZONE® Configurator (temperature controller programming)
Delivering Superior Process Solutions
The DNOW U.S. Process Solutions fabrication facility in Tomball, TX, has many benefits for the oil and gas industry. Its advanced technology, expert technicians, and commitment to sustainability are just a few reasons it stands out from the crowd. From customized fabrication services to specialist advice and support, this facility truly goes above and beyond to meet the unique needs of every client. So if you're looking for top-of-the-line fabrication solutions for your next project, this facility should be at the top of your list. With the DNOW U.S. Process Solutions fabrication facility, you can rest assured that your industrial needs are in good hands.