Fleet and Engine Maintenance
Maximize Uptime: Premier Fleet and Heavy Equipment Maintenance Solutions
Every fleet and heavy equipment professional knows the importance of regular maintenance. Whether it's a series of large trucks or heavy machinery, any downtime can lead to a significant loss in revenue and could adversely affect your company's reputation. DNOW provides top-tier industrial engine maintenance products that ensure the utmost performance of your assets. Trusted by countless professionals, our line of products guarantees that your fleet remains in top condition.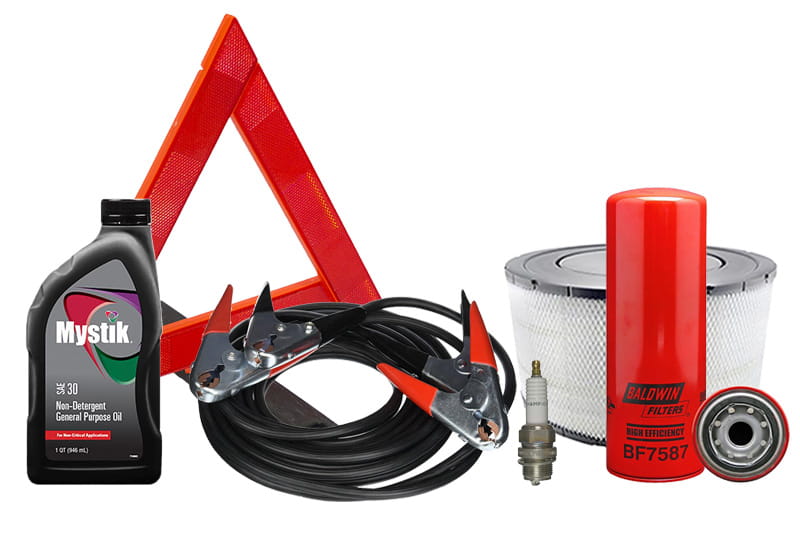 Regular maintenance is essential in fleet management and heavy machinery operation, not just a suggestion. We offer a carefully selected range of industrial engine maintenance products designed for precision. These ensure the best performance and efficiency for your equipment. Our offerings range from essential engine components to advanced maintenance tools to extend your machinery's operational life. Rely on our products to minimize unexpected breakdowns, lessen downtime and keep your fleet in top shape regardless of challenges.
Air Filters: Ensuring a clean airflow to your engine, these filters are designed to remove any contaminants.
Automotive Interior Cleaner: Keep the interiors of your fleet pristine with our top-grade cleaner.
Automotive Protector: Preserve the longevity and appearance of your vehicles.
Automotive Wash: Get rid of dirt and grime for a polished finish.
Booster Cables: Essential for those unexpected moments when you need a jump start.
Batteries: Power up with reliable and long-lasting batteries.
Battery Chargers: Keep your fleet charged and ready at all times.
Belts: Robust belts that guarantee efficient operation.
Brake Cleaner: Ensure your braking system functions perfectly by removing contaminants.
Bulbs: Illuminate the road ahead with our bright and durable bulbs.
Carburetor Cleaner: Improve the efficiency and performance of your engine.
Exhaust: Quality components to channel engine emissions properly.
Fluids and Motor Oil: Keep your engine running smooth with our premium selection.
Fuses: Protect your vehicle's electrical circuits with our durable fuses.
Fuel Filters: Ensure a clean fuel flow for optimum engine performance.
Oil Filters: Prevent contaminants from entering your oil system.
Rig Wash Cleaner: Specifically designed for heavy machinery and rigs.
Roadside Assistance Products: Stay prepared for any situation on the road.
Spark Plugs: Ensure efficient combustion with our high-quality spark plugs.
Wash Brushes: Get to every nook and cranny with our brushes.
Wiper Blades: Maintain clear vision even in adverse weather conditions.
Trusted Brands: We only stock products from reputable and trusted brands in the industry.
Fleet Maintenance Focus: All products are tailored to meet the high demands of fleet and heavy equipment maintenance.
Comprehensive Range: We have everything you need, from essential items to specialized tools.
Expert Assistance: Our team is always ready to guide and provide recommendations for your specific needs.
A Selection of Supplier and Manufacturer Partnerships
Federal-Mogul Motorparts (Champion®)
Citgo
Coleman Cable
Baldwin Filters
Puradyn Filter Technologies
Fram Group (Autolite®)
Fram Group (FRAM®)
We offer a comprehensive range of products, including air filters, automotive wash and interior cleaners, booster cables, batteries, brake and carburetor cleaners, fluids and motor oils, fuel and oil filters, spark plugs, wiper blades and more.
Yes, we provide roadside assistance products, booster cables, batteries and other essential items to help address unexpected challenges on the road.
We stock rig wash cleaners, automotive protectors, and other specialized maintenance products to cater to diverse fleet and engine needs. You can also find additional cleaners on the industrial chemical and cleaner page.