Optimize Flow Control with Valve Actuators
Enhancing Control and Performance in Flow Management with Valve Actuation and Automation Solutions
Streamline your flow control processes and maximize productivity with our advanced actuated valves and valve automation solutions. We stock and customize valve actuation solutions that allow for precise and efficient control of flow, designed to meet the unique needs of your flow management system. Whether you require electric, pneumatic or hydraulic actuation, our Total Valve Solutions™ group has got you covered.
We stock and sell various actuator types
Actuators can be broken down into five categories: hydraulic, pneumatic, electric, manual, and vacuum. Each type has its own benefits and drawbacks, so choosing the right actuator for your application is important. See below for a breakdown of the various actuator types.
Linear
Linear actuators are devices that use a piston and piston rod to create linear motion to open and close valves. This type of valve may have either a simple sliding stem design or a threaded stem that rotates. Some linear actuators can also be unpowered and manually operated by a rotating knob or handwheel.
The three most common types of valves that would require a linear actuator are: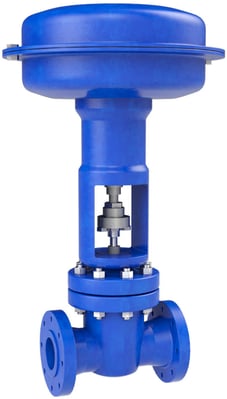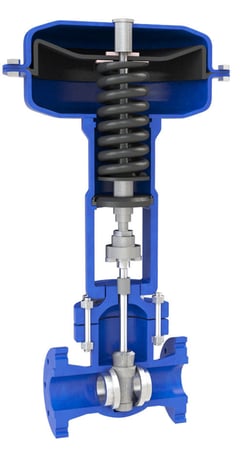 Rotary
Rotary actuators operate valves requiring a 90-degree rotation of the stem to open and close valves. A primary benefit of rotary actuators is their ability to operate valves in manual or automatic mode, utilizing either electrical power or compressed air as the energy source. This flexibility makes rotary actuators a popular choice for many industrial applications.
The following types of valves would require a rotary actuator:
Ball and Trunnion Ball
Plug
Butterfly

Scotch yoke mechanism
The scotch yoke is a unique design that converts the linear motion of an actuator's piston(s) to rotary motion. This mechanism consists of a sliding rod or rods and a slotted yoke connected to the valve stem. Since the breakout and seating torques are twice that of the intermediate travel ranges. The scotch yoke can be operated manually or by an external power as a fundamental actuator component.


Rack and pinion mechanism
The rack and pinion mechanism is similar to a scotch yoke in that it converts linear motion into rotary motion. However, it consists of sliding rods connected to toothed racks, which mesh with a pinion gear attached to the valve stem. External power can operate the rack and pinion manually or as a fundamental actuator component.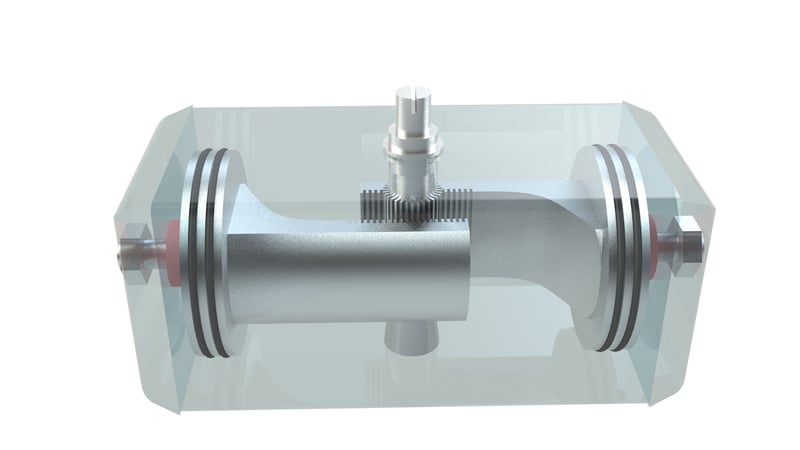 Configurations
Linear and rotary actuators are available in double acting, spring return, and modulating configurations:
A double-acting configuration uses the external power to stroke the actuator in both directions. This is typically done by applying hydraulic pressure to either side of a single-piston.
A spring return configuration uses an external power source to push the spring, compress it and move the valve to its normal operating position. Upon loss of the external power, the compressed spring in the actuator will move the valve back to its fail-safe position. Typically, manual overrides are available for spring return actuators.
Modulating valves are commonly used in flow-control applications, where the required valve position may be fully open, closed, or anywhere in between. The percentage open is typically communicated to the modulating actuated valve, using a 4-20 mA signal.
Our actuator accessories work in conjunction with our actuators
Valve accessories may be mounted directly to an actuator or serve as external control components.
Mounted to actuator
Limit switch
Quick exhaust
Closed-loop system
Jackscrew override
Hydraulic hand pump override
Mounting hardware
Control components
Solenoid
Pressure sensor
Local/remote selector
Filters
Regulators
Relief valves
Pressure gauges
Manual reset
Fusible link
Speed control
Bug screen
Pressure switches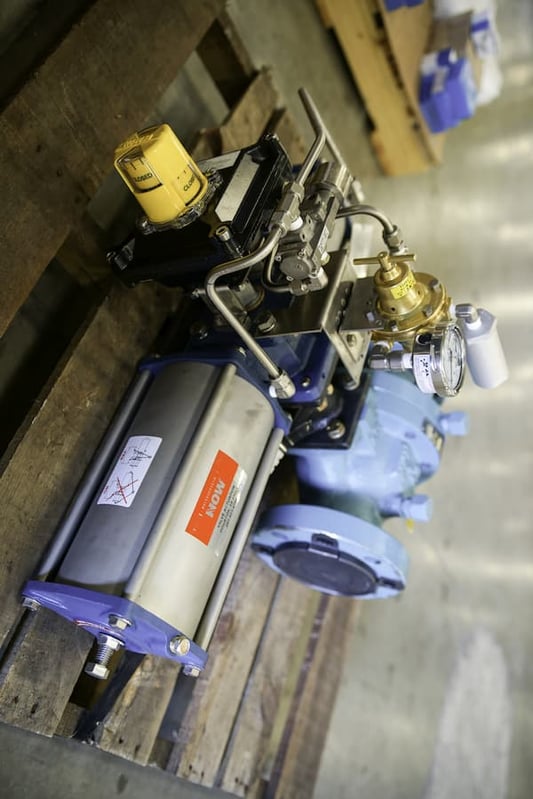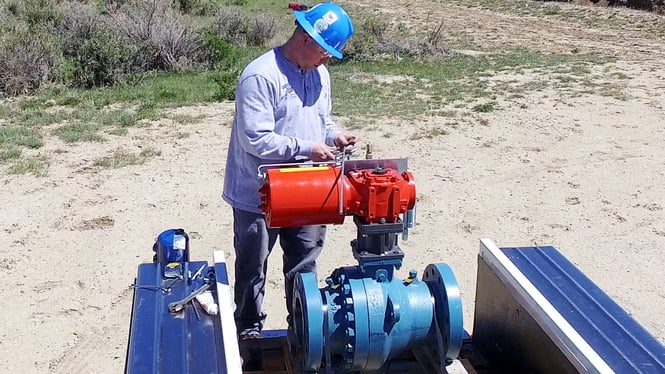 Valve actuators are an important part of many industrial and commercial facilities. When these devices need service, it's important to find a quality provider who can ensure the equipment is properly maintained. Our field technicians are highly skilled and experienced in solving mechanical problems. We are committed to providing the best service possible to our customers in the industry.
We can provide field service for your actuated valve
Field services for valve actuators are a critical part of plant maintenance. By regularly servicing your valve actuators, you can help ensure that your plant is running safely and efficiently. Below is a list of the services we offer.
Actuator Field Service

Start-up & Commissioning
Lubrication

Actuator In-House Service & Testing

Valve Recertification
Valve & Actuator Testing
Machining

Actuator Engineering Services

Engineered Packages
CAD Services
Valve Automation Solutions: Design, Repair and Service with DNOW Total Valve Solutions
DNOW offers actuator design, modification, repair and service. Our experienced engineers collaborate with you to create a customized system that fulfills your unique requirements. Our dedicated technicians ensure optimal valve performance throughout their lifespan. Backed by a leading actuator and control manufacturer, DNOW is your trusted partner for seamless valve automation.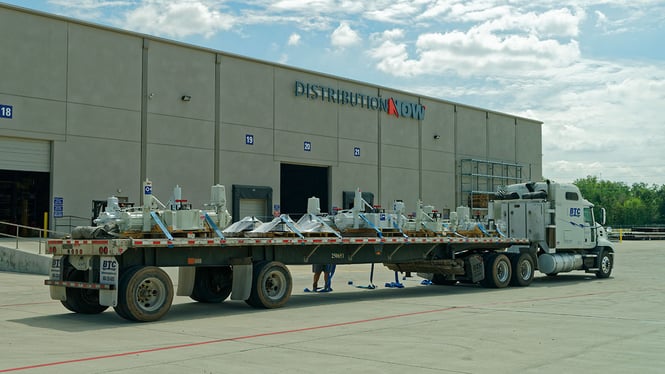 A selection of supplier and manufacturer partnerships
Emerson (Bettis™)
Emerson (Biffi™)
Emerson (Morin™)
Metso (VALVCON®)
Cameron (LEDEEN)
Rotork
Flowserve
FAQs
An actuator is a device that performs controlled and limited movements, operated either electrically, manually, or using fluids such as air or hydraulic fluid.
There are two types of basic actuators:
Linear actuators - move in straight lines
Rotary actuators - control valves that need to turn
Use powered actuators when:
Valves are remotely located (e.g., on pipelines)
Valves are located in hazardous areas
The manual operation would be too time-consuming (e.g., with larger valves)
Actuators may be grouped based on several characteristics, such as the type of motion applied to the attached valves or the power source used.
An actuator helps to generate physical movements by converting energy, often electrical, air, or hydraulic, into mechanical power. The following are the usual power sources that are part of the actuator's functionality:
Manual
Manual actuators provide a mechanical advantage to users, multiplying their effort utilizing screws, gears, or hydraulic hand pumps. The use of handwheels, chain wheels, or levers can control Manual actuators.
Pneumatic (Low- or High-Pressure)
Pneumatic actuators use pneumatic energy to open and close valves. Depending on the configuration, the compressed air may open and close the valve or open the valve. A large coil spring is typically fitted inside the actuator to return the valve to a closed position.
Hydraulic (Low- or High-Pressure)
Hydraulic actuators use hydraulic energy to operate the valve. Depending on the configuration, the hydraulic fluid may open and close the valve or open the valve. A coil spring is typically fitted inside the actuator to return it (and the valve) to the closed position.
Gas Over Oil
Gas over oil actuators uses pneumatic pressure (from a pipeline, for example) to create hydraulic pressure in attached oil tanks. The oil barrier between the actuator components and any contaminants found in the gas is essential for reliable actuator performance.
Electric
Electric motors are an essential component in the proper operation of valves. They provide the power to open and close valves, allowing fluid to flow through the system. Electric motors also provide the power to operate actuators, which move the valve stem.
Product & Accessories Offerings
Working in close collaboration with our esteemed partners at leading actuator and control manufacturers, our team of experienced engineers and technicians is able to provide a wide range of actuation solutions, including custom-engineered packages for difficult or unique flow control applications. DNOW always maintains a large stock of valves and actuators for immediate shipment. Below are some of the products.
Actuators
Scotch yoke
Electrohydraulic
Linear
Gas over oil
Direct gas
Electric
Rack and pinion
Subsea
Hydraulic
Electric fail safe
Spring return/double acting
Quarter-Turn Actuation
Pneumatic
Direct gas (low- or high-pressure, gas over oil)
Electrohydraulic
Scotch yoke
Rack and pinion
Linear
Hydraulic power units
Gear operators
Special overrides
Multi-Turn Actuation
Electric on/off, modulating, spring return, fail safe

FM/CSA Class I, Division 1, Groups C and D
Bus communication options
Bluetooth communication

Linear
Pneumatic
Gear operators
Accessories
Control panels
RFID tagging
Manual/Hydraulic overrides
Limit switches (mechanical, proximity)
Smart field transmitters
Low-temp and high-temp metering hardware
Solenoids
Partial stroke
Positioners (digital, electro-pneumatic)
Lock-out/Tag-out
Speed controllers