Vertical Turbine Pumps
Experience Peak Pumping Performance
Vertical turbine pumps are known for their efficiency, durability and versatility. At DNOW, our associated brands Odessa Pumps and Power Service provide a top-notch selection of vertically suspended, single and multistage line shaft pumps. These are crafted to cater to a variety of industrial needs. Whether handling hydrocarbons, natural gas liquids (NGL) or transferring water in different contexts, you can count on our vertical turbine pumps for outstanding performance.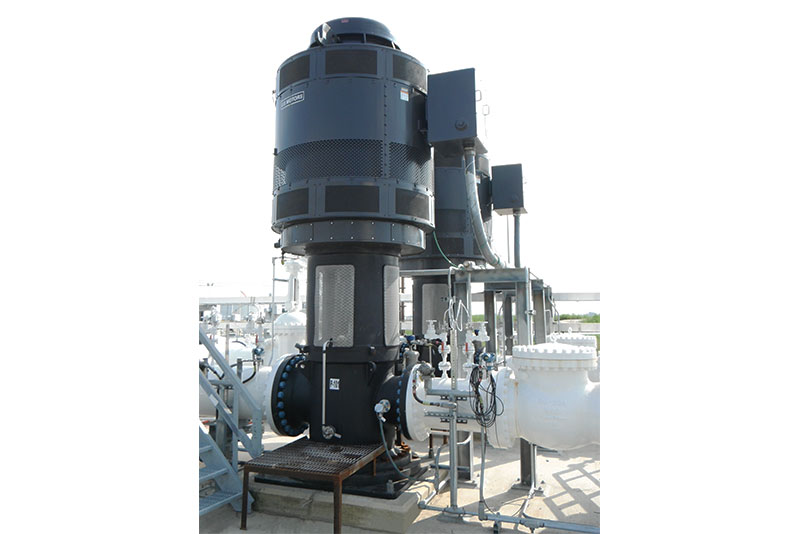 Our brands Odessa Pumps and Power Service distribute vertical turbine pumps in the U.S. through our Process Solutions operating unit. These pumps meet the API 610 standards and offer flexible configurations. They are designed for various applications, from transferring volatile liquids to managing large volumes of water, and consistently deliver high performance. With their innovative design, they address different industrial demands, ensuring efficiency, durability and reliability. Whether for hydrocarbons, freshwater transfers or other specific needs, vertical turbine pumps are the epitome of advanced pump engineering.
Open or enclosed lineshaft construction: Opt for the best based on your requirements, ensuring performance and adaptability.

Bowl and enclosed impeller wear rings: Durable and resilient to prolonged usage, these wear rings ensure longevity.

Cast iron or fabricated steel discharge heads: Robust construction promises endurance against demanding tasks.

Packed box with flexible graphite packing: Ensures airtight sealing, enhancing the pump's operational efficiency.

Single or dual mechanical seal: Providing flexibility in sealing configurations for various applications.

High Flow Rate: Capable of handling up to 3.5 million bpd (100,000 gpm), showcasing the pump's impressive capacity.

Broad Temperature Range: With an operational temperature range of -40° F to 400° F, the pump is versatile in handling different fluid types and environmental conditions.
Handling low net positive suction head (NPSH) and high vapor pressure fluids
Transfer of natural gas liquids (NGL)
Crude terminal transfer
Gasoline and jet fuel transfer
Pipeline charge pumping
Cooling tower water transfer
River water transfer
Freshwater transfer
Specifications
| | |
| --- | --- |
| Materials of Construction | Iron, ductile iron, bronze (NiAlB), 316 stainless steel, API 610 Annex H materials |
| Flow Rate | Up to 3.5 million bpd (100,000 gpm) |
| Pressure Range | Up to 6,000 psig |
| Temperature Range | -40° F to 400° F |
Our Vertical Turbine Pump Suppliers
National Pump
Pentair Fairbanks Nijhuis
Flowserve