API 610 Pumps
Pumps Built for the Toughest Industrial Challenges
DNOW's affiliated brands, Odessa Pumps and Power Service, provide API 610 process pumps. These centrifugal pumps are the benchmark in high-performance pumping solutions tailored for the demanding environments of the petroleum, petrochemical, natural gas and power sectors. Crafted with precision and engineered for excellence, these centrifugal pumps seamlessly handle high-temperature and high-pressure applications, ensuring optimum efficiency and extended service life.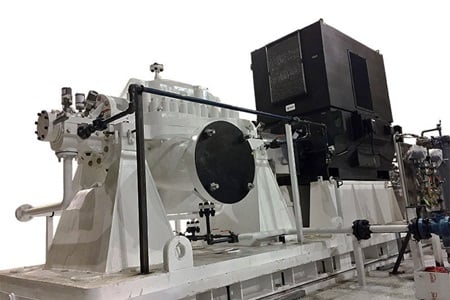 Our trusted affiliated brands distribute API 610 pumps and pump packages from leading manufacturers via our U.S. Process Solutions operating unit. Designed for conditions up to 800° F and 6,000 psig, these pumps epitomize efficiency and durability. Select API 610 Pumps for industry-surpassing performance.
Enhanced Performance: Improved efficiency and service life due to better-bearing lubrication and heat dispersion.

Minimized Maintenance: The pump design extends repair intervals and reduces overall maintenance costs.

Robust Design: Ensures the pump withstands rigorous industrial environments.

Safety Assurance: Adherence to industry standards to ensure safe operation.

Flexibility in Application: The pump can be tailored to various operational needs with optional features like bearing housing cooling.
Specifications
| | |
| --- | --- |
| Materials of Construction | Ductile Iron, 316 SS, CD4MCU (Duplex), Alloy20, Hastalloy B/C, Nickel, Monel, Titanium, Zirconium |
| Flow Rate | Up to 200,000 bpd (6,000 gpm) |
| Pressure Range | Up to 375 psig |
| Temperature Range | -40° F to 700° F |
A Selection of Supplier and Manufacturer Partnerships
Carver Pump
Flowserve
SPX FLOW