ANSI B73.1 Pumps
Your Ultimate Solution for Centrifugal Process Pumping
Our affiliated brands Odessa Pumps and Power Service stock and sell efficient and versatile ANSI pumps and pump packages. These high-performance solutions set the standard for centrifugal process pumps across a broad spectrum of industries. Engineered to handle everything from high-temperature applications to basic water transfer, they operate seamlessly under a wide array of flows, temperatures and pressures. Choose ANSI pumps from Odessa Pumps and Power Service for a comprehensive solution that prioritizes reliability, adaptability and robust performance.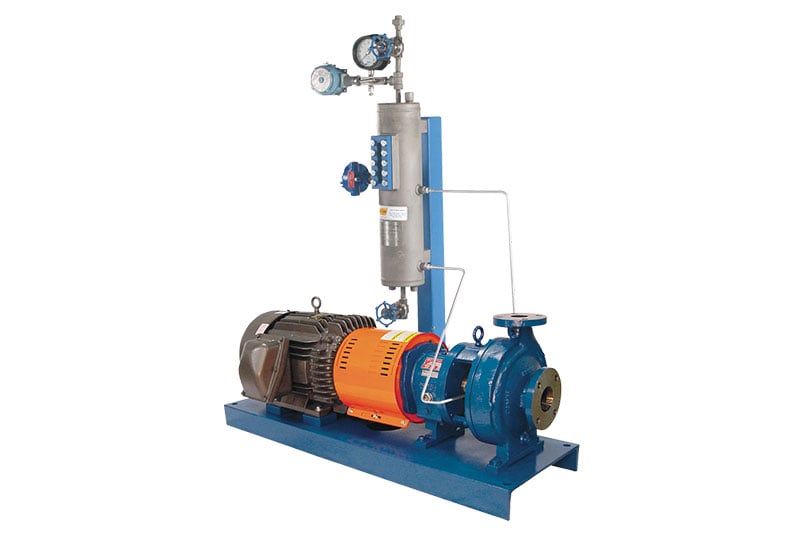 Meet the benchmark in centrifugal process pumps - ANSI pumps from our affiliated brands, Odessa Pumps and Power Service. These pumps, designed to handle many tasks across numerous sectors, stand out for their versatility and adaptability. Whether they're managing high-temperature process applications, acting as a water transfer pump or serving as wastewater pumps, our ANSI Pumps seamlessly rise to every challenge. They showcase a remarkable ability to operate under diverse flows, temperatures and pressures and set new benchmarks in operational flexibility. Integrate these reliable, adaptable and robust ANSI Pumps into your business for a comprehensive pumping solution that covers all bases.
Leak-Proof Seal Technology: ANSI B73.1 Pumps are equipped with advanced seal technology, ensuring leak-free performance and preventing costly downtime.

Quiet Operation: These pumps operate with minimal noise, creating a peaceful work environment and reducing noise pollution.

Overload Protection: Built-in overload protection ensures that the pumps are shielded from excessive stress, increasing their lifespan and reducing maintenance requirements.

Safety Standards: Under industry safety standards, ANSI B73.1 Pumps guarantee safe operation for your workforce and equipment.

Customizable Options: We offer various options to suit your application requirements, ensuring you get the perfect pump.

Responsive Customer Support: Our dedicated customer support team is always available to assist you with any inquiries or concerns, providing peace of mind throughout the product's lifecycle.
Increased Efficiency: ANSI pumps are designed for maximum hydraulic efficiency, which can lead to significant energy savings.

Cost-Effective: Their durability and efficiency lead to lower operational costs over time.

Reduced Downtime: With their robust design, ANSI pumps are less prone to failure, reducing downtime and ensuring uninterrupted operations.

Improved Productivity: With their ability to handle various applications, ANSI pumps can improve productivity by meeting diverse operational needs.
Specifications
| | |
| --- | --- |
| Materials of Construction | Ductile Iron, 316 SS, CD4MCU (Duplex), Alloy20, Hastalloy B/C, Nickel, Monel, Titanium, Zirconium |
| Flow Rate | Up to 200,000 bpd (6,000 gpm) |
| Pressure Range | Up to 375 psig |
| Temperature Range | -40° F to 700° F |
A Selection of Supplier and Manufacturer Partnerships
Note: Odessa Pumps is an authorized distributor of Griswold for select markets; Power Service is an authorized distributor of Flowserve for select markets.