Instrument Air Compressor Packages
DNOW Process Solutions designs and fabricates compressor packages that convert your production facilities to operate on clean, compressed air instead of fuel gas. Our compressors are fully configurable to your specifications, allowing you to run vessel control valves, dump valves, AODD pumps and more. Contact us today to reduce your carbon footprint, meet your scope 1 GHG emissions targets and minimize fuel gas waste.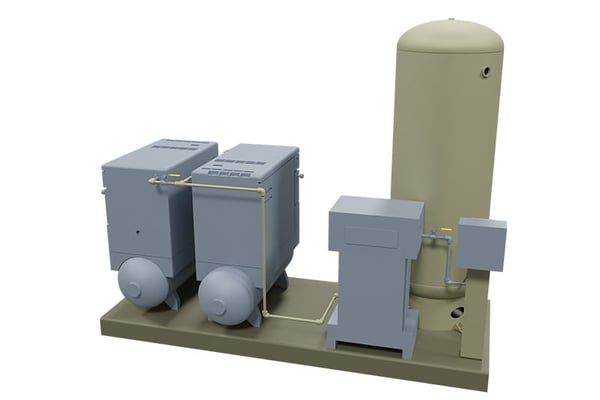 Reduce Your Scope 1 GHG Emissions
DNOW Process Solutions experts work with you to determine your specific requirements, based on your equipment and your emissions goals. We size compressors appropriate for the pneumatic devices you have on site to eliminate fuel gas use, if possible.
Here's a standard instrument air compressor package:
Reciprocating air compressor(s)
Desiccant air dryer
Vertical air receiver
Instrumentation & interconnecting PVF
Electrical junction box & transformer
Steel skid, mounting compressor(s) & dryer
Specifications
| | |
| --- | --- |
| Reciprocating Compressor Options | 5 hp, 7.5 hp and 10 hp, simplex or duplex units |
| Rotary Compressor Options | 5 hp and 10 hp, simplex or duplex units |
| Dryer Units | -40°F dewpoint regenerative membrane or desiccant units |
| Electrical | 480 V for direct field use |
| Hookup | Pre-plumbed skid, ready for service |
How DNOW helped one customer reduce their carbon footprint
DNOW Process solutions is working with one oil and gas operator to meet their goal of reducing methane intensity.
150+ instrument air compressor packages provided over 3-4 years
Modular skids and permanent installations
Methane intensity reduction goal: 70% over 5 years
Contact us today to learn how DNOW can help you reach your emissions goals!
Build It Now With eSpec™
eSpec product configurator is the quick and easy way to order your instrument air compressor packages. Choose design options and material specifications for your project, and then watch as the system creates a 3D drawing and a priced, complete technical proposal that you can submit to DNOW in one click.
Build anytime, anywhere – even multiple packages for a single project submission
Get real-time estimates – a complete technical quote is generated with estimated pricing
Build for the future – save your designs for upcoming projects and easy reordering