After an exciting year of growth coming out of the pandemic, DNOW is proud to rank on the 2023 Industrial Distribution Big 50 list. This list is determined by companies' most recent full-year worldwide revenue achieved through their North American operations.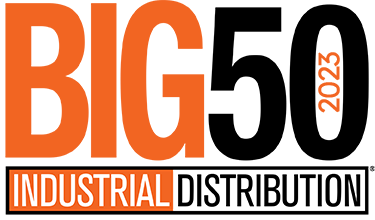 Methodology
The Big 50 list ranks companies according to their 2022 full-year global sales. All listed companies are based in North America, and only North American sales are accounted for. Master distributors are not eligible for inclusion.
Information for publicly-traded companies is based on their annual and quarterly reports, earnings statements and company verifications. For non-publicly-traded and privately-held companies, self-reported data is used and supplemented with recently published press releases, company website information and other news reports. To be eligible for Big 50 consideration, company information had to be submitted to Industrial Distribution editorial staff via email, survey and by phone.
---
About Industrial Distribution
Industrial Distribution has been providing leading information to distributors for more than 100 years. Our editors are dedicated to reporting information that is valuable to industrial distributors and providing marketers with a trusted platform for reaching key customers. When you market with Industrial Distribution and its online products, your message is aligned with the strongest and most trusted name in the business.
Read the full article on the Industrial Distribution website: https://www.inddist.com/big-50/article/22874459/the-2023-industrial-distribution-big-50
#industrialdistribution #big50 #industrial #industry