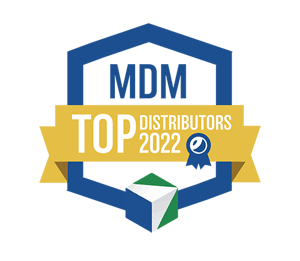 DNOW has once again demonstrated its position as a leading distributor in the industry, securing a place on the MDM Top Distributors List for 2022. MDM's 2022 Top Distributors List, now in its 13th year, is a comprehensive and highly-regarded annual ranking of over 150+ North American companies in the industrial, construction and commercial product distribution industries by revenue across discrete product category sectors.
Top Industrial Distributors

#20
NOW Inc.

Top Industrial PVF Distributors

#4
NOW Inc.
Methodology
Data for MDM's Top Distributors are based on 2021 revenues, either reported publicly, through surveys MDM conducts annually or estimated by MDM's researchers. In most cases, [MDM] used fiscal 2021 revenues, but in some cases, MDM uses calendar-year revenues for a more accurate comparison. To normalize the way we formulate the rankings, we include total company revenues, rather than break out individual sector revenues.
For companies that don't want to share revenue data publicly, MDM triangulates relative rank position for each list based on a combination of factors. These factors include: number of branch locations and/or employees, confidential reporting by specific companies, and guidance through a wide range of industry veterans that include suppliers, former employees and competitors to provide as accurate as possible in developing this type of industry competitive profile. Though [MDM gets] requests from companies that would prefer not to be listed, [MDM feels] it would damage the accuracy and value of this annual benchmarking tool.
---
About Modern Distribution Management (MDM)
Modern Distribution Management, a Gale Media Company, is a market research and media company that provides business intelligence resources to wholesale distribution executives and industrial product manufacturers. For 55 years, MDM has been the definitive resource for distribution management best practices, benchmarking, trends and business intelligence through its market research, analytics, consulting, publishing and conferences.
Read the full article on MDM's website: https://www.mdm.com/top_distributors/
#MDM #MDMTopDistributors