Jason Roe, CEO of EcoVapor, commented on the acquisition: "EcoVapor adds a leading emissions and flaring abatement solution to DNOW's extensive process and production equipment suite of products while providing EcoVapor the real opportunity to leverage DNOW capabilities in fabrication, logistics, and distribution. We are excited to be part of DNOW and the opportunity to accelerate our growth."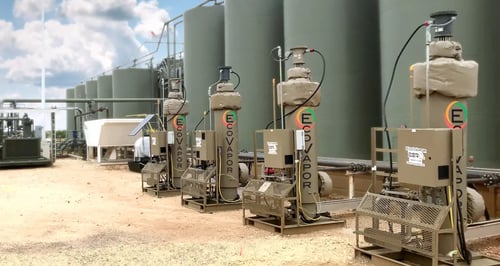 EcoVapor's expertise provides emission-reduction solutions for the life of an oil and gas well - eliminating venting and flaring of natural gas and methane, a greenhouse gas contributor.
This includes:
A patented ZerO2™ closed-loop emission solution
Sulfur Sentinel™ product and vapor management systems
Tank Commander™ products
With the addition of EcoVapor to the DistributionNOW family, DNOW will offer its customers an expanding suite of emissions management and renewable energy solutions targeting the oil and gas and the growing renewable natural gas (RNG) markets. EcoVapor's suite of products are highly complementary to DNOW's U.S. Process Solutions suite of fabricated process, production and pump-packaged tank battery and midstream products.
David Cherechinsky, CEO of DistributionNOW, said, "When combined with DNOW's evolving list of emissions reduction and CCUS applied products and solutions, EcoVapor helps further differentiate and propel DNOW solutions marketed to the energy evolution and transition market by helping our customers make real, sustainable progress in reducing routine flaring, leading to emissions reduction goals. It's the right step for DNOW at the right time."
---
About EcoVapor
EcoVapor Recovery Systems was founded in 2010 to provide reliable, economic control of vapor emissions at Oil and Gas and Renewable Natural Gas (RNG) markets. The ZerO2 System allows operators to capture oxygen from biogas, landfill gas and tank vapors, allowing gas to meet pipeline specifications and be sold instead of flaring. EcoVapor has been recognized with the 2012 Colorado Cleantech Industry Association Entrepreneur of the Year, 2014 Colorado Company to Watch, and 2014 Colorado Advanced Industries Grant Recipient awards. To learn more about emissions management technology, visit dnow.com/EcoVapor.
#acquisition #sustainability #netzero #biogas #renewablenaturalgas #oilandgas #oilandgasindustry #permian #permianbasin