On Friday, August 12th, Power Service, representing DNOW Lights, participated in the 5th annual Olivia Caldwell Foundation Invitational Golf Tournament at the Casper Country Club. Power Service, Inc. is committed to giving back to the community and is proud to support a tournament that raises funds to support the fight against pediatric cancer.
A huge thank you to Morgan Martin, Kade Walters, Jamie White and Bailey Jones for volunteering on behalf of DNOW Lights - because of you we continue to bring light to our communities!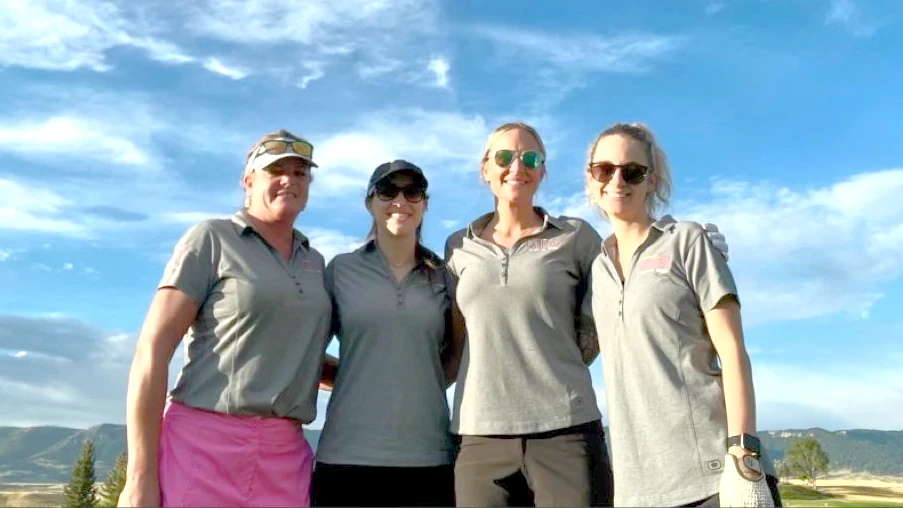 Olivia's Story: February 19, 2012-October 22, 2013
In July 2012, 4-month-old Olivia was diagnosed with a grade II astrocytoma. She had to endure surgery that put her in the Pediatric Intensive Care Unit (PICU), multiple port surgeries, MRI scans, and several hospitalizations. After seven months of intense chemotherapy, all the tumor cells were believed to be eliminated. At this point, she was left with many side effects from the treatment, such as right-side weakness, development delays, vision problems and epilepsy.
In June 2013, Olivia's parents rushed her to the hospital with the same signs as before. An MRI showed that her tumor had come back and was even larger. She underwent port surgery and started chemotherapy the next week. She had weekly chemotherapy sessions, more MRIs, and another hospitalization, but her tumor remained stable for 4 months.
In late September 2013, Olivia's health began to decline rapidly. She slept most of the time, lost her developmental skills, and started having more seizures. On October 17, 2013, an MRI showed that her tumor had "exploded in growth" and she was terminal. Olivia went home with hospice care and passed away at home in her parent's arms just 5 days later at 20 months and 3 days old.
Olivia was sweet and strong and fought hard against cancer with a smile on her face. She inspired those who knew her and her legacy lives on through her family and The Olivia Caldwell Foundation which raises money for pediatric cancer research.
---
About the Olivia Caldwell Foundation
The foundation is a non-profit that funds research and programs to improve the lives of children with life-threatening diseases, such as cancer and other illnesses that strip them of their health, happiness, and vitality. To learn more about the foundation or get involved, visit their website: www.oliviacaldwellfoundation.org.
#PowerService #FundTheFight #PediatricCancer #Foundation #NonProfit