Carbon Steel Fittings
Discover Durable and Versatile Carbon Steel Pipe Fitting
As industries evolve, the demand for steadfast and reliable solutions has never been more paramount. DNOW, with its legacy of excellence, has been at the forefront of ensuring projects are executed with the best materials. Explore our range of carbon steel fittings where every product stands tall, representing our commitment to quality, versatility and the rigorous standards of our ISO 9001 certification. From a comprehensive product range to their applications across sectors, discover why DNOW remains the first choice for professionals around the globe.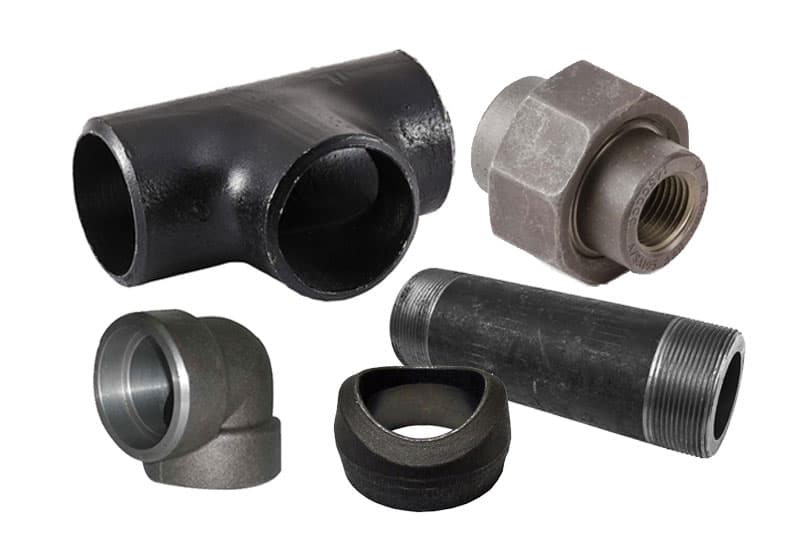 In the realm of robust industrial solutions, DNOW stands tall as the premier provider of carbon steel fittings. Every piece in our inventory is handpicked from manufacturers that surpass the rigorous benchmarks of our ISO 9001 certified quality program.
At DNOW, we pride ourselves on offering a versatile and comprehensive range of fittings that serve diverse needs:
Standard & High Yield Butt Weld Fittings: Ideal for projects demanding strong leak-proof connections.
Forged Steel Fittings: Crafted to ensure unparalleled strength and top-tier quality.
Branch Connections (WOL, SOL, TOL, NOL etc.): Crucial for a variety of piping systems.
Nipples & Swages: Essential components for efficient pipe joining or reduction.
Bull Plugs: Crafted for sealing open ends or terminating pipelines.
Our carbon steel fittings are the top choice for industry professionals due to their:
Strength: Designed to manage high pressure and stress seamlessly.
Durability: Engineered to endure and resist wear and tear.
Corrosion Resistance: Tailored to thrive in challenging conditions without succumbing to rust.
Our carbon steel fittings are indispensable across multiple sectors, including:
Oil and Gas: Pivotal for maintaining consistent flow and durable installations.
Construction: Meeting the stringent demands of contemporary construction needs.
Manufacturing: Instrumental in machinery assembly and product creation.
Water Treatment: Ensuring impeccable water supply systems.
HVAC: Synonymous with efficient heating, ventilation and air conditioning setups.
Specifications
| | |
| --- | --- |
| Standards / Material Grades | ASTM A/SA-106, A/SA-234 WPB, A/SA-105 |
| Sizes | ¼ in. NPS – 24 in. NPS (larger sizes by request) |
| Schedules | Class 2000, Class 3000, Class 6000, Class 9000, STD, XH, XXH, true schedules, special walls |
A Selection of Supplier and Manufacturer Partnerships
Anvil International
Awaji Materia (Thailand)
Bonney Forge
Capitol Manufacturing
CapProducts
Gulf Manufacturing
Hackney Ladish
Industria Meccanica Ligure (IML)
Mills Iron Works
Phoenix Forging Company
Tectubi Raccordi
Tenaris
Tube Forgings of America (TFA)
Weldbend
Westbrook
WFI International