Air Compressors and Compressed Air Dryers
Boost Your Efficiency with Advanced Compressed Air Solutions
In the complex arena of modern industrial processes, air quality can be the defining factor between operational excellence and mediocre outcomes. Our affiliated brand, Power Service, stands at the forefront of compressed air solutions, bringing together impeccable efficiency and unwavering reliability. Whether you're looking to maintain strict air quality standards, optimize your current system or tackle challenges related to contamination and regulations, we are here to help.
Adhering to air quality standards does not have to come at the expense of your system's reliability and efficiency. Our team has the knowledge and experience to help you navigate everything from contamination and air quality standards to technologies and regulations.
Air Compressors
Our inventory of air compressors includes high-quality, technologically innovative components. This ensures efficient, reliable and durable systems. Our centrifugal solutions expand our market coverage to higher pressure, higher flow, and process gas compression applications.
Air Dryers
Our inventory of air dryers can be used to remove moisture that can cause damage to your compressed air system. Our dryers are designed as a companion to enhance your entire air compressor system by ensuring high-quality air and improving productivity, efficiency, and making the overall running of operations more manageable.
Air Compressor Types:
Oil-Flooded Screw Compressor: With a high level of reliability, this type of compressor is ideal for continuous use in demanding environments.
Oil-Free Screw Compressor: Experience the benefits of no oil carryover, making it perfect for industries where air purity is paramount.
Reciprocating Compressor: They are designed to be robust and durable for intermittent use.
I/A Packages: Our integrated packages are designed for utmost efficiency and reliability, encapsulating all your air needs in one.
Air Dryers:
Regenerative Dryers: These dryers provide consistent dew point control, ensuring the removal of moisture and contaminants.
Refrigerated Dryers: Effective moisture removal for general plant air applications.
Membrane Dryers: Ideal for point-of-use drying, these dryers are both compact and efficient.
Additional Offerings:
Fabricated Utility & Instrument Air Packages: Tailored to meet your specific requirements, ensuring high-quality air for critical processes.
Air Storage Tanks: Efficiently store compressed air, ensuring a steady supply for peak demand.
Air Audits: Our professionals comprehensively analyze your air systems for peak performance.
Custom-Built Instrument Air Compressor Packages: Designed to reduce your greenhouse gas emissions, aligning with sustainability goals.
Risk-Free Operations: Our products are designed to remove the risk of contamination, ensuring clean and pure air.
Eco-Friendly: With our custom-built instrument air compressor packages, reduce your GHG emissions and minimize environmental impact.
Cost-Effective: Experience lower maintenance costs and operational expenses with our advanced range of products.
Energy Efficiency: Our compressors and dryers are designed to be more energy-efficient, translating to savings in the long run.
Cleaner Air Supply: With the combination of our compressors and dryers, ensure a clean air supply free from contaminants.
Optimized Air Compressor Solutions to Reduce Your GHG Emissions
Harness the power of DNOW's advanced air compressor solutions, designed to minimize your environmental impact. Our technology helps businesses efficiently track and significantly cut their carbon emissions. Regardless of your equipment or set emission targets, our experts customize the perfect solutions for you. Achieve sustainability and performance, side by side.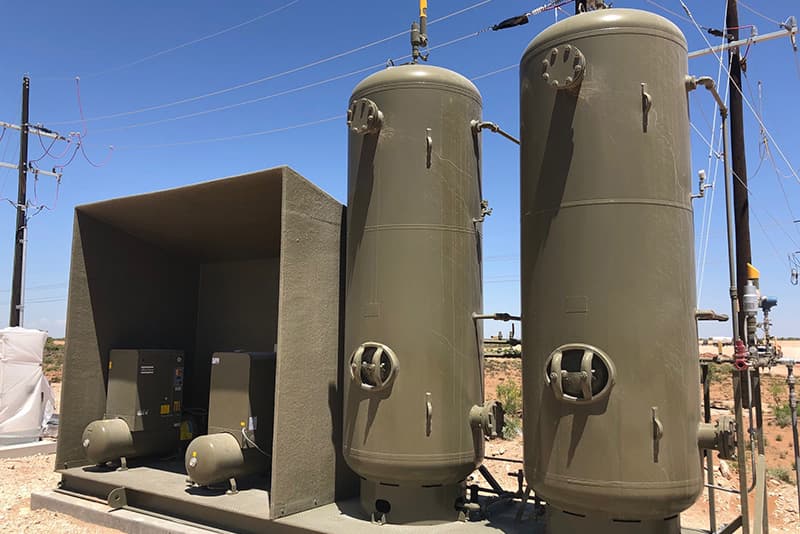 A selection of supplier and manufacturer partnerships
Atlas Copco
Bauer Compressors
Corken
FS-Curtis
Hycomp
Ingersoll Rand
Pneumatech
Pneumatech (ConservAIR)
Ro-Flo Compressors
SPX FLOW (Hankison)