In-House Pump Repair, Overhaul and Machining
DNOW's U.S. Process Solutions group provides professional in-house pump repair, overhaul and machining services that feature precision fabrication and machining performed by our certified technicians. Get reliable repairs from us, regardless of the job's size or complexity.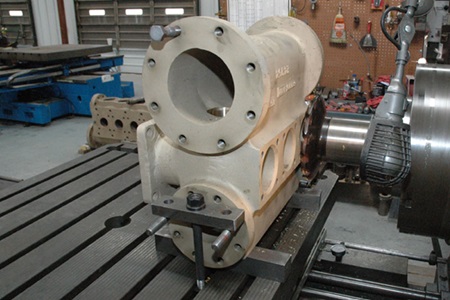 Product Description
Get your pumps back to performing at peak efficiency with our in-house pump repair shop. Our experienced technicians offer a full range of services for virtually any type of pump, including, but not limited to, maintenance and machining repairs. With our advanced machining capabilities in-house, our factory-certified technicians can fabricate and machine as necessary to complete any repairs, regardless of the complexity or scale of the job. We use only high-quality parts for all new build projects and rebuilds and get you back on track quickly without compromising quality or performance, regardless of the complexity or scale of the job.
Features
Reciprocating fluid end repair
Piston pump fluid end repair
Centrifugal casing component repair
Pressure-containing components welding, NDE & repair
Power end exchange/repair program
Benefits
Quick turn around times even on complex jobs or large scale jobs

Quick repairs ensure minimal downtime

Highly experienced staff offer precision machining capabilities
Comprehensive services covering a range of components for all types of pumps

Quality checking that goes above and beyond industry standards