Vapor Recovery Units (VRU)
Remove and Recover Carbon Vapors from Crude Oil and Distillate Tanks
At Power Service, a DistributionNOW company, we understand the importance of complying with emission regulations while maintaining safe and efficient operations. That's why we offer Vapor Recovery Units (VRUs) designed to remove unwanted vapors from crude oil or distillate tanks. Our units are engineered and fabricated to provide a simple, effective solution for reducing emissions and enhancing environmental friendliness.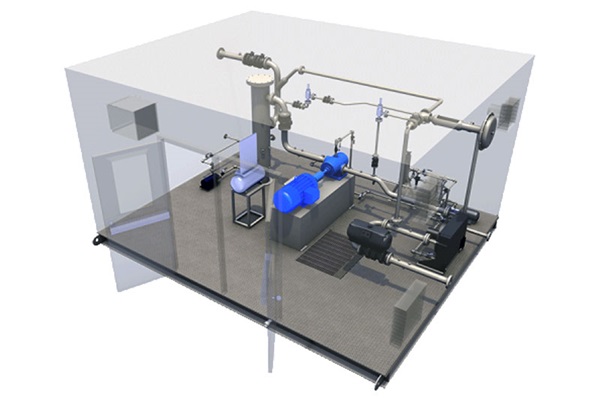 Product Description
The Vapor Recovery Unit from Power Service is a reliable and efficient solution for removing harmful vapors from crude oil or distillate tanks. Our process equipment units are engineered and designed to meet prevailing emission regulations and are easy to install and operate. With our Vapor Recovery Unit, you can ensure that your operations are safe, efficient, and environmentally friendly.
Features
Standard B31.3 piping construction
Wind, snow and seismic calculations
Lifting plans, FEA and torsional calculations are available
PE-stamped buildings and structural
Steel frame, panel and fiberglass buildings
Electrical classifications
All of our facilities are available in either non-classified, C1D2 or C1D1 designs
Optional enclosure for cold weather packages
Benefits
Minimize emissions
Comply with regulations
Maximize profits
Easy to operate and maintain
Cutting-edge technology and automation package
Reduces waste
Specifications
| | |
| --- | --- |
| Rates | Up to 2 MMCFD + |
| Pressures | Up to 1440 PSIG + |
VRU Major Components and Features
A VRU is an essential piece of process and production equipment used in the oil and gas industry to control volatile organic compounds (VOC) emissions produced while transferring and storing crude oil, refined petroleum products and natural gas. A typical VRU has several components that work together to achieve this task. These components include a compressor, a refrigeration system, heat exchangers and control systems.
Bill of Materials (BOM)
Electrical - our team can work closely with you to design fully integrated PLC and control options, including starters and VFD, flow computers, and SCADA integration.
Pumps - our compression technology is selected based on flow and pressure. Our team will help you find the best solution from various options, including rotary vain, reciprocating and flooded screw.
Pipe and Fittings - a wide selection of PVF can be integrated into any system depending on the customer's needs
Valves - our selection of recycle valves can maintain system run time and prevent liquid buildup
Filtration - we offer inlet and discharge scrubbers, which can be sized for flow rate, pressure and gas specifics
Gas Cooling - our vapor recovery units offer gas cooling systems to cool the compressed vapor, causing it to condense back into a liquid form.
Note: Interactive model above requires the use of cookies from Sketchfab, 3D, VR & AR software, in order to load the model. On older browsers or devices with WebGL disabled, models are displayed with an image-based fallback. Check to make sure your browser settings allow for "hardware acceleration", also known as "GPU acceleration.
A Vapor Recovery Unit (VRU) is a process and production equipment used to capture and recover volatile organic compounds (VOCs) from industrial processes or storage tanks. These VOCs may include gases like methane, butane, propane, and other hydrocarbons that are typically emitted during the transfer of petroleum products or the processing of chemicals.
A VRU works by pulling the vapors from the storage tanks or equipment into a closed system through a series of pipes and valves. The vapors are then compressed and cooled to condense the VOCs into a liquid form, which can be collected and reused or disposed of safely. The recovered hydrocarbons can be used as fuel or returned to the production process, while reducing emissions and minimizing air pollution.
VRUs are commonly used in the oil and gas industry to control emissions from oilfield operations, refineries and transportation terminals. They can also be used in other sectors, such as chemical manufacturing, petrochemical processing, and pharmaceutical production, among others.
Vapor recovery units (VRUs) reduce air pollution emissions by capturing vapors and gases that would otherwise be released into the atmosphere. These vapors and gases can come from various sources, such as storage tanks, loading facilities and pipelines. When these vapors and gases are discharged into the atmosphere, they contribute to air pollution and greenhouse gas (GHG) emissions. Capture and recovery of these vapors through VRUs prevent them from being released into the atmosphere, and instead, they are treated and recovered for reuse.