Produced Water Transfer Units
Fluid Management with Advanced Water Transfer Skids
Experience unparalleled efficiency in produced water management tailored for moving water produced during drilling and for oil and gas production. Our affiliated brands, Odessa Pumps and Power Service, offer state-of-the-art produced water transfer systems designed to handle the complexities from hydraulic fracturing to desalination seamlessly. Integrated with industry-leading features and offering vast customization, our produced water transfer unit skids are also critical in connecting well pads and moving water to pipelines for safe and effective transportation.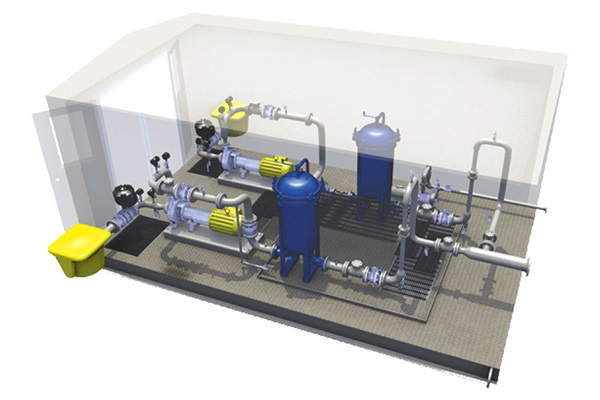 At Odessa Pumps and Power Service, we've streamlined the management of produced water in the oil and gas sector. Through the expertise of our DNOW U.S. Process Solutions operating unit, we have meticulously designed, engineered and fabricated water transfer units that accommodate both fundamental fluid transfers and intricate wastewater treatments. Our systems prioritize accuracy and efficiency, particularly for high-volume transfers. Furthermore, our produced water transfer units are equipped to quantify the volume of water transported, ensuring precision in custody transfer and reporting.
Modular Equipment Skids: From simple pump packages to fully automated truck unloading facilities, our packages feature integration that allows the unit to be operated entirely unmanned in the harshest environments possible.
Filtration System: Ensures water purity at every stage.
Truck Grounding Systems: Safeguard against potential hazards during transfer.
Standard B31.3 Piping Construction: Durable and built for longevity.
Comprehensive Calculations: Includes lifting plans, FEA, torsional calculations, wind, snow and seismic evaluations for maximum safety.
Thorough Testing: Both mag particle and dye pen testing are available.
Certified Structures: PE-stamped buildings and structures for assurance of quality.
Diverse Piping Material: Choose from carbon steel, stainless steel and composite piping.
Flexible Building Options: Steel frame, panel and fiberglass buildings are available.
Weather Protection: Optional enclosures are available for cold weather packages.
Oilfield water transfer
Reservoir drainage
Produced water recycling and reuse
Saltwater disposal
Water treatment post hydraulic fracturing
Fracking water management
Flowback water treatment
Specifications
| | |
| --- | --- |
| Flowrates | Up to 60,000 bbl/day + |
| Pressures | Up to 1,000 PSIG + |
Skid Major Components and Features
Our Produced Water Transfer fabrication unit is at the heart of our water solutions. We employ diverse pump technologies to ensure the right fit for every application.
Bill of Materials (BOM)
Core Systems and Components: These are the primary parts driving the water transfer process.

Pump Selection: Offering a spectrum from vertical and horizontal multistage centrifugal pumps to single-stage centrifugal pumps. We also have Progressive Cavity (PC) and reciprocating pumps for diverse applications.
Variable Frequency Drives (VFDs): Precision electronic controllers regulate electric motor speed and torque, optimizing performance.
Advanced Metering: Features like Coriolis, Magnetic and Turbine metering ensure accurate water flow measurements.
Control Systems: Our electronic or mechanical systems oversee and regulate device operations for optimal efficiency.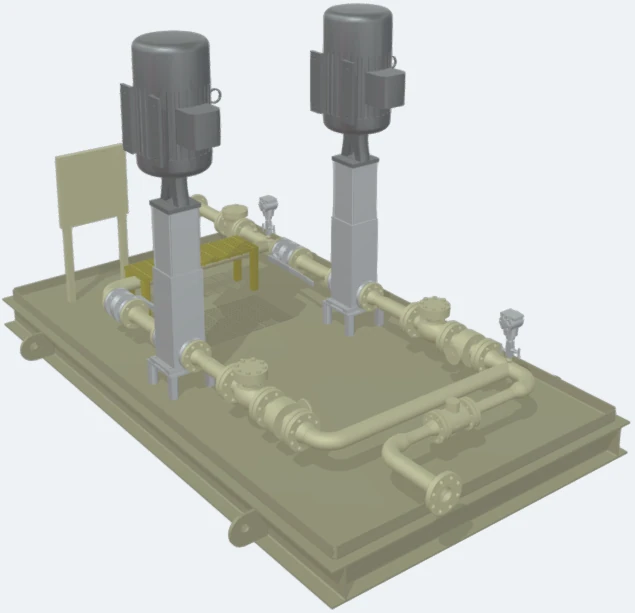 Support and Auxiliary Systems: These aid and enhance the core components.

Integrated Electrical Systems: Tailored PLC setups and control solutions, including starters, VFDs, flow computers and SCADA integrations.
Instrumentation: Tools that continuously monitor fluid pressure and temperature, ensuring safety and operational consistency.
Pump Support Systems: Auxiliary elements like drain pans and sump pumps that boost our pump functionality.
Infrastructure and Construction: The foundational and structural aspects ensuring durability.

Pipe, Valves and Fittings (PVF): Comprehensive product range for fluid direction and produced water transfer.
Structural Components: We ensure system resilience across conditions from skid-only frames to insulated metal and fiberglass buildings.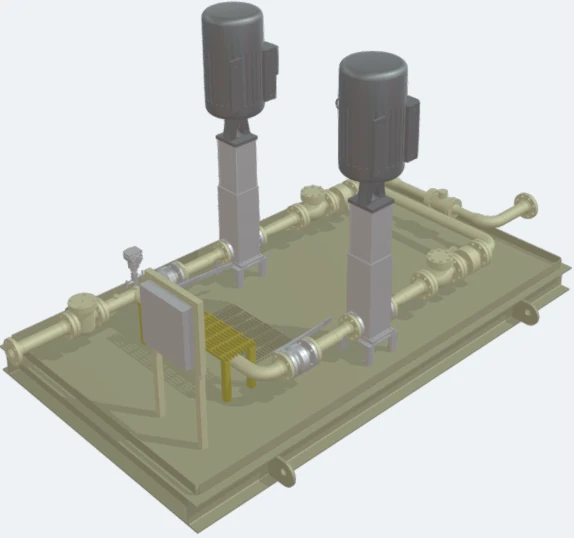 Tailor Your Produced Water Transfer Unit with Precision
Want to experience efficiency first-hand? Dive into eSpec™! Craft your perfect water transfer system with our state-of-the-art configurator. Get quotes, visualize in 3D and step into the future of complex engineered equipment package ordering.