Engineering and Design Services
Streamline Your Project with Our Expert In-House Engineering and Design Services
Are you looking for a company that can handle all aspects of your modular process skid project? Power Service, a DistributionNOW company, has you covered with in-house engineering, design and fabrication services. We believe in keeping all aspects of the engineering design process in-house, ensuring you receive only the highest quality modular process skid for your operations.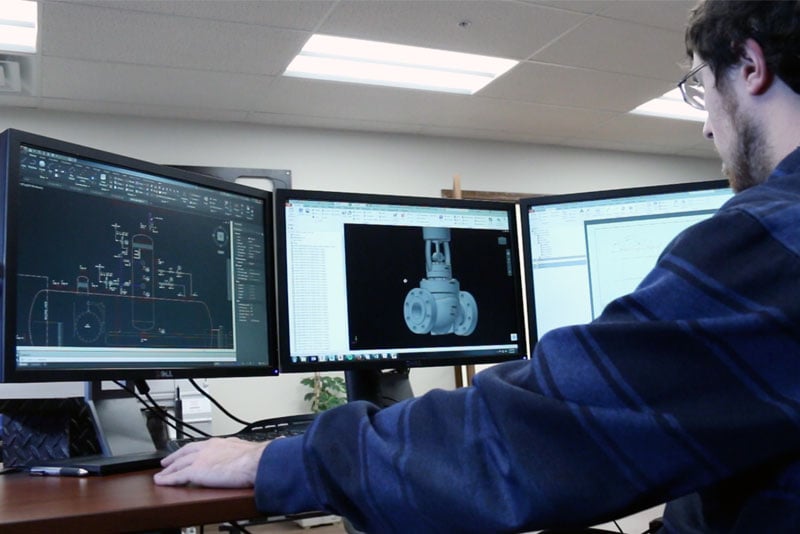 Service Description
Our in-house design and drafting department is the backbone of our operation. Combining over 20 years of experience in plant and process design/drafting, fabrication and ASME code analysis, our team offers a wealth of knowledge and expertise that outsourced services cannot match. Our team of experienced engineers and designers works closely with you to understand your needs and goals for your project. We maintain software subscriptions that ensure we use the latest technology and software to create detailed plans and designs, ensuring accuracy and efficiency. From concept to completion, we are committed to delivering high-quality LACT units, gas measurement skids, vapor recovery unites, salt water disposal units and more that exceed expectations.
Features
P.E. stamping available
State of Colorado, resolution 35 compliance
Drawing sets – preliminary through "as built"
3D modeling and video rendering
Existing site, facility drawings and review
Process and instrumentation diagrams (P&IDs) for pressure vessel sizing, code calculation, and documenting
Process simulations
Structural and torsional analysis
Optional enclosure for cold weather packages
Benefits
Minimize miscommunication and errors
Ensure project goals and needs are met
Quality assurance throughout the entire production process
Equipment designed and built to comply with industry standards and regulations
Custom-built equipment tailored to meet your unique needs and specifications
Expert designers and engineers with years of experience in the industry
Wide range of equipment options including water transfer units, vapor recovery units, gas measurement units, LACT units, pressure vessels, salt water disposal, launchers and receivers and more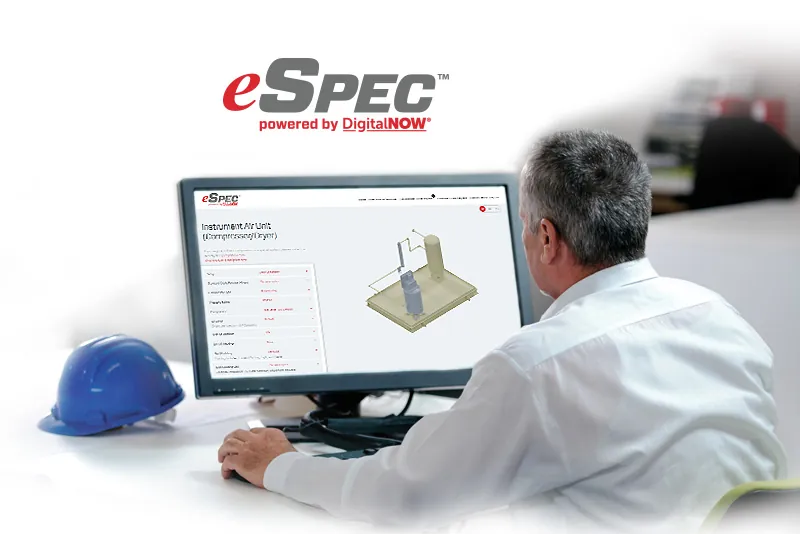 Simplify Your Equipment Ordering with eSpec, Powered by DigitalNOW®
Say goodbye to complicated equipment ordering processes and hello to eSpec, the user-friendly application powered by DigitalNOW. Order complex engineered equipment packages with ease and in no time. eSpec allows you to configure, price and generate a proposal for your project package in just a few clicks.
Your Partner for High-Quality Engineering and Design Services
In-house engineering and design services offer many benefits that outsourced services cannot match. At Power Service, we are dedicated to providing our clients with only the highest quality work, and we believe that in-house services are the best way to achieve that goal. Contact us today to learn more about our engineering and design services and how we can help you power up your business.