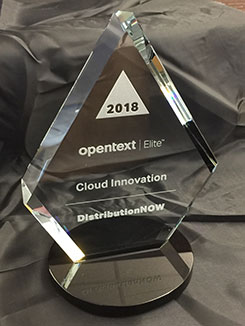 Runner-up – Cloud Innovation Award
DistributionNOW delivers value and efficiencies to customers through the innovative use of digital technology applied to supply chain and procurement functions. Due to the growing complexity and associated high costs of managing B2B operations – including partner onboarding, error resolution, systems management, and disaster recovery activities – DNOW decided to move away from in-house development of on-premise B2B deployment and outsource B2B operations to OpenText B2B Managed Services.
OpenText B2B Managed Services incorporated global trading partner onboarding, mapping and translation, external systems integration, and 24x7 monitoring and resolution support. OpenText also assists with onboarding and digitally enabling a backlog of trading partners. The company's analysis estimates a 25% savings over five years by migrating from its internally managed B2B solution to OpenText B2B Managed Services.
---
For more information on the OpenText Enterprise World, please visit:https://www.opentext.com/about
* OpenText is a provider of information technology solutions for enterprise customers.