Office Supplies
The right office supplies can significantly enhance the efficiency of your workspace. At DNOW, we are committed to offering the best in class products that cater to the diverse needs of a dynamic office environment. Whether you are restocking, starting fresh or simply looking to enhance your existing setup, we are your partner for everything office-related.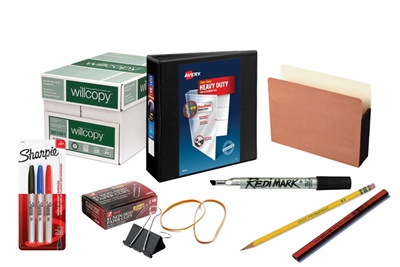 At DNOW, we understand the intricacies of everyday business tasks and how essential tools can amplify your work's effectiveness. With our wide array of office supplies, be it for communication, recordkeeping, bookkeeping or simply jotting down messages and notes, we've got you covered. Dive into our collection to find everyday items that not only make your tasks easier but also enhance your productivity.
Binders and Clipboards: Keep your documents organized and easily accessible.

Bulletin Boards and Easels: Display crucial information or brainstorm ideas with ease.

Calculators and Machines: Simplify complex calculations and save precious time.

Clips, Push Pins and Rubber Bands: Keep your paperwork neatly bundled and organized.

Computer Supplies and Media: Ensure your tech devices have the essentials they need to function seamlessly.

Frames and Covers: Protect and display your prized documents and photos.

Ink and Toner: Ensure high-quality printing every time.

Laminating Equipment: Preserve important documents and give them a polished look.

Office Cleaners: Maintain a clean and hygienic workspace for utmost efficiency.

Office Filing: Organize your documents in a manner that ensures quick accessibility.

Other Office Supplies: Explore an array of items tailored to cater to every unique office need.

Paper and Notebooks: Jot down important notes, brainstorm or maintain records with ease.

Staplers, Tape and Hole Punches: Essential tools for paperwork assembly and organization.

Storage and Organization: Reduce clutter and optimize your workspace.

Writing and Correction: From pens to correction fluids, make sure every word penned down is perfect.
Our Office Supplies Suppliers
ACCO Brands
ACCO Brands (Wilson Jones®)
Avery Dennison
Dixon Ticonderoga®
Domtar (Willcopy®)
Sanford
Sanford (Sharpie®)