Material Handling
DistributionNOW has a vast inventory of material handling equipment and products for any size of business with all types of warehouses. Everything you need to move or store items safely and efficiently, no matter what industry you're in.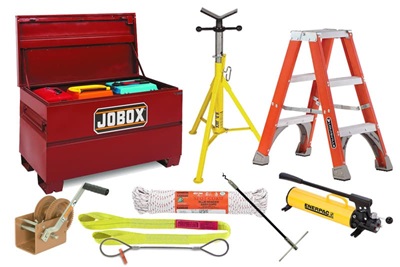 Type of Material Handling Offerings
Our material handling product line features unparalleled selection across categories including bags, bicycle parts & accessories, cabinets, cases, casters & wheels, chain, storage containers, hoppers & tilt trucks, ladders, platforms & scaffolding, poly sheeting & tarps, rope, twine & wire, packaging, slings, poly & fiberglass tanks, trash cans and more. Contact our sales team for assistance or visit our eCatalog to buy online from the most trusted brands in the industry.
Our Material Handling Suppliers
Akro-Mils
Aldon Company
AMES (Harper®)
AMES (True Temper®)
Apex Tool Group (Campbell® Chain & Fittings)
Apex Tool Group (Cooper Tools)
Apex Tool Group (Crescent JOBOX)
Balcrank
Behrens Manufacturing
C.S. Osborne
Columbus McKinnon (Dixie Industries)
Cotterman
Custom LeatherCraft Manufacturing (CLC)
Dutton-Lainson
Eagle Manufacturing
Enerpac
EQUIPTO
Gardner Bender
Harrington Hoists
Harrington Hoists
Hillman Group
Husky Rack & Wire
JET Tools
Klein Tools
Lift-All
Liftex®
Lifting Technologies
Louisville Ladder
Lug-All
Lyon
Master Lock
Master Lock (American Lock®)
Molex (Aero-Motive®)
Morse Manufacturing
MSSC (Marsh®)
National-Spencer (ZeeLine®)
Pipeline Packaging
Roura Material Handling
Rubbermaid
Samson Rope Technologies
Snap-on Industrial Brands (Williams Tools)
Stanley Black & Decker (Waterloo Industries)
Sumner Manufacturing
Thern Inc.
Tractel (Griphoist®)
Werner
Werner (Green Bull™)
Werner (KNAACK)
Wesco Industrial Products
Worksman Cycles