Marking Products
Essential Tools for Precision and Clarity Markings in Industrial Work
For professionals engaged in welding and fabrication, those navigating the bustling field of construction or those delving deep into electrical endeavors, there's an omnipresent demand: impeccable, precise and discernible markings. The fine line between a project's success and potentially costly errors frequently hinges on the marking quality. DNOW brings forth a comprehensive suite of industrial marking supplies, ensuring each mark you place is accurate.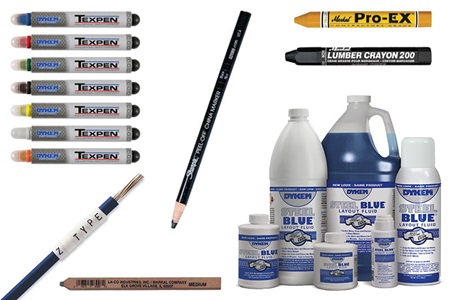 Our range of marking products is meticulously curated to cater to diverse industrial needs. From vibrant paint markers that make a statement on any surface to transient chalk markings, from the enduring impressions of stamps to the precision of stencils and ink, each product is designed with a specific task in mind. They are crafted to be easy to use, durable under varying conditions and clear in their markings. Dive into our collection and discover the perfect marking companion for your industrial endeavors.
Crayons: Formulated for multiple surfaces, these crayons ensure durable and discernible markings.
Chalk: An ideal choice for transient markings, it's easy to apply and simpler to remove.
Metal Markers: Explicitly designed for metals, these markers guarantee clarity and are made to last.
Paint Markers: Industrial paint markers that are bright and vivid; they distinctly stand out on every surface.
Stencils & Ink: Essential industrial marking products for precision, especially when consistency is key across multiple projects.
Marking Whiskers: Best suited for sites necessitating elevated markings.
Marking Flags: Easily demarcate locations or crucial points.
China Markers: Especially effective on glossy surfaces and easily removed.
Lumber Pencils: Sturdy and crafted explicitly for marking on wood.
Stamps: Crafted to leave permanent imprints, be it messages or symbolic representations.
Label Makers & Labels: Efficiently organize and categorize, ensuring clarity and precision.
Wire Tags: Simplify the process of marking wires and cables for effortless identification.
Whether paint markers, inking tools, stencils or more, aligning with a trusted partner is essential. DNOW offers not just a myriad of product marking tools but emphasizes quality. Whether your needs encompass industrial paint markers, stamps, labels or other marking essentials, trust us for impeccable results.
High-Quality Materials: Each marking product is crafted following stringent industry standards, ensuring durability and vivid markings.
Versatility: An extensive range of options guarantees a product apt for every industry requirement.
Ease of Use: Innovatively designed with professionals in focus, promising user-friendliness without trading off on precision.
Our Marking Product Suppliers
Critchley Electrical Products
Epson Labelworks PX
ITW Diagraph
ITW Professional Brands (Dykem®)
LA-CO Industries (Markal®)
Young Bros. Stamp Works
Brady Corp.
Presco
Sanford
Pentel®