LACT Units
Redefining Precision in Crude Oil and Petroleum Products Transfer
Our affiliated brand Power Service is a premier fabricator of lease automatic custody transfer (LACT) and automatic custody transfer (ACT) units. Our expertise shines in delivering top-tier automated LACT and ACT measurement systems meticulously crafted at our state-of-the-art DNOW U.S. Process Solutions facility. Tailored for both wellhead and midstream applications, our solutions embody precision, reliability and innovation. With Power Service, you can expect streamlined transfers, significantly reduced lead times and cost-effective operations without compromising on accuracy. Our commitment to excellence ensures that each unit not only meets but exceeds industry and government standards, backed by comprehensive in-house factory acceptance testing. Choose Power Service, A DNOW Company, for your oil and gas production needs and experience a seamless blend of technology and excellence.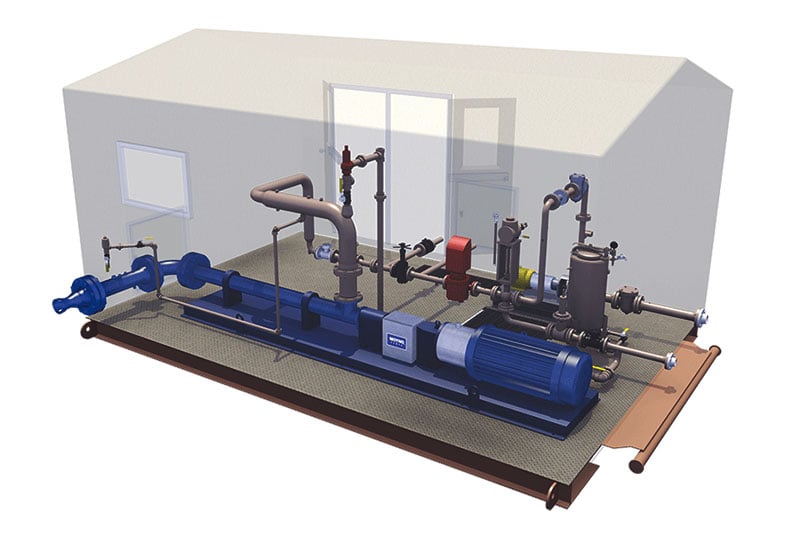 Engineered and Fabricated by the skilled team of our DNOW U.S. Process Solutions operating unit, Power Service LACT units are advanced systems crafted to measure the volume and quality of petroleum products with precision. These sophisticated systems are precision-engineered to quantify the volume and quality of petroleum products with unmatched accuracy. Ideal for automated transfers, our LACT units facilitate the seamless flow from lease sites to trucks, pipelines or storage facilities. As a top fabricator, we excel in providing turnkey solutions encompassing the entire project lifecycle under one umbrella. This single point-of-contact approach simplifies the process for you, eliminating the complexity of dealing with multiple vendors and the associated delays and extra costs. With Power Service, you gain a partner committed to efficiency, reducing delivery lead times and operational costs, directly contributing to your bottom line.
API-11N Compliance: Guarantees adherence to industry benchmarks for safety and performance.
Integrated Pipeline Pump: Streamlines operations for heightened efficiency.
Truck Loading and Unloading: Simplifies the petroleum product transfer process.
ACT Skids: Modular design for adaptability.
Allocation: Aids in the effective distribution and management of oil products.
Multiple Meter Runs: Ensures precise measurements across various flow rates.
Cold Weather Enclosure: Guarantees peak performance in colder climates.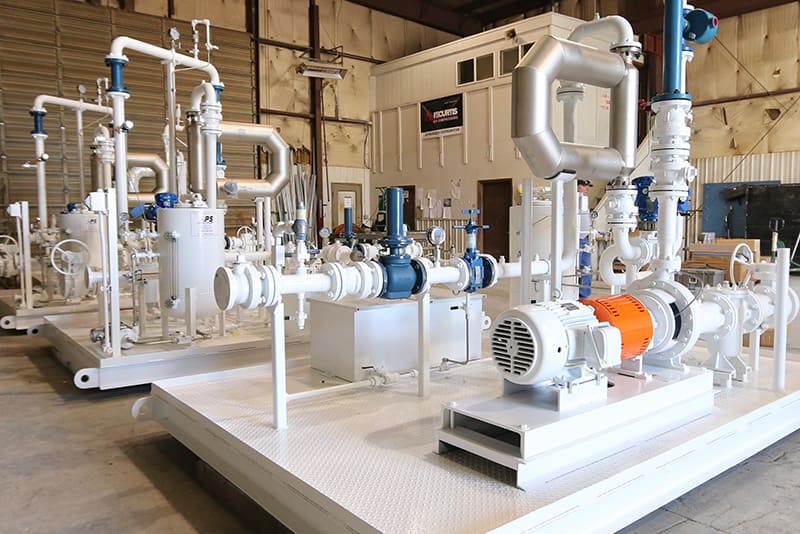 Benefits of Power Service LACT Units
Grounded in rotating equipment expertise, we provide a strong foundation in the oil transfer and electrical aspects of LACTs.
Our extensive field service network is comprised of numerous service locations and boasts over 100 skilled technicians.
Our strategically located fabrication sites offer comprehensive FAT and Run Test capabilities.
Our fabricated units provide a technologically advanced method of precisely measuring oil transportation. Our units are designed with advanced features and capabilities that ensure accurate measurement and efficient oil transfer. The innovative design of our units ensures a continuous flow into pipelines.
Our units undergo rigorous testing procedures to ensure adherence to API-11N and B31-3 standards. Compliance with these standards ensures the accuracy, reliability and safety of the oil transfer process.
Our units are designed for optimal operation in all weather conditions. With full insulation in walls and floors, these skids maintain a continuous flow of oil into pipelines, improving the efficiency of oil transportation. By minimizing interruptions and optimizing the oil transfer process, fully integrated LACT skids contribute to increased productivity and cost-effectiveness.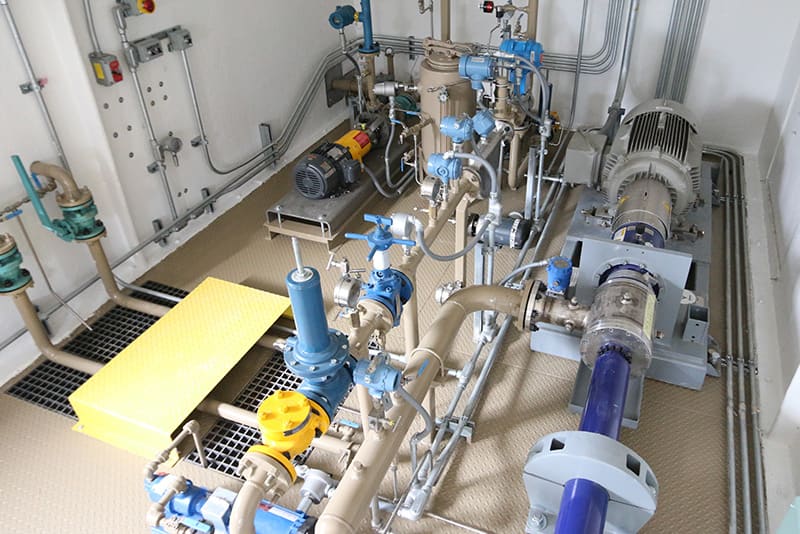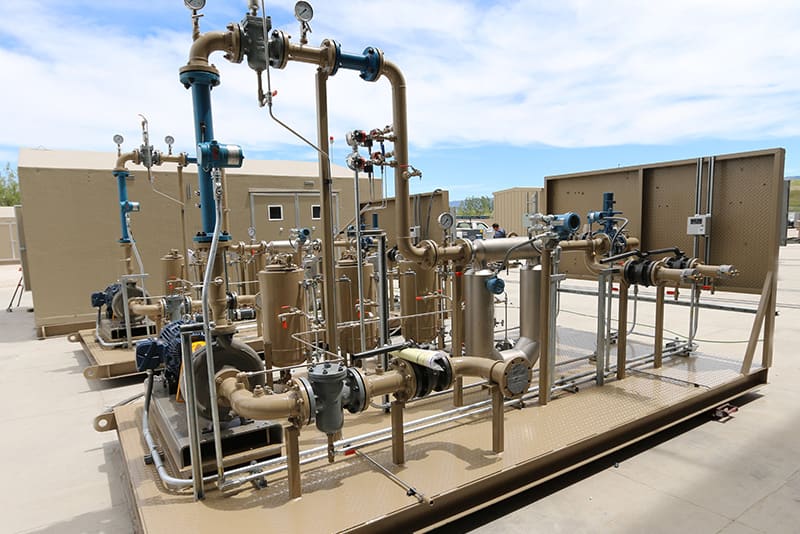 Lease Automatic Custody Transfer units are primarily designed for accurate hydrocarbon liquid measurement. Their importance in transparent oil and gas transactions is unparalleled. Applications include:
Lease Transfers: Utilized in fields for crude oil transfers, ensuring accurate oil accounting.
Pipeline Transfers: Facilitate precise volume and quality measurements for pipelines.
Truck Operations: Offer an automated alternative to manual gauging methods.
Refinery Intake: Refineries rely on them for processed crude oil measurements.
Terminal Operations: Streamline the transfer of hydrocarbons between storage solutions.
Quality Monitoring: Detect off-spec products like those with high sediment content.
Regulatory Reporting: Provide essential data for hydrocarbon transaction reporting.
Using a LACT unit ensures precision and minimizes potential disputes.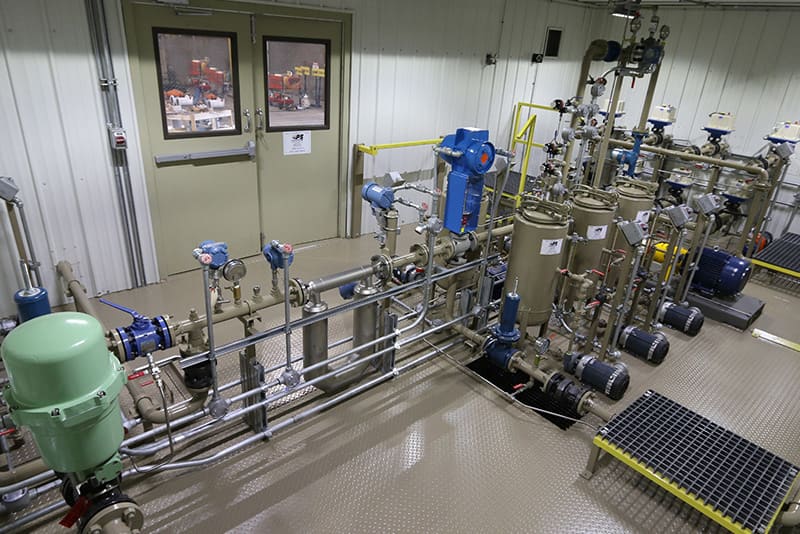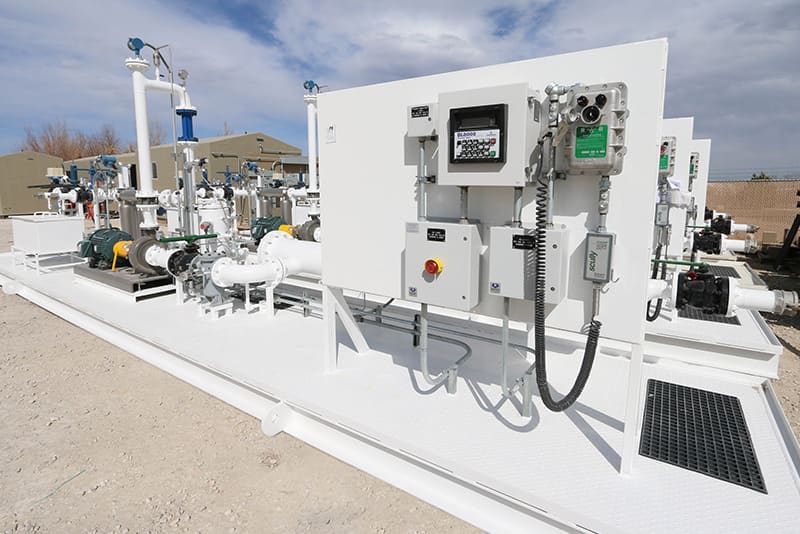 Specifications
| | |
| --- | --- |
| Sizes | 2" - 8" Meters |
| Flow | 100,000+ bbl/day |
| Discharge Pressure | 1440+ PSIG |
Major Components of the LACT Unit
Discover the innovative design of our Lease Automatic Custody Transfer unit. From the precision-driven Flow and Measurement System to the resilient Piping and Transfer System, every element is designed for flawless fluid transfers. Whether you value real-time data accuracy or the durability of our open skid system, our LACT Unit exemplifies engineering excellence in petroleum transfer solutions.
Flow and Measurement System:

Significant for its role in ensuring precision and efficiency during fluid transfers.
Features like the Micro Motion Coriolis Meter, Micro Motion Transmitter, and the Emerson temperature transmitter play pivotal roles in guaranteeing accurate real-time data and addressing temperature variations.

Piping and Transfer System:

Central to the movement of fluids within the unit.
The durable main pipe, optimal discharge pressure, and integrated divert line emphasize longevity, efficiency, and flexibility.

Pump and Electrical Systems:

These ensure the smooth and steady movement of fluids alongside safe electrical operations.
The powerful charge pump, ship-loose pump starter, and junction box are vital features that bolster the unit's reliability and safety.

Quality and Sampling:

Critical for maintaining the purity and representativeness of the transferred product.
The Drexelbrook In-Line monitor and the combination of a static mixer with an isokinetic sampler are designed to ensure the integrity of every sample.

Open Skid System:

Provides structural support to the LACT unit.
Its design facilitates easy placement and enhances the mobility of the entire unit.
Each of these components and their respective features play a significant role in the overall functionality and efficiency of a LACT Unit.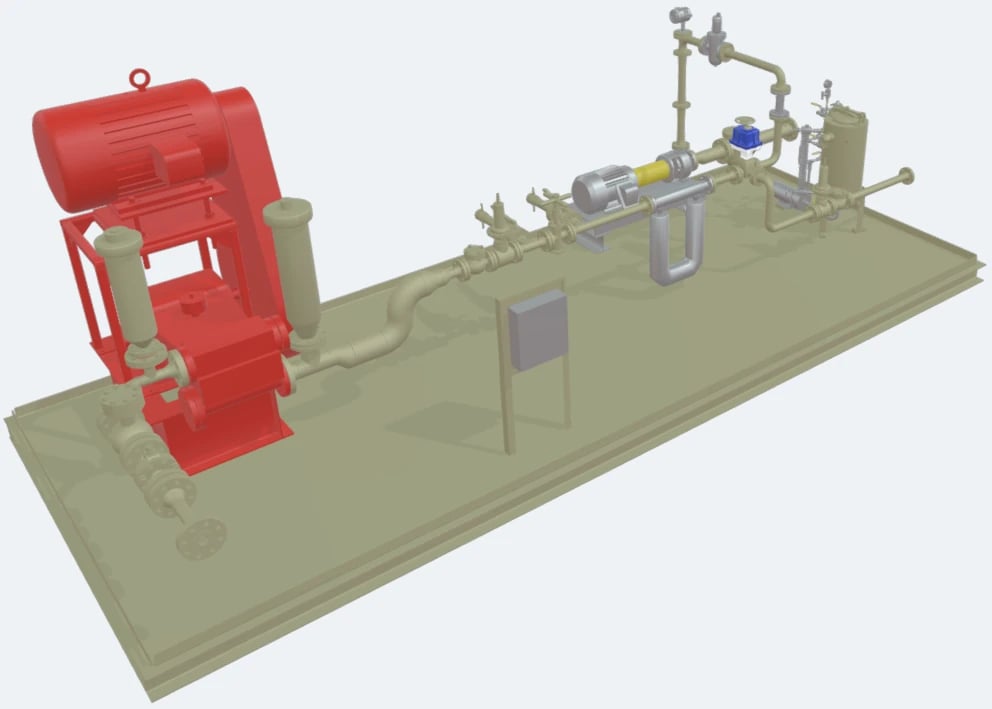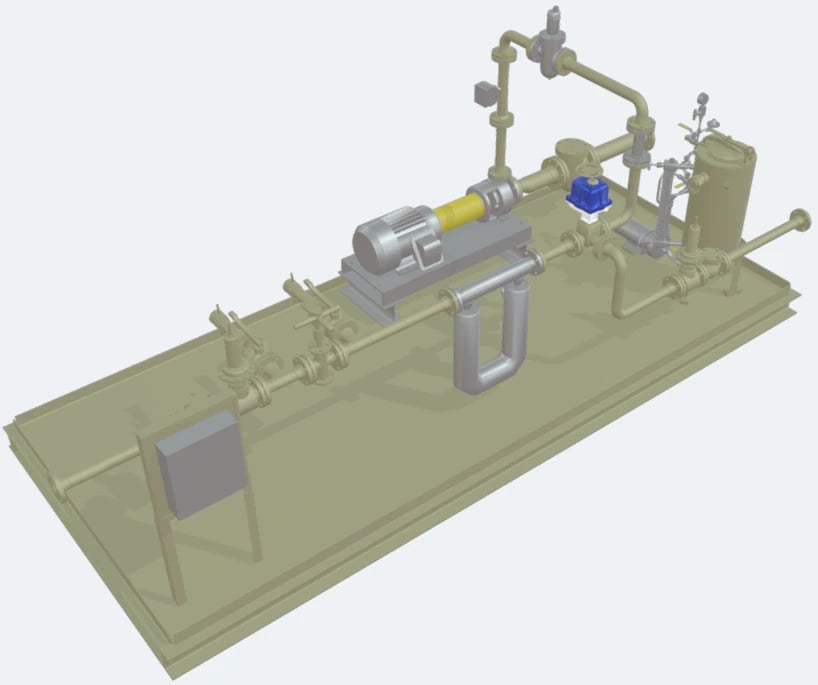 Unlock Efficient Equipment Ordering with eSpec™
Step into the future with eSpec™ powered by DigitalNOW®. Experience the seamless process of customizing and ordering complex engineering equipment packages with real-time estimates, 3D visualizations and an intuitive user interface. Tailor your specifications, get instant quotes and transform your ordering process. Why settle for the old way when you can redefine efficiency?