Lighting & Lamps
Hazardous or harsh areas require lighting that is designed and built specifically for these challenging environments. With safety features including emergency, corrosion resistant and flame proof, hazardous area lighting is crucial to the safety, and safe and effective, working for operators.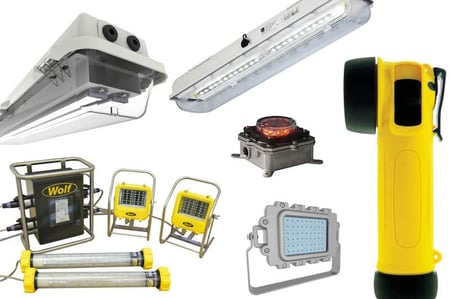 Browse MacLean International Group Technical Library
Take a look at our lighting overview below or click our technical library to view product details, specifications and images. And if you don't see what you need just call us to discuss! Our technical library also has an enquiry basket that you can fill with the products you are most interested in – just pop the items in the basket, complete the form and we will send you a quote.
Certified lighting is crucial when working in confined, dark or poorly lit, hazardous environments and maintaining high levels of safety and reliability is critical for the operator's effectiveness. We supply products that offer cost-saving solutions based on installation and energy saving. Lighting designed for use in offshore & onshore oil and gas, marine vessels, refining and petrochemical industries, mining, food processing, pharmaceuticals, breweries and distilleries, firefighting, water treatment and gas distribution. Suitable for use in Zones 0, 1, 2 (for gas, vapour and mist atmospheres) or Zones 21 & 22 for dust atmospheres. IP65/66/67/68 rated.
LED Lighting
Traditional Lighting
Helideck Lighting
Temporary Lighting
Handlamps
Torches
Lamps
Control Gear & Accessories
A wide variety of light fittings for industrial and hazardous areas including:

Linear fittings
Bulkheads
Floodlights
Bay lighting
Emergency solutions
Helideck
Temporary lighting
All products are appropriately certified to internationally recognised standards - IEC Ex, ATEX/CENELEC, UL, ULC, CSA, FM, SGS, EAC, INMETRO, Chinese (CQST), CCCF, PTB
All products are appropriately certified for use in industrial areas and IEC Zone 0, 1, 2, 21, 22 &, NEC Class I, Class II, Div 1, Div 2, hazardous areas
Multiple protection concepts including (Ex e), Explosion Proof (Ex d) and Intrinsic Safety (Ex i)
IP65/66/67/68 rated / NEMA 4/4X rated as applicable
A selection of Supplier & Manufacturer Partnerships
List of partnerships for Europe
Abtech
Aura
Dextra
Halo
Peli Products
Thorn
Ansell
CEAG
Dialight
IMT
Philips
Tranberg
ATEXOR
Chalmit
General Electric
Orga
R Stahl
Victor
ATX
Crompton
Glamox
Osram
Raytech
Wolf Safety
List of partnerships for Australia
Chalmit
Wolf Safety lamps