Lighting and Lamps
Certified and Traditional Lighting for Hazardous Environments
MacLean Electrical, a distinguished division of MacLean International, operates under the DNOW umbrella. We specialise in delivering lighting and lamps for areas categorised as hazardous or harsh. Such environments demand lighting solutions tailored to their specific challenges. By integrating crucial safety features such as emergency response, corrosion resistance, and flame-proof capabilities, our hazardous area lighting goes beyond mere illumination. It acts as a protective shield, ensuring safety and offering clear visibility. This guarantees a secure and efficient operation, instilling confidence in workers navigating these rigorous conditions.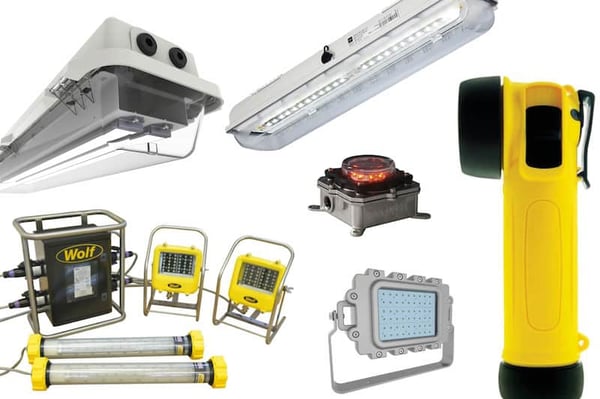 Browse MacLean International Group Technical Library
Browse our lighting overview below or visit our technical library for product details, specifications and images. If you can't find what you're looking for, don't hesitate to call us for a chat! In our technical library, you'll also find an enquiry basket. Simply add the products you're interested in to the basket, fill out the form, and we'll promptly send you a quote.
In dark, confined or hazardous settings, certified lighting is essential to maintain safety and ensure operator effectiveness. We provide products that yield cost savings, factoring in both installation and energy efficiency. Our lighting is tailored for offshore and onshore oil and gas sectors, marine vessels, refining, petrochemical industries, mining, food processing, pharmaceuticals, breweries, distilleries, firefighting, water treatment, and gas distribution. They're suitable for Zones 0, 1, 2 (covering gas, vapour, and mist) as well as Zones 21 and 22 for dust. Rated IP65/66/67/68.
LED Lighting
Traditional Lighting
Helideck Lighting
Temporary Lighting
Handlamps
Torches
Lamps
Control Gear & Accessories
A wide variety of light fittings for industrial and hazardous areas including:

Linear fittings
Bulkheads
Floodlights
Bay lighting
Emergency solutions
Helideck
Temporary lighting
All products are appropriately certified to internationally recognised standards - IEC Ex, ATEX/CENELEC, UL, ULC, CSA, FM, SGS, EAC, INMETRO, Chinese (CQST), CCCF, PTB
All products are appropriately certified for use in industrial areas and IEC Zone 0, 1, 2, 21, 22 &, NEC Class I, Class II, Div 1, Div 2, hazardous areas
Multiple protection concepts including (Ex e), Explosion Proof (Ex d) and Intrinsic Safety (Ex i)
IP65/66/67/68 rated / NEMA 4/4X rated as applicable
A Selection of Supplier and Manufacturer Partnerships
List of partnerships for Europe
Abtech
Aura
Dextra
Halo
Peli Products
Thorn
Ansell
CEAG
Dialight
IMT
Philips
Tranberg
ATEXOR
Chalmit
General Electric
Orga
R Stahl
Victor
ATX
Crompton
Glamox
Osram
Raytech
Wolf Safety
List of partnerships for Australia
Chalmit
Wolf Safety lamps