Industry Sectors
MacLean International has an impressive history of supplying solutions throughout all sectors of the oil and gas industry – from upstream drilling and completion, exploration and production, midstream infrastructure development to downstream petrochemical and petroleum refining – as well as renewable energy, chemical processing, mining, utilities and industrial operations.
We make it our business to understand the markets and sectors where we operate. We also understand the critical importance of offering products to withstand the rigours of these environments to meet or exceed the industry's stringent standards for innovative design, quality, reliability, safety, control of maintenance and replacement costs. Our aim is to provide our end customers with the best solution and the most appropriate products for their needs – whether that is based on cost, budget, specification or level of protection – or indeed all of them.
Our Sectors
Oil, Gas & Petrochemical
We have an impressive history of supplying industrial and hazardous area electrical and cabling solutions to the oil and gas and petrochemical industries worldwide, with vast inventories held in our distribution and stocking centres around the world.
We fully understand the importance of offering products to withstand the rigours of this environment and meet or exceed the industry's stringent standards for innovative design, quality, reliability, safety and control of maintenance and replacement costs. An experienced and knowledgeable team assess and prepare bids, account manage contracts and long term supply agreements and expedite orders in addition to certification, documentation, inspection and packing, ensuring products are delivered correctly, on time and within budget.
As key distributor for world-leading manufacturers, you can be assured of access to the breadth and depth of product demanded within this industry. These relationships and constant review of the market keep us at the forefront of any new technologies that we can then recommend to our customer base.
Renewable Energy
An ever-growing industry, the diverse renewable sector requires electrical products for hazardous and non-hazardous areas. With an established history of supplying many of the UK offshore operators and established wind farms, we provide hazardous area & industrial dust lighting and electrical products to biomass, energy from waste, ports, warehousing and infrastructure as well as IP66/67 rated products for offshore wind farms and transformer platforms.
We understand not only the technical requirements of this sector but the importance of excellent service, available stock and prompt delivery in a price sensitive industry. Our experience and established relationships with leading manufacturers ensures we have the competitive advantage to meet these demands.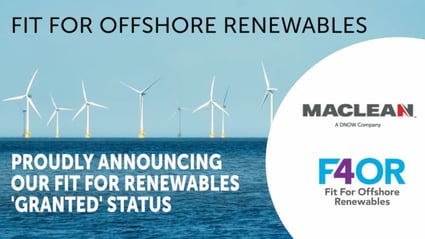 MacLean International is part of the Ore Catapult 'Fit 4 Offshore Renewables (F4OR) supply chain growth programme. This industry led, fully funded unique service, supported by Opportunity North East (ONE) and Offshore Wind Growth Partnership (OWGP)provides the supply chain with a strong collective voice and further improve engagement and growth to the industry.
Shortlisted from over 80 applications and based on the added value we can bring to the sector, our robust systems and the drive and commitment from Senior Management, we embarked upon a year-long intensive programme (Business Excellence and detailed sector awareness training) and implemented an array of business enhancements, further adding value to our offering in this sector.
MacLean International now joins a select group of companies reaching 'Granted' status on the Programme, confirming we possess the knowledge, capability and competence to meet the required standard to do business in the sector and have the systems, processes, and knowledge deeply embedded within our organisation.
Pharmaceutical
The pharmaceutical industry not only demands electrical products suitable for use in hazardous areas but also within clean room environments. We supply the full range of electrical products from lighting and junction boxes to control stations and cabling to all the major pharmaceutical companies.
With a long history of hazardous area, we can supply product and application advice for these volatile atmospheres to best suit your project.
Power & Utilities
With a long history and excellent track record for available stock, prompt response and excellent customer service, we supply many of the major utility networks and operators. In a service critical industry we have the resource and product availability to ensure our response meets quick off the shelf turnaround and delivery requirements.
As a UVDB registered company you can be assured of the highest standards in the supply chain. Rigorous pre-qualification means that customer procurement decisions can be backed by detailed, up to date and relevant information about us as a supplier.
Supplying industrial and hazardous area products, we can provide technical and product selection advice combined with document control, inspection and packing prior to shipment.
Nuclear
With a long history of supplying to the Nuclear sector we are well positioned to assist in the role that it will undoubtedly play in the drive to reach net-zero emissions. Our involvement, working with developers, operators and associated contractors, extends across the full nuclear life-cycle from design and build through to operations and maintenance and ultimately decommissioning. Our strong technical knowledge, relationships with world leading manufacturers, breadth and depth of stockholding and understanding of documentation requirements equips us well to support this heavily regulated sector.
Distilleries
The art of distilling may typically involve very few actual ingredients however when combined, heated, fermented, matured and decanted can produce an explosive environment. Together with flammable dust clouds this industry demands electrical equipment which will function efficiently, effectively and above all safely. Our extensive industrial and hazardous area experience ideally positions us to supply this industry with a full range of lighting, electrical products and cabling.