Cable Transit Systems
Leading Solutions in Sealing, Components and Fitting for Cable and Pipe Transits
Explore MacLean Electrical, a proud division of MacLean International, under the DNOW umbrella. As a leading distributor of cable transit systems, we pride ourselves on our expert knowledge. Our experienced team can advise on sealing systems, components and accessories. Whether you need to understand cable capacity or ensure a perfect fit, our skilled team is here to guide you. Discover the simplicity of assembly, insights into maintenance and inspection guidelines. With MacLean Electrical, experience top-tier guidance for all your cable transit needs.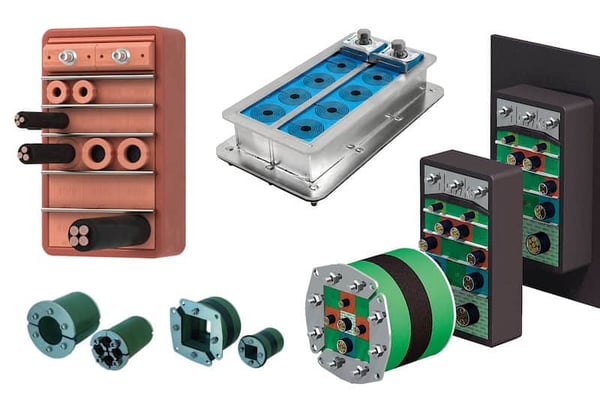 Browse MacLean International Group Technical Library
Explore our overview of cable transit systems below, or visit our technical library to view detailed product specifications, images and more. If you can't find what you're looking for, don't hesitate to give us a call! Additionally, our technical library features an enquiry basket. Simply add the products you're interested in into the basket, complete the form and we'll promptly send you a quote.
Designed for use in marine, oil and gas, infrastructure, manufacturing, power and process industries, our Cable Transit Systems are crafted to meet the stringent demands of both onshore and offshore installations. These systems provide a barrier that maintains the integrity of a firewall where cables or pipes pass through. The transit system acts as a seal, resisting water, gas, smoke, vermin, radiation, chemicals, explosions, electromagnetic interference and noise.
Cable Transit Frames
Transit Blocks and Cable Transit Accessories
Rectangular or round transit frames for welding, bolting or casting
Outer transit for attaching to walls, bulkhead/decks or floor through which cabling or pipes will pass
Transit blocks, including multidiameter options, fit around cabling and pipes within the frame to form a complete and flexible sealing solution
A range of accessories and tooling to safely and accurately install cable transit systems
Suited to hazardous and industrial areas where the spread of fire, water, gas and chemicals must be prevented to minimise risk
IP rated, UL rated, ATEX /IEC Ex rated
A Selection of Supplier and Manufacturer Partnerships
List of partnerships for Europe
List of partnerships for Australia