Cable Management and Supports
For effective cable organisation and safety, whether in industrial areas, harsh environments or potentially hazardous zones, MacLean Electrical – a division of MacLean International – is your leading distributor for electrical products. Our range of cable management products ensures your cables are safely contained, shielded and neatly organised, reducing risks and making the most of available space.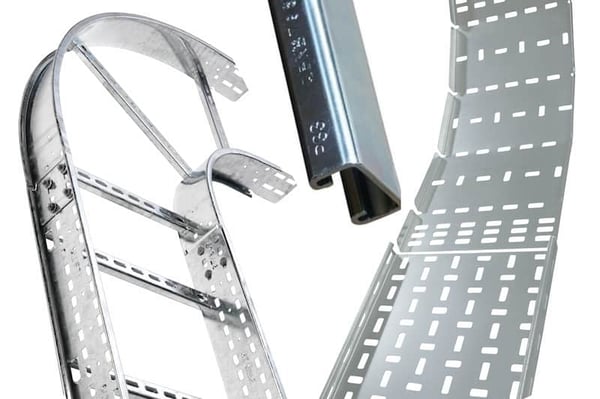 Browse MacLean International Group Technical Library
Take a look at our cable management and supports overview below or click our technical library to view product details, specifications and images. And if you don't see what you need just call us to discuss! Our technical library also has an enquiry basket that you can fill with the products you are most interested in – just pop the items in the basket, complete the form and we will send you a quote.
Ensure a safer, tidier and more professional workspace with our Cable Management and Supports. Meticulously designed for robust cable installations, our system acts as a protector for your cables. It supports and secures the cabling during installation, guaranteeing not only a hazard-free environment but also a streamlined and organised appearance for your setup. Additionally, our thoughtful design ensures that future maintenance or replacement tasks are smooth and hassle-free.
Explore our user-friendly cable management and support product selection, designed especially for your cable setup needs:
Cable Tray: Thoughtfully designed, our cable trays keep your cables tidy and easy to access.

Cable Ladder: Perfect for more demanding tasks, these ladders offer strong support, ensuring your cables are always safe.

Channel Support Systems: These systems make sure your cables are consistently firm, secure and protected, no matter the application.
We also provide a range of handy fixings and accessories, from bends to risers. Each item has been tested thoroughly to ensure they stand up, even in harshest environments.
For a neat workspace and durable cable setup, choose MacLean International's cable management and support products.
We offer a versatile range tailored to your needs:
Gauge: Options include Light, Medium, Heavy, and Extra Heavy duty.
Finishes: Suitable for various tasks with choices like Galvanised and Stainless Steel.
Lengths: Available in both 3 Metre and 6 Metre sizes.
Widths: A broad selection to fit your specific requirements perfectly.
A Selection of Supplier and Manufacturer Partnerships
List of partnerships for Europe
Legrand (Swifts)
Unistrut
Oglaend
Vantrunk
Cooper B-Line
Kopex
Flexicon
Gerpaas
List of partnerships for Australia
Oglaend
Vantrunk
Unistrut
EzyStrut