Cable Accessories
Enhancing Cable Lifespan and Performance
MacLean Electrical, a division of MacLean International under the DNOW umbrella, specialises in providing a comprehensive range of cable accessory products. These accessories have been meticulously developed to work in harmony with various cabling systems. Their design ensures not only ease of installation but also effective maintenance, safeguarding the performance and longevity of the cables.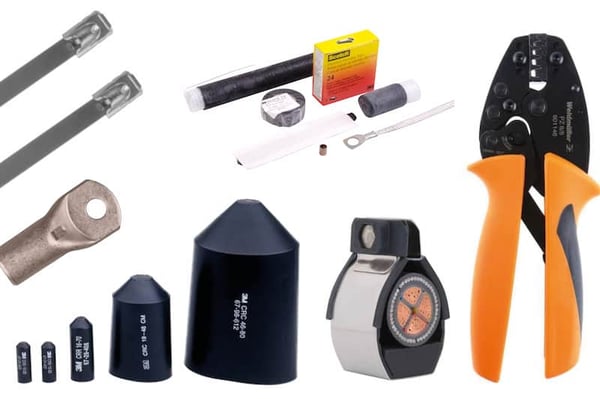 Browse MacLean International Group Technical Library
Browse our cable accessories overview below or visit our technical library to see product details, specifications, and images. If you can't find what you're looking for, please give us a call to discuss. In our technical library, you'll also find an enquiry basket. Simply add the products you're interested in into the basket, fill out the form, and we'll provide you with a quote.
Dedicated to meeting all your cable management needs, MacLean Electrical offers a comprehensive range of cable accessory products. These are thoughtfully designed not only for cabling but also for its installation, maintenance, and management, guaranteeing prolonged efficiency and lifespan of your cables. Whether for indoor use or those exposed to the challenges of external environments, our selection caters to varied needs across both industrial and hazardous area applications.
Cable Ties and Banding: Secure cables without causing damage.
Crimp Terminals: Ensure a robust connection for optimised electrical flow.
Insulating Tape: For safe installations and maintenance work.
End Caps: Offer protection and reduce the risk of electrical leakages.
Abandonment Kits: Secure unused cables with complete safety.
Cable Markers: Efficiently identify and manage cables across various installations.
Cable Cleats: Provide robust cable support and reduce mechanical strain.
Cable Joints: Ensure seamless and reliable connections for extended cable lengths.
All products are appropriately certified to internationally recognised standards - IEC Ex, ATEX/CENELEC, UL, ULC, CSA, FM, SGS, EAC, INMETRO, Chinese (CQST), CCCF, PTB
All products are appropriately certified for use in industrial areas and IEC Zone 0, 1, 2, 21, 22 &, NEC Class I, Class II, Div 1, Div 2, hazardous areas
Multiple protection concepts including (Ex e), Explosion Proof (Ex d) and Intrinsic Safety (Ex i)
IP65/66/67/68 rated / NEMA 4/4X rated as applicable
A Selection of Supplier and Manufacturer Partnerships
List of partnerships for Europe
Hellermann
Denso
DOT
Oglaend
Ultratape
Partex
Prysmian
Cembre
Band-It
CMP
Thomas & Betts
Scotch 3M
Advance Tapes
Panduit
Mita
3M
Critchley
Ellis Patents
Elpress
List of partnerships for Australia
Oglaend System
3M
Band-It
Cabac