Earthing, Bonding and Direct Strike
Protection for Buildings, Facilities, Infrastructure and Earthing Systems
MacLean Electrical, a proud division of MacLean International and falling under the DNOW umbrella, stands as a premier stockist and distributor. We specialise in a broad range of earthing, bonding and direct strike products, ensuring the highest standards of safety and protection. Whether you're seeking earth rods, connectors or earth cables, our range is unparalleled. We also offer direct strike air terminals and earth pits. With our experienced and insightful teams, we offer more than just products. We provide tailored advice and insights to meet your specific needs. Trust MacLean Electrical to deliver outstanding safety solutions.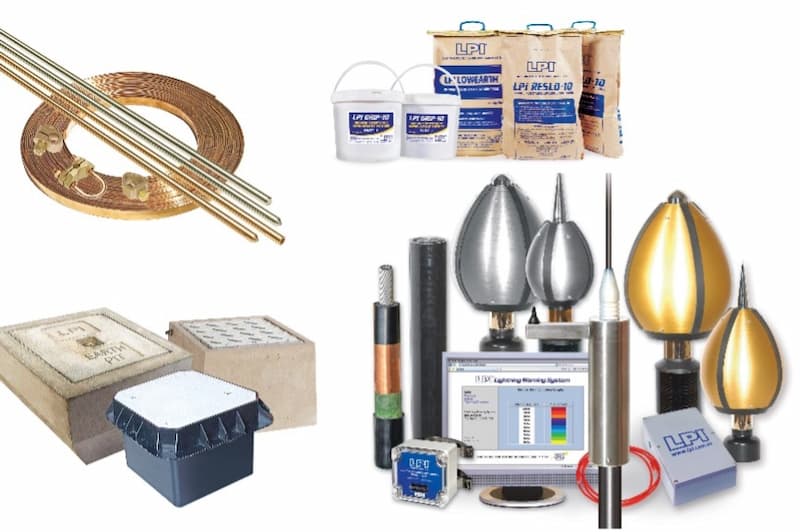 Browse MacLean International Group Technical Library
Explore our overview of earthing, bonding, and direct strike products below. Alternatively, visit our technical library to view detailed product specifications, images, and more. If you can't find what you're looking for, don't hesitate to give us a call! Additionally, our technical library features an enquiry basket. Simply add your desired products to the basket, complete the form, and we'll promptly send you a quote.
Whether it's about intercepting lightning flashes, ensuring a dependable low-resistance pathway to the ground, or facilitating crucial access points for routine maintenance and precise measurements, our comprehensive range of earthing, bonding, and direct strike products stands unparalleled. Tailored for utmost efficacy, these products are meticulously designed to safeguard not just your buildings and facilities but also the critical infrastructure and complex earthing systems integral to them.
Earth rods

Stainless steel
Copper bonded
Solid copper

Earth cables

PVC earth cables
Bare earth cables
LSZH earth cables

Connectors

Rod to cables clamps
Rod to tape clamps
U-Bolt clamps
C Connector clamps

Direct strike air terminals
Earth pits
LPI offers three types of direct strike protection systems, which include the full package of air terminals and accessories.
LPI Guardian System 5 provides a purpose-designed package for direct lightning protection. The Guardian System 5 has been tested in compliance to IEC Test Standard: IEC 60-1:1989.
The LPI Stormaster ESE range of terminals provides a safe and efficient system for the protection of your facility from direct lightning strikes. The Stormaster ESE range of terminals have been fully tested in accordance with NF C 17-102 in a high voltage laboratory.
In addition, LPI also offers conventional lightning protection system which complies to International Standards such as IEC 62305, BS EN 62305 and AS/NZ 1768.
A Selection of Supplier and Manufacturer Partnerships
List of partnerships for Australia
Lightning Protection International
Prysmain
LPI
Keystone Cables
Daewon Cables