Onshore and Offshore Cable
MacLean Electrical is a leading, specialist stocking distributor of onshore and offshore cable with strategically located warehouse facilities, housing vast inventory including dedicated cable cutting and reeling facilities. Our International Projects Team (previously North Sea Cables and then Noskab) provides tailored project packages as a highly experienced, project materials integrator.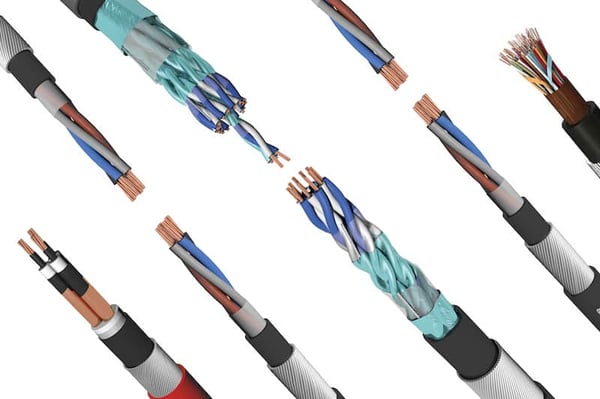 Browse MacLean International Group Technical Library
Take a look at our cable overview below or click our technical library to view product details, specifications and images. And if you don't see what you need just call us to discuss! Our technical library also has an enquiry basket that you can fill with the products you are most interested in – just pop the items in the basket, complete the form and we will send you a quote.
Products Offered
Offshore Cable Products

To IEC 60092-360, NEK606, IEEE 1580 Type P, BS6883, BS7917 Elastomer insulated Power, Control & Instrument cable for fixed wiring in ships and on mobile and fixed offshore units
Low smoke zero halogen, flame retardant and fire resistant to IEC 60332-1-2-3

Onshore Cable Products

IEC and British standard onshore cables suitable for LNG, petrochemical. renewable energy and refinery project & MRO requirements.
Australian standard compliant onshore cables suitable for LNG, petrochemical. renewable energy and refinery project & MRO requirements. Cables to meet AS/NZS 5000. 1. 2 &3 standards for power and multicore control cables, as well as instrumentation cables to meet BS EN 50288 and BS EN 50290. Flame Retardant / fire resistant low smoke zero halogen cable available.
Optional Anti-termite Nylon 12 layer for protection against degradation.
Silicon rubber cables for use in high temperature applications, such as transformers, generators lighting fixtures and electronic devices.
VSD Cables specifically designed to protect against high frequency ground current, reflected voltages and electromagnetic interference (EMI).
We have an extensive history of supplying cabling solutions to both offshore and onshore industries. These are serviced by supplying from our extensive stock and through bespoke manufacturing for large national and international projects where our experience in successfully managing and delivering is unrivaled. Our expertise extends not only to product selection and application but also to the review of project specifications, certification and documentation requirements specific to each project. Our product knowledge will help guide you to the most suitable cable for your requirements.
A selection of supplier and manufacturer partnerships
List of partnerships for Europe
Prysmian
Draka
CCI
Untel
BTC
Nexans
List of partnerships for Australia
LS Cable
Prysmian
Keystone Cables
Daewon