Junction Boxes, Control Stations & Accessories
MacLean Electrical is your distributor and authorised third party assembler for hazardous area junction boxes, control stations and accessories built within our accredited workshop facilities (SGS (Baseefa) certified in Europe and Increased Safety Ex e Dual Certified ATEX/IECEx in Australia). Machining and assembly are undertaken within our in-house workshop. Our in-house modifier capabilities allows us to provide bespoke solutions built and designed for your specific requirements.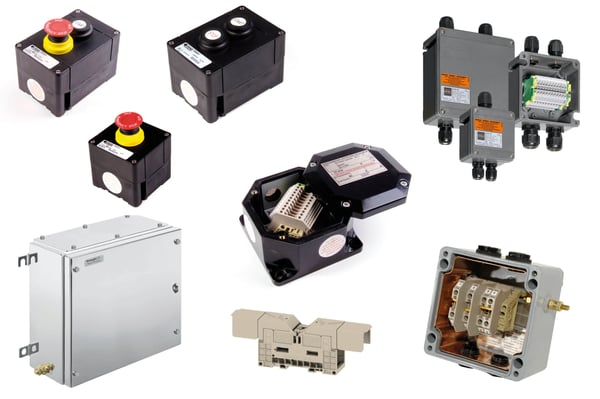 Browse MacLean International Group Technical Library
Take a look at our junction boxes, control stations & accessories overview below or click our technical library to view product details, specifications and images. And if you don't see what you need just call us to discuss! Our technical library also has an enquiry basket that you can fill with the products you are most interested in – just pop the items in the basket, complete the form and we will send you a quote.
Our enclosures or junction boxes are certified, secure and robust units providing circuit integrity. Housing electrical components/wire connections to split power from a single source to multiple outlets, these units provide protection from the elements, secure electrical cabling and prevent accidental contact with live wires. We also supply Control Stations to be used across a wide variety of hazardous area and industrial applications, indoor or outdoor to control equipment/machinery.
Junction boxes in Stainless Steel, GRP and Aluminium
Control Stations
Distribution Boards
All products are appropriately certified to internationally recognised standards - IEC Ex, ATEX/CENELEC, UL, ULC, CSA, FM, SGS, EAC, INMETRO, Chinese (CQST), CCCF, PTB
All products are appropriately certified for use in industrial areas and IEC Zone 0, 1, 2, 21, 22 &, NEC Class I, Class II, Div 1, Div 2, hazardous areas
Multiple protection concepts including (Ex e), Explosion Proof (Ex d) and Intrinsic Safety (Ex i)
IP65/66/67/68 rated / NEMA 4/4X rated as applicable
A selection of Supplier & Manufacturer Partnerships
List of partnerships for Europe
Hawke International
CEAG (Eaton)
List of partnerships for Australia