Hazardous Area Communications
Internal and External Communication Tools for Onshore and Offshore Environments
MacLean Electrical, a division of MacLean International and part of the DNOW group, offers a range of hazardous area communication products. These include smartphones, Android tablets, Visor-Ex® smart glasses, alarms, and signal and control equipment. These devices are essential for communication and alerts in harsh environments, especially where there's a risk of explosion from flammable atmospheres, both offshore and onshore.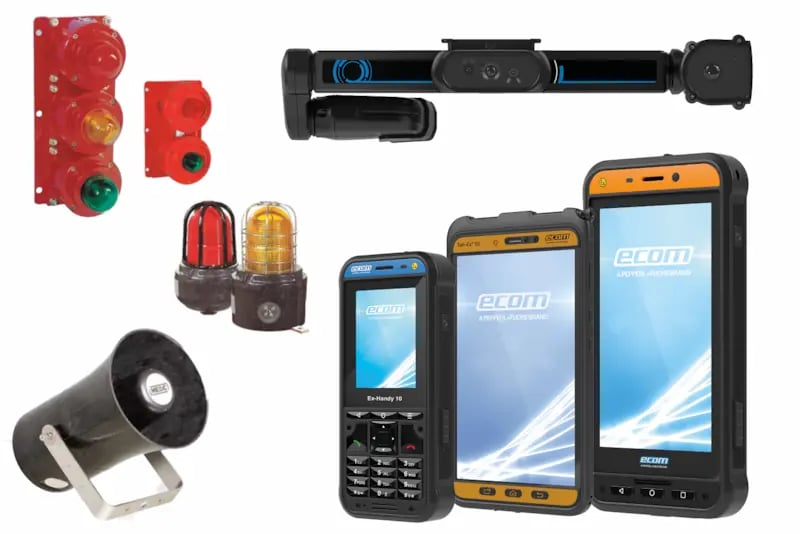 Browse MacLean International Group Technical Library
Take a look at our Ex phones, tablets Visor-Ex® and alarm, signal and control equipment range overview below or click our technical library to view product details, specifications and images. And if you don't see what you need just call us to discuss! Our technical library also has an enquiry basket that you can fill with the products you are most interested in – just pop the items in the basket, complete the form and we will send you a quote.
MacLean Electrical supply a range of products specifically designed for harsh environmental conditions and where there is a risk of explosion due to the presence of flammable atmospheres both offshore and onshore. Used internally or externally, sounders, beacons and speakers emit high-level sound and/or strobe lighting to ensure personnel are aware of alarm activation and take evacuation or follow required emergency procedures. Robust and harsh environment-resistant analogue and VOIP telephones provide vital day to day or emergency communications. Our ECOM range of mobile phones, tablets and the Visor-Ex™ smart glasses provide a simplified way of working in increasingly complex environments and enable connectivity and enhanced mobility in hazardous areas.
*Mobile communication products - only available in the UK
Smartphone Smart-Ex 02
INDUSTRIAL & HAZARDOUS AREAS TO ZONE 1/21 and Zone2/22
The next generation of rugged, intrinsically safe smart phones for hazardous areas, the Smart-Ex® 02 is the world's first Android Enterprise Recommended smartphone with ATEX/IECEx Zone 1/21, Div.1. Simplifying the way employees work, this communication device enables new levels of integrated visibility and automation.
Ultra rugged, 5" multi-touch display
Dual sim
Screen can be operated with gloves
WiFi and Bluetooth enabled connectivity
Front and rear cameras
User programmable buttons
Powerful replaceable battery
Extended temperature range (-200C - +600C)
Android Tablet Tab-Ex 03
INDUSTRIAL & HAZARDOUS AREAS TO ZONE 1/ 21 and 2/22
An intrinsically safe and highly secure tablet, the Tab-Ex® 03 is slim and lightweight with a high performance operating system, Android 13 for superior performance in hazardous areas. The Samsung DeX function transforms the tablet into a full desktop computer. Available with a range of accessories for full flexibility of use.
optimal readability even in direct sunlight
Multi touch display can be operated with gloves or S Pen
High data and device security
Front and rear cameras
USB C charging
LTE & WIFI or WIFI only models available
Side accessible SIM and SD Card slots **SIM slot applies to LTE model
Programmable key (for emergency calls)
Powerful battery with 11 hrs runtime
Extended temperature range (-200C - +550C)
WiFi and Bluetooth enabled connectivity
Smart Glasses , Visor-Ex® 01
INTRINSICALLY SAFE FOR HAZARDOUS AREAS
An intrinsically safe and lightweight way to connect anytime to remote expert support for audiovisual interaction, with access to documentation, all whilst completely hands free. Not only does this technology provide cost savings by eliminating the need for travel but also provides faster response times and significantly improves the speed of maintenance and repair work and decreasing downtime.
Two central 16MP cameras
Torch LED
Notification LED
Touch pad
Clip for easy attachment and removal
6 x optical zoom lens
Audio unit
Application specific / Smart-ex02 required
Also available
Sounders
Beacons
Speakers
Telephones
Manual alarm call points
All products are appropriately certified to internationally recognised standards - IEC Ex, ATEX/CENELEC, UL, ULC, CSA, FM, SGS, EAC, INMETRO, Chinese (CQST), CCCF, PTB
All products are appropriately certified for use in industrial areas and IEC Zone 0, 1, 2, 21, 22 &, NEC Class I, Class II, Div 1, Div 2, hazardous areas
Multiple protection concepts including (Ex e), Explosion Proof (Ex d) and Intrinsic Safety (Ex i)
IP65/66/67/68 or NEMA 4/4X rated as applicable
A selection of supplier and manufacturer partnerships
List of partnerships for Europe
MEDC
E2S
ECOM (Pepperl+Fuchs)
Clifford & Snell
Gaitronics
List of partnerships for Australia