Cable Glands, Connectors, Thread Converters and Accessories
Your Trusted Source for Comprehensive Cable Gland Solutions and Accessories
MacLean Electrical, a proud division of MacLean International under the DNOW umbrella, offers an expansive selection of industrial and hazardous area cable glands, connectors, thread converters, and accessories. Expertly crafted to ensure the utmost protection for both armoured and unarmoured cable ends, these products play a pivotal role in safeguarding connections to enclosures, various electrical equipment, terminals, and plugs. Our range reflects a commitment to delivering quality and reliability in every product.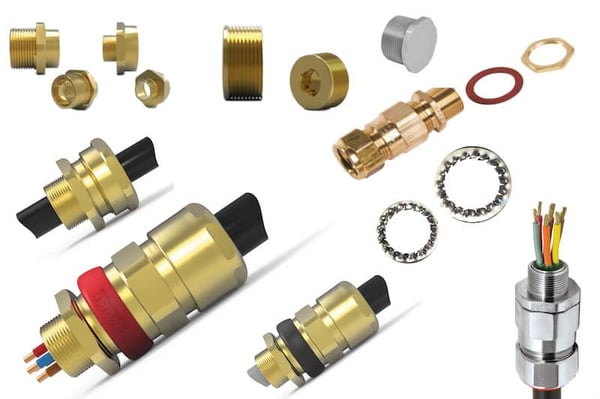 Browse MacLean International Group Technical Library
Take a look at our overview of cable glands, thread converters and accessories below, or click our technical library to view product details, specifications and images. If you don't see what you're looking for, give us a call! Within our technical library, there's also an enquiry basket for you to fill with the products that catch your eye. Simply add the items to your basket, complete the form, and we'll provide you with a quote.
Cable glands are essential for ensuring earth continuity, preventing cables from being twisted or pulled, and providing an airtight seal against dust and moisture. In hazardous areas, cable glands are specially designed to terminate cables in flameproof or increased safety equipment, ensuring a weatherproof and gas-tight connection between the cable and the equipment.
Thread conversion reducers and adaptors offer a flexible solution when the gland size doesn't match the connection thread. They're available in various thread pitches and materials, complementing the gland type that aligns with your specifications.
Cable gland fittings also known as cord grips, cable strain reliefs, cable connectors or cable fittings, securely attach the end of an electrical cable to the equipment. At MacLean Electrical, we offer a gland-fit chart to cross-reference the cable dimensions we supply with the acceptance criteria of your selected gland type. This ensures your gland fits your cable safely and accurately, helping avoid delays and extra costs that can arise from last-minute gland changes during vital installation phases.
We can also provide product awareness training in our in-house training facility. our dedicated in-house training facility can host extensive product awareness training sessions in partnership with manufacturers. These cover the array of cable types or glands we supply. Training includes familiarity and understanding of:
the protection concept of the product
the importance of correct installation
general familiarity with installation practices
followed by a demonstration on how the cable gland is installed
Cable glands hazardous area
Cable glands industrial area
Heavy-Duty connectors
Ex connectors
In addition to the glands we hold a full range of accessories to suit your individual site requirements. E.g.

lock nuts
washers
earth tags
reducers
adaptors
thread adaptors & stopping plugs
Manufactured in materials including brass, nickel-plated brass, aluminium, and stainless steel, these are suitable for both industrial and hazardous area applications.

A broad variety includes compression type, barrier glands, and Cold flow compliant glands for both hazardous and industrial applications.
All products hold certifications to international standards such as IEC Ex, ATEX/CENELEC, UL, ULC, CSA, FM, SGS, EAC, INMETRO, Chinese (CQST), CCCF, and PTB.
They're certified for use in industrial areas as well as IEC Zone 0, 1, 2, 21, 22 and NEC Class I, Class II, Div 1, Div 2 hazardous areas.
Multiple protection concepts including (Ex e), Explosion Proof (Ex d) and Intrinsic Safety (Ex i).
Where relevant, products are rated IP65/66/67/68 and NEMA 4/4X.
A Selection of Supplier and Manufacturer Partnerships
List of partnerships for Europe
Hawke International
CMP
Peppers
CCG
List of partnerships for Australia